Demand for electric vehicles has skyrocketed in recent years amid broader strategy by global institutions towards carbon-neutrality. However, supply chain disruptions relating to semiconductor shortages, the coronavirus pandemic, and material access may prove problematic for attempts to ramp up EV battery production.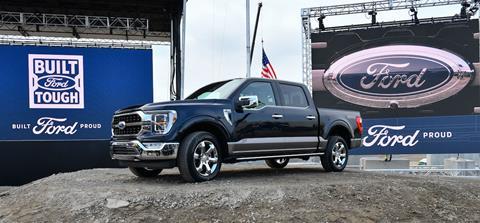 Ford Motor has doubled its production target for the F-150 Lightning electric pick up amid rapidly shifting consumer demand, according to Reuters.
Just ahead of the full-sized truck's 2022 launch, the carmaker intends to spend an extra $850m to achieve the target, several people familiar with the plans reportedly said.
Annual production targets are now being set to 80,000 in 2024, an increase from more than 40,000, according to the report.
"They were pleasantly surprised by the demand for the Lightning," according to the unnamed source speaking to Reuters.
F-150 Lightning models are built at Ford's new Rouge Electric Vehicle Centre in Dearborn, Michigan.
The new production target includes the construction of 15,000 units next year following the electric truck's spring launch and 55,000 in 2023, according to another person in Reuters. Following the launch of the second-generation Lightning in late 2025, the yearly output quota will be just under 160,000.
Sources in the report said the increase is on top of the 50% boost Ford outlined in November 2020.
Ford previously said it had 120,000 reservations for the Lightning but due to strong pre-launch demand for the vehicle, especially among commercial customers, leading to more optimistic targets.
Ford said in a statement they are excited with customer demand for the F-150 Lightning and already have 120,000 customer reservations and will continue to look for ways to break constraints and meet customer demand.
A long-standing scepticism has plagued industry analysts over consumer willingness to forgo their gasoline-powered internal combustion engine (ICE) cars for electric vehicles (EV), but the desire to reduce one's carbon footprint appears to be a legitimate purchasing imperative.
This comes amid reports that Ford plans to cut the production of its ICE F-150 pickup truck due to the ongoing chips supply crisis.
Activity at Ford's Oakville Assembly Plant in Canada and Kansas City Assembly Plant in Missouri will reportedly be suspended the week of August 30. The Ford Edge and Lincoln Nautilus SUVs are produced at Oakville and Kansas City assembles the F-150.
Two of three shifts will be cut next week at its Dearborn Truck Plant in Michigan, where the F-150 is made.
"Our teams continue making the most of our available semiconductor allocation, finding unique solutions to provide as many high-quality vehicles as possible to our dealers and customers", the company reportedly said.
The new target for Lightning production has seen concerns raised by some suppliers over the extra investment that ensure that Ford's demand expectations are reached.
"It really puts suppliers in a dicey situation if the volume doesn't come true," said one unnamed supplier executive.
Keeping up with global trends
Facing pressure from the White House, Ford and other large OEMs are looking to shift away from ICE models to all-electric power. US President Joe Biden has urged for $174 billion investment to increase US EV production, sales and infrastructure. Executive Orders have also been signed to ensure that half of all cars sold in the US in 2030 are electric.
Europe and China are also looking to drastically cut vehicle emissions, with EU authorities looking to completely ban all non-electric cars by 2035.
Ford presented plans in May to increase investment in electrification by 2030, by over a third to more than $30 billion. The automaker also announced plans to establish a battery joint venture with South Korean battery maker SK Innovation, with two plants set to open in North America.
The OEM's strategy to raise EV sales in the US is based on pushing its strongest brands. The gasoline-powered F-150 has been the top-selling vehicle in the United States for over 40 years so pushing the electric version has been a priority for the company.
Other automakers such as General Motors and Tesla are also introducing electric pickups. Startups like Lordstown Motors, Canoo and Rivian (in which Ford has a stake) are also developing their own models.
The redesigned F-150 Lightning, set for rollout in 2025, is expected to be the first to use Ford's new TE1 truck architecture, according to AutoForecast Solutions. The first-generation Lightning is based on a platform largely based on the standard F-150.
Shared architecture in the earlier models meant vehicles were not fully optimised for EV layout, seeing requirements batteries and motors compromised with the ICE composition.
With the newer formations – often known as 'skateboard platforms' – the car can be engineered around the EV requirements, which usually improves the use of space, and allows for a more efficient build
Too Much Too Soon?
While fears have been raised about the demand forecasts not materialising, Ford is also facing a wave of further potential problems with its raising of output.
The new targets come amid a global shortage of semiconductors, which are essential in the production of all electronic equipment, and especially in automobiles. This is just one among a number of supply chain issues such as labour shortages caused by the coronavirus pandemic.
Like other producers, Ford has been forced to cut output as the entire auto industry has been hit by shortages. Earlier this year, the company announced they would be scaling back production in North America, seeing a plant in Kentucky halt production in January.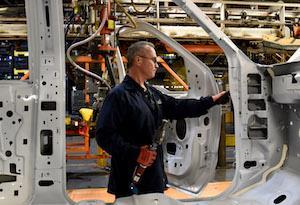 Nissan also closed down a plant in Japan and German automaker Volkswagen adjusted production at facilities in China, North America and Europe amid the semiconductor shortage.
The issue has primarily been caused by an increase in demand for electronics in the last 2 years, with pre-covid structural issues such as a lack of transparency between sectors also contributing. However, while producers and industry representatives tout their recent reorganisation of supply chains to be better strengthened against disruption in the future, shortages are expected to last into 2022.
Another problem that could impede any plans to ramp up production is battery supply. Minerals such as lithium, cobalt, nickel and graphite are essential for the development of lithium-ion battery cells. However, costs have spiked as a supply has failed to meet demand.
Tier producers of these essential metals are being called on to increase output as automakers increasingly look towards securing batteries, if tertiary production does not equalise quickly, in 2-3 years this could prove to be a far worse bottleneck than the ongoing semiconductor shortage.