Ford has signed a memorandum of understanding (MoU) with lithium-ion battery maker SK Innovation (SKI) for a joint venture to manufacture battery cells and finished packs in the US.
The venture, which will be called BlueOvalSK, will produce around 60 gigawatt hours (GWh) a year with scope for expansion by the middle of the decade.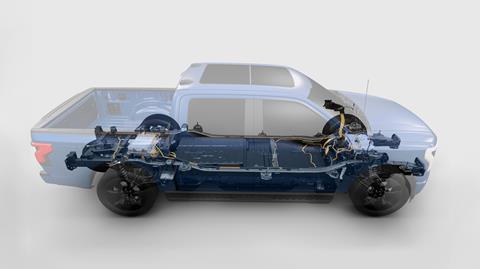 SKI already supplies batteries from South Korea for Ford's Mustang Mach-E SUV and a facility is under construction in Commerce, Georgia. This plant will supply both VW and Ford, who will use it for the new F-150 Lightning electric pick-up truck that is due to go into production next year at a new factory at its Rouge complex in Dearborn, MI.
However, joint manufacturing in the US ties in with a new drive in the US for local production. President Biden signed an executive order in February designed to fortify US supply chains, including for lithium batteries, and announced at Dearborn last week a $174 billion plan for US electric vehicle production.
"This MoU is just the start," said Jim Farley, Ford's president and CEO. "It's a key part of our plan to vertically integrate key capabilities that will differentiate Ford far into the future. We will not cede our future to anyone else."
Ford said its global battery electric vehicle (BEV) plan calls for at least 240 GWh of battery cell capacity by 2030, approximately the amount generated by 10 plants, according to the company. Approximately 140 GWh of that output will be required in North America, with the balance dedicated to other key regions, including Europe and China.
"Through the JV, Ford and SKI will jointly develop and industrialise battery cells at scale that are tailored to deliver optimum performance and value for our Ford and Lincoln customers," said Lisa Drake, Ford's North America chief operating officer. "SKI is an important partner in helping deliver batteries with better range and value for our fully electric vehicles by mid-decade."
SKI has been developing EV batteries since 1991 and expanding globally since 2010. In addition to the plant in the US, in Georgia, it is also expanding its production capacity in the European Union and China.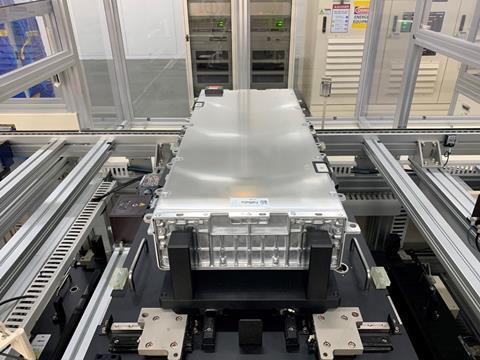 The company was recently found guilty by the US International Trade Commission (ITC) of intellectual property theft from rival LG Chem in 2019 relating to goods imported to the US from South Korea. LG Chem launched LG Energy Solution as a subsidiary as a wholly owned subsidiary in December last year. The dispute was settled in April and secures much needed capacity in US battery production as the country struggles to fulfil its goals for localised EV production and a cleaner automotive market.
SKI is one of three battery cell makers in the US, the others being Tesla and LG Energy Solution.
Last month, Ford announced a new global battery centre of excellence, Ford Ion Park, to accelerate its battery and battery cell technology research and development, including future battery manufacturing. It is also investing $185m in a "collaborative learning lab" in Southeast Michigan dedicated to developing, testing and building vehicle battery cells and cell arrays, which will open late next year.
Earlier this month, Ford also announced an investment in Solid Power, a company that makes all-solid-state batteries for EVs. Initially investing in Solid Power in 2019, Ford is making an additional equity investment to help accelerate further development of solid-state vehicle battery technology, contributing to a $130m Series B investment round in which the BMW Group becomes an equal equity owner with Ford.