The Italian startup takes over the site of a former Olivette factory in the Piedmont region, where it plans to build a battery factory to help meet rising demand and production for electric vehicles.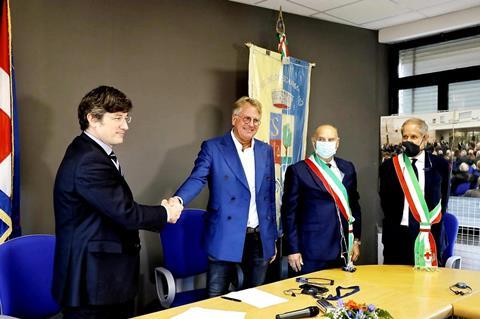 Italvolt, a battery cell manufacturing startup, has agreed to a land purchase in Scarmagno, in the Piedmont region in Italy's north west, which is set to become the site of one of the largest battery gigafactories planned in Europe.
Italvolt will purchase an area of around 1m sq.m from Prelios Sgr, manager of Fondo Monteverdi, at the site of a former factory of Olivetti, an Italian telecoms group.
"The agreement with Prelios Sgr represents a crucial step in the implementation plan of our gigafactory project," said Lars Carlstrom, CEO and founder of Italvolt. "We are delighted to have concluded the purchase of the land with input from local authorities. In recent months they have made a significant contribution to the promotion of Italvolt's project. The decommissioned site offers excellent potential to restore the local industrial heritage, offering jobs and environmental improvements."
Italvolt has ambitions for capacity at the site to eventually reach 45 gigawatt hours (GWh) per year. The company expects to invest a total of around €3.4 billion ($4 billion).
"We are certain that this will pave the way for new industrial initiatives dedicated to battery production," added Carlstrom. "To achieve the challenging goal, set by the European Commission, to complete the transition towards a zero-emission automotive industry by 2035, it is necessary to accelerate battery production, and Italvolt is ready to do its part."
The Scarmagno site was selected as it already contains existing infrastructure and strategic geographical location for road and rail connections. Around 300,000 sq.m will be reclaimed and repurposed for constructing the new plant, and 20,000 sq.m will be used for a research and development centre.
Italvolt also hopes the site will be able to use Piedmont's manufacturing capabilities, as it is the leading region in Italy for automotive industrial production, including R&D and manufacturing capabilities for major automotive and industrial brands in and near to Turin, including Fiat, Maserati, Pininfarina and CNH Industrial.
Italvolt confirmed that it received federal and local government support, but no funding, for the site in February 2021.
Italvolt expects to acquire building permits by the beginning of 2022, so construction can begin in the second half of the year. The gigafactory factory is scheduled for completion in 2024.
Italvolt has partnered with Pininfarina's Architecture Division to design the plant. According to Pininfarina, it plans to develop a new generation industrial plant integrated into the region's economic and social fabric, with focus on environmental and social impact.
Lars Carlstrom had previously founded UK gigafactory startup Britishvolt, before stepping down from the company in December 2020.
Battery gigafactory investment is on the rise in Europe and other regions. According to Daniel Harisson, automotive analyst at Automotive from Ultima Media, global capacity for lithium-ion battery production capacity will rise from 475 GWh in 2020 to more than 2,850 GWh by 2030. Europe will see some of the most investment and capacity expansion, expected to rise from 60 GWh in 2020 to more than 950 GWh by 2030, in an effort to localise supply to meet OEM and government targets for electrification.
Italvolt's gigafactory is set to be one of several that will be built in southern Europe, where currently there is virtually no capacity. The Volkswagen Group has said at least one of six new gigafactories it plans to build will be in southern Europe.
Track current and planned battery gigafactories in our database.
As OEMs ramp up EV production to meet rising global demand, many manufacturers are also investing and expanding their own gigafactory footprints as well as working with battery manufacturers. In recent months, for example, Tesla, Volkswagen Group, General Motors, Ford, Geely and others have announced joint ventures with battery cell manufacturers, or as well as plans to develop in-house battery cell capacity.