The British government has confirmed it will fund the creation of an electric vehicle battery plant in Northumberland.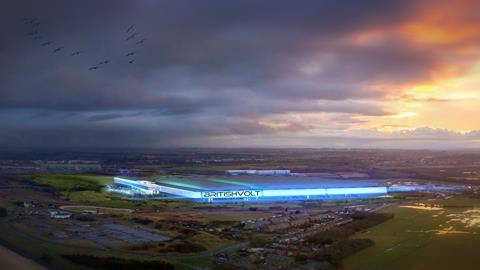 Westminster will support Britishvolt through the Automotive Transformation Fund (ATF) as the car battery manufacturer builds Britain's first large-scale gigafactory in Cambois near Blyth, in the Northeast of England.
The in-principle offer of funding has enabled a long-term partnership with Trixtax and Abrdn to deliver £1.7 billion ($1.9 billion) in private investment.
Construction of the site at the former Blyth Power Station coal stocking yard began in September 2021. The announcement of public and private sector investment means plans for the site can now progress.
"The news is the first step in creating a commercialised battery ecosystem, that perfectly aligns with the existing R&D ecosystem," said Peter Rolton, executive chairman of Britishvolt.
"Britishvolt will be the anchor for attracting further sections of the supply chain, be it refining or recycling, to co-locate on the Britishvolt site. This not only shortens supply chains but also allows for partners to access the abundance of renewable energy on-site to truly power low carbon, sustainable battery production.
"It will also allow us to catapult our unique tailormade business proposition on a global scale, with sites already selected for development in other countries," Rolton added.
The government backing is believed to be around £100m, as is widely reported in the market.
"The reason we chose Northumberland is because one of the primary hurdles to building a giga-plant is access to clean green renewable energy," Britishvolt CCO Ben Kilbey said.
"The site at Blythe is plugged into the grid, and we have access to power our facility with 100% renewable energy. We also have access to the North Sea interconnector."
The project is expected to create 3,000 on-site jobs and a further 5,000 in the wider UK supply chain.
The gigafactory will have a cell capacity of 300,000 electric vehicle battery packs as part of a national drive towards zero-carbon. Therefore, increased support for battery manufacturing will meet the increase increasing demand for EVs.
While UK car manufacturing fell by almost 29% in November, according to figures recently released by the Society of Motor Manufacturers and Traders (SMMT), pure battery electric vehicle (BEV) sales rose to 191,000 last year in the UK, which including hybrid vehicles meant 27.5% of all registrations were electrified in some way.
Forwards to localised production
The decision to provide public funding support for the Northumberland plant comes amid a huge drive to localise supply chains and manufacturing in the UK, especially for electric vehicles. While this process is essential, it also requires state backing to ensure it takes place effectively.
Lars Carlstrom, founder of Britishvolt and its Italian counterpart 'Italvolt', told AMS that gigafactories require support and collaboration from governments and continuous innovation from engineers and manufacturing experts.
He added that the need for gigafactory capacity would make EV production knowledge a scalable intellectual property. In addition, regional battery production is one of the green revolution's primary employment and sustainability drivers.
Britishvolt's Blyth port location means ocean freight can come straight to the facility and remove long-range truck haulage for inbound materials. At the same time, the finished batteries can easily be shipped, distributed to UK car plants or shipped out to mainland Europe.
According to figures from Ultima Media's Automotive intelligence unit, European battery production capacity stood at 60GWh per year in 2020, a 13% share of global battery capacity. By 2030 that will need to grow to 950GWh, a 16-fold increase that will see Europe holding a 33% share of global battery production. Assuming EU targets are achieved, and 50% of European vehicle sales are EVs in 2030, it will create a supply chain worth around £41.7 billion a year