New car production in the UK fell by 41.4% last month to its lowest October level in 65 years amid ongoing semiconductor chip shortages and plant closures, according to the latest report from the trade industry body.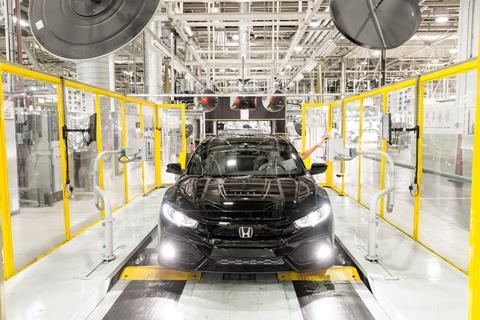 A total of 64,729 cars rolled off British production lines last month, according to figures by the Society of Motor Manufacturers and Traders (SMMT).
The drop is indicative of a "worrying trend", the industry body said in a statement.
"The substantial decline in UK car output in September continues the worrying trend we have seen over the past three months," said Mike Hawes, SMMT's chief executive.
Hawes cited the impact of the coronavirus pandemic and the shortages of semiconductors stalling production.
"Whilst there was welcome news in the Budget to support the transition to zero emission vehicle production, battery manufacturing and supply chains, it missed the opportunity to offer meaningful short-term support given COVID-related supply constraints and rising energy bills," he said.
Production for both domestic and overseas markets fell by double digits, down -37.9% and -42.1%, respectively.
According to the SMMT, ten automotive firms have made redundancies or restructured their businesses due to the semiconductor deficit.
Last year saw factories disrupted globally, and a sharp drop in demand caused by the pandemic saw output fall to its lowest level in nearly 40 years.
Despite the industry being slammed by converging crises last year, these new figures show that the automotive industry is still struggling to recover, as year-to-date output is lower than in 2020 by -2.9%.
Despite the demand for vehicles falling last year amid the pandemic, the chip shortage has been primarily caused by increased demand for commercial electronics.
Exports to the European Union also dropped by a third in October. Cars exported to Turkey, Australia, and the US markets also fell.
The production fall has not been centred in the UK either. In the same month, car sales in Europe hit a record low due to microchip shortages, the European Automobile Manufacturers' Association (EAMA) said in a statement.
"Despite the recent drop in sales due to the ongoing impact of the semiconductor supply crisis, substantial gains earlier in the year helped to keep cumulative volumes in positive territory," the EAMA said.
A tale of two markets
However, while overall vehicle production continues to suffer, electric and hybrid car output continues to break records, SMMT said, as they now amount to around 1 in 3 (30%) of all cars made.
Overall, UK commercial vehicle (CV) production also increased to 7,892 units in October, according to another report by the SMMT.
October's saw an increase in output of vans and CVs by 17.2%, the highest uplift since June this year, compared to the same month in 2020, where operators delayed fleet renewal due to pandemic related issues and Brexit uncertainty.
A 29.8% increase in domestic demand has been credited for driving the rise in commercial sales. The number of CVs built for export also increased by 6.8%.
Throughout 2021, export share has dropped from 56.1% in 2020 to 51.3%, while UK buyers have risen faster than those abroad.
Some 58,813 CVs have been produced this year, an increase of 15.6% against 2020. However, compared to the five-year pre-coronavirus average, output remains -18.0% down as 'pingdemic' related staff shortages earlier in the year, and the semiconductor shortage continues to constrain production.
"Significant growth in CV production during October comes as welcome news, but it must be viewed in context against a weak month in 2020. The sector is not immune from the ongoing challenges caused by the pandemic and, most notably, the semiconductor shortage, and there remains plenty of uncertainty in the months ahead," Hawes cautioned.