OEMs, suppliers and EU officials are considering how best to develop Europe's semiconductor manufacturing to mitigate current and future shortages, but the broad gaps at many levels – including for older, larger chips – mean there will be no magic bullet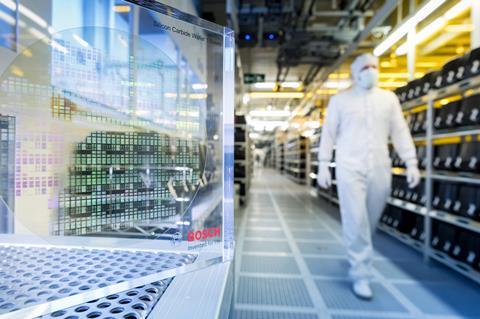 That production of semiconductors is of growing importance for today's cars has become more evident across automotive manufacturing. But the post-Covid shortage of computer chips, combined with the automotive industry's reliance on just a handful of suppliers, has created a perfect storm in supply chain and production. Globally, the automotive industry has lost more than 2m vehicles in terms of production in 2021 through to the middle of April, according to IHS Markit, including around 450,000 units in Europe.
As in the US, officials in the EU are anxious to avoid further disruption to the automotive and electronics sector. The European Commission is pushing to increase local investment and production in semiconductors in Europe. The question is: how feasible is it for Europe to make gains in this sector and will it help the automotive sector to mitigate the current crisis?
Raising local production of semiconductors
There are numerous initiatives underway to expand local computer chip and semiconductor production in the EU. In March this year, the European Commission announced the Digital Compass Plan with a view to at least double current production in Europe, thereby controlling 20% of global chip output.
It is an ambitious target. However, the EU will need to address what type of computer chips are in most demand and establish an accurate picture of those that will be most needed in automotive production in the coming years. The current chip shortage is complex in that there are shortages across the spectrum, and especially in some of the less complex, older chip technology that has existed for more than 20 years, such as 40nm (nanometer), 90nm and 130nm chips, as Mike Hogan, senior vice-president of automotive, industrial and multimarket business unit at GlobalFoundries, an important chip producer, recently discussed on a panel at Automotive Logistics and Supply Chain Europe Live. In fact, many electric vehicles are expected to use more of these less advanced chips as well, which will imply yet higher demand.
Carmakers such as Audi have also confirmed that automakers use much older versions of chips than those used in products such as iPhones, which are often also larger in size. According to an Audi spokesperson, such automotive chips also have longer lifecycles than those used in consumer electronics such as smartphones.
However, many companies and governments, including the European Commission, have focused programmes more on increasing production of higher value, more advanced chips, such as 5nm and 2nm chips. While producing such chips will play a role in the long-term production high-tech goods and applications for artificial intelligence, they will not go far in addressing the current supply issues in the car industry.
Joe Biden also wants his country to become the new hot house for chip production and has set aside $50 billion of the administration's $2 trillion infrastructure funding proposal for semiconductor production. Intel will itself invest $20 billion in two new factories in Arizona to include expanding its own chip production. TSMC has also announced a $12 billion new facility in Arizona to expand its footprint outside of Taiwan with production of 5nm chips to begin in 2024. Samsung is also said to be considering a new plant in Arizona, USA.
The European Commission clearly feels that it is strategically important that the EU gains more competency in these advanced chips. "While Europe has strong research competences and dynamic industrial actors in the semiconductors field, it is however dependant on chips, including processors, produced in other parts of the world," according to a spokesperson for the EC.
The European automotive industry will eventually need to address a lack of capacity in advanced, AI chips. Some tier one suppliers already use advanced 5Nm fabs in the vehicle electronics industry but they themselves do not produce them. Only a handful of companies globally currently make these chips, including Taiwan Semiconductor Manufacturing Company (TSMC), Samsung Electronics, Asahi Kasei Microdevices (AKM) and Renesas Electronics Corporation.
That is why the EU has initiated a number of initiatives to increase advanced chip production. Under the Important Projects of Common European Interest (IPCEI) initiative, for example, if companies commit production of 5nm and 2nm chips with 60-80% investment, state subsidies will top up with additional funds of between 20-40%. Such projects have long-term timelines, however, with targets up to 2030.
The good news is that semiconductor manufacturers globally are already increasing production, including in Europe. Infineon Technologies is planning to begin production this summer at a €1.6 billion ($1.93 billion) chip plant in Villach, Austria, where the group also has its competence centre for power semiconductors. It was here that the company developed manufacturing of power semiconductors on 300mm thin wafers and then expanded into fully automated high-volume production at a plant in Dresden, Germany. Infineon estimates that it has an 18.5% global market share in power semiconductors, but only 7 of its 20 global production bases are in Europe.
Robert Bosch, meanwhile, will open a €1 billion automotive chip plant in June this year in Dresden, Germany. "We operate two wafer fabs in Reutlingen [near Stuttgart, Germany] and are currently expanding the third wafer fab in Dresden at full speed – as the largest investment project in our company's history," he says.
The new wafer fab in Dresden is Bosch's response to the surging number of areas of application for semiconductors, as well as a renewed demonstration of its commitment to Germany as a high-tech location, according to Bosch. The Dresden facility includes a 300mm fabrication lab, in which a single wafer can accommodate 31,000 chips. Currently, Bosch's wafer fab in Reutlingen is based on 150mm and 200mm wafers.
To produce these chips, Bosch procures the wafers of around 1mm thickness, which are then produced into thickness of 100-60 micrometers (1 micrometer is equivalent to 1,000 nanometers).
And more recently, the European Commission has also noted the need for Europe to expand its chip production base more broadly. On April 30, Thierry Breton, European Commission for the Single Market, met with TSMC Europe president Maria Marced as well as separately with Intel CEO Pat Gelsinger to discuss global semiconductor needs. Breton presented a vision for the European semiconductor industry based on a twin-track alliance with key manufacturers, which includes building up production capacity of 20nm to 10nm chips in parallel to its plan for chips below 5nm to 2nm.
Understanding the chip supply chain: deeply intertwined between old and new technology
While it is a lack of older chip technology that is currently leading to the most automotive production shortfalls, the same suppliers are approved to make both older and newer chips used by tier suppliers in both the automotive and consumer electronics industries. The sheer complexity of the circuit boards, which often use a variety of different chips sourced from different suppliers, has caused bottlenecks in a myriad of industries.
Speaking at the Automotive Logistics and Supply Chain Europe Live forum on the ongoing chip saga, Bettina Weiss, chief of staff at electronics association SEMI, said the current situation highlights the "increasing interdependence of the electronics supply chain and the automotive supply chain. One needs the other, and this is a pretty stark example of what happens when one key component in car manufacturing is not available".
For example, a key fob has four main microchips and numerous other components. While the main supplier for the microchips could be NXP, there are others that make other chips used in the device. In its 'Top 100 Supplier List' NXP lists a range of companies that make the materials it needs to produce its semiconductors, which it then sells to its customers. For example, NXP procures from Samsung Semiconductors' locations at Asan and Yongin Si in South Korea, as well as from San Jose in California. NXP also procures from TSMC at its locations in Taichung and Tainan in Taiwan, as well as San Jose, California. NXP also lists GlobalFoundries bases in Dresden (Germany) and Singapore.
This list highlights how intertwined is the electronics industry. While automakers might currently need more of the older tech chips, the supplier network is interdependent, with some suppliers, specifically contract manufacturers such as TSMC, making a variety of chips with different fabrication sizes. TSMC makes chips for its customers from 2 micron (micrometer) down to 5nm.
NXP's end customers include automakers, as well as top tier suppliers such as Bosch and Delphi, as well as companies such as Apple.
Automakers in Europe try to put on a brave face
Automakers with production bases in Europe are between a rock and a hard place. On one hand they need to highlight how over dependent the industry has become on using chips made by just a handful of suppliers. On the other hand, by admitting to a growing backlog of unfinished vehicles, extensions of furloughs and the shortening of working weeks, and in quite a few cases the actual closure of plants for a duration of time, these automakers risk impacts to their share prices. Most manufacturers are thus suggesting that things will be rectified by year end.
A spokesperson from Mercedes-Benz said early in April: "We drive on sight. The situation is volatile and it is not possible to make a prognosis on the impact. As things currently stand, we expect to keep our planned sales programme for the year 2021, despite previous production downtimes, which we will catch up on over the course of the year."
Since this comment was received, Daimler has announced 18,500 staff will be given shorter working hours, and production has been halted at Rastatt and Bremen in Germany.
An official from Jaguar Land Rover initially said it was monitoring the situation closely but confirmed on April 22 that it had temporarily closed Castle Bromwich and Halewood in the UK from April 26.
Meanwhile a spokesperson for Audi explained that it is currently missing parts, although it has largely been able to maintain normal production: "However, we must proceed with caution due to the aforementioned factors that influence each other. Therefore, further production adjustments cannot be ruled out. Our aim is to eliminate bottlenecks as quickly as possible and make up for the production shortfall to the greatest possible extent over the course of the year."
A Skoda official dismissed reports that it has put Karoq production on hold in favour of its new Enyaq IV EV production. "Karoq production will not be stalled, only the ratio between the production plants will be optimised."
BMW officials, on the other hand, have reiterated that it has largely circumvented the crisis. "The supply of electronic components to our production sites has not led to any production interruptions so far," said a spokesperson. "Our aim is to ensure supplies continue to reach our plants. We ordered the required volumes for 2021 at the appropriate time and expect our suppliers to fulfil these orders as stipulated by the contract."
Renault has partially idled three of its four car plants in Spain because of the ongoing chip shortage. The plants will now be put on extended partial idling until the end of September this year, with up to 9,000 workers on furlough.
Toyota maintains that it has a stockpile of chips and therefore production is currently ongoing. However, it has also used its Rescue system to narrow down suppliers likely to be severely impacted, carefully discussing with suppliers to ensure that they have adequate inventories.
Toyota's Rescue system is all about improving supply chain transparency. Toyota established a database known as the REinforce Supply Chain Under Emergency (Rescue) system after the Fukushima earthquake in 2011. According to the system 'Under strict protection of suppliers' confidential information, Toyota conducts regular training with suppliers to utilise the system in case of a disaster.' This then ensures that Toyota's business continuity plan can be maintained even following a disaster, once humanitarian aid, and affected communities and areas have recovered.

Stockpiles can only last so long, however, and the issue now is whether Toyota can secure new orders to replenish stocks. The carmaker said that for some components, such as semiconductors, which have a long production cycle time, "it takes time to recover and start alternative production and shipments, so we are carefully discussing with our suppliers to ensure that they have adequate inventories".
Can retrofitting be a bridge over troubled waters?
OEMs currently find themselves in a supply predicament and the chances of rectifying the situation by the end of the year are diminishing. To tie things over many are turning to retrofitting, which involves building the vehicle and fitting in the parts as and when they become available.
This is a last-minute resort, however. Building vehicles and letting them sit in expensive compounds for indefinite periods is costly and risks damage from weather and other factors. In addition, retrofitting is no easy task. While retrofitting a key fob and adding the second sought after microcontroller is easy, actually retrofitting the electronics in an entire ECU is laborious and potentially prone to scratch and damage the actual finished vehicle.
Then there is the possibility of stretching the use of the microcontrollers that are installed in the vehicles, which automakers are both investigating, and in some cases, implementing. Continuing with the example of the key fob, if it continues to work with just one ultra-wideband (UWB) chip rather than two (for which it has originally been designed), then a carmaker can continue with one and it is unlikely that the a second will be retrofitted at a later date.
Another possibility of getting through this crisis is prioritising production of the most profitable cars. This means that while regular ICE cars do also have a large number of chips, these vehicles are currently put on the back burner. Staff at these plants are being given shorter working weeks, and in some cases have been furloughed. Production at these plants is prioritised for the high-value cars.
Again, this is not ideal. Customers are still waiting for cars they purchased, while dealers are looking to stock inventory. The outcome is that car prices go up. Simple economics: supply shortage in the case of increasing demand results in an increase in price.
Speaking at the Automotive Logistics and Supply Chain Europe Live event, Jeremie Bouchard, director at analyst firm IHS Markit, said the current chip shortage situation has seen OEMs double orders just to make sure they get their hands on the prized chips. However, in effect this is causing greater problems for an already struggling supply chain.
"Inflation of demand makes it difficult to predict the real shortage," said Bouchard. It's a classic case of the 'toilet paper effect', he said implying the reference to the initial stages of the Covid-19 pandemic when consumers bought more than they needed, stockpiling to make sure they did not lose out on essential supplies. However, this then produced a quota system where shops limited how much they sold per consumer. A situation that OEMs should take heed of and not over inflate orders, thereby creating a more complex situation to mitigate.