Ford Motors will begin building its first electric vehicle parts in Europe at its Halewood plant on Merseyside, as part of a £230m ($315m) investment project.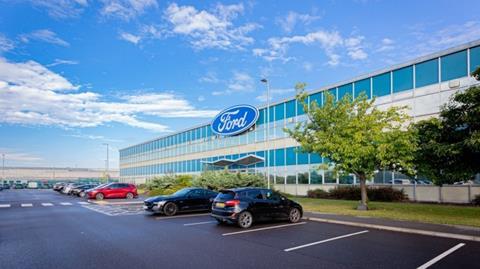 The US carmaker said it plans to use the Liverpool site to develop electric power units for its UK and European EV models.
"This is an important step, marking Ford's first in-house investment in all-electric vehicle component manufacturing in Europe. It strengthens further our ability to deliver 100 percent of Ford passenger vehicles in Europe being all-electric and two-thirds of our commercial vehicle sales being all-electric or plug-in hybrid by 2030," said Stuart Rowley, president, Ford of Europe.
Part of the investment will come from the government's Automotive Transformation Fund; a state support schemed for large-scale industrialisation of the automotive industry and help reach the UK's sustainability targets.
The Ford Halewood transmission facility will supply power units, a complete all-electric assembly that replaces the engine and transmission in a traditional internal combustion engine (ICE) vehicle.
According to the OEM, the site was selected to supply the power units due to its record on quality, competitiveness, strong skills base, and employee commitment.
Currently, the Halewood facility builds transmissions for Ford's passenger and commercial units and exports 100% of its production. Halewood had been part of Getrag Ford Transmissions, a joint venture co-owned by Ford and Magna, for more than 20 years, but ownership returned to Ford earlier this year.
"Ford's ongoing investment in electric vehicles demonstrates that the global automobile industry is undergoing an historic shift, as car manufacturers transition from internal combustion engines to battery-powered vehicles," said Oliver Shaw, CEO of fuel pricing advisory firm Kalibrate
He added that this is just one of the many steps that the UK faces to "make electric vehicles readily available and a sustainable, long-term option."
"Any successful EV infrastructure warrants significant investment to make the parts. However, as the appetite for electric vehicles (EVs) grows, the lack of infrastructure to support widespread adoption will continue to be a roadblock in the journey," Shaw said.
"For instance, consumers crave convenience and want to be able to charge their EVs at the office (55%) or at shopping venues (40%). But over half of businesses (55%) think the market is too unpredictable and 57% find it difficult to anticipate where EV charging infrastructure would be most useful. It's a fine balance that the likes of Ford, Vauxhall and many others car manufacturers will have to strike to meet the UK government's 2030 environmental target while responding to the expectations of shareholders and the changing preferences of drivers."
The move advances Ford's plans to become all-electric, with 40% of its vehicles set to be electrified by 2030, in line with government targets on carbon dioxide emissions.
In February, the OEM announced a $1 billion investment to modernise its vehicle assembly facility in Cologne, Germany.
The Cologne plant, which currently builds the popular Fiesta, will be transformed into the Ford Cologne Electrification Center.
The move also indicates that transformation towards EV need not necessarily require 'radical' restructuring or infrastructural changes as existing component plants can often be converted.
Last year, Volkswagen announced it would be converting its Emden plant into an EV-only production line, as its new generation of electric units is set to be released in 2022.
Daimler has likewise been re-using plants to support its electrification plans. Mercedes plants in Berlin and Stuttgart's Untertuerkheim district, adjacent to Daimler's headquarters, became the priority of the Mercedes-Benz maker's plans to revamp their production and shift towards EV production as demand for traditional combustion engines is expected to decline.