Together with South Korean battery maker SK Innovation (SKI), Ford is investing $11.4 billion on new plants, which aim to significantly increase regional battery production capacity in the US.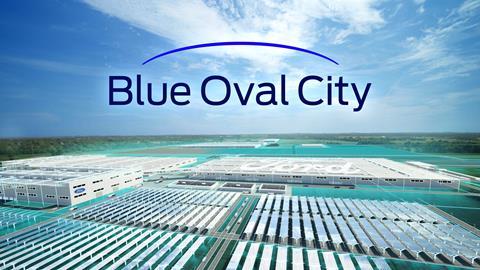 Ford Motor Company plans to increase its mark in the US electric vehicle supply chain by investing billions of dollars in three new battery plants and a pickup truck factory in Tennessee and Kentucky.
In partnership with South Korean battery maker SK Innovation (SKI), the ambitious project will cost Ford $11.4 billion – the largest ever US investment in electric vehicles at one time – and will also include efforts to decarbonise battery manufacturing and supply chain processes.
According to a company statement from Ford, the investment will include $5.6 billion for a 'mega-campus' in Stanton, Tenn., named Blue Oval City, which will house a BlueOvalSK battery plant – Ford's joint venture with SKI – an assembly line for electric F-Series pickup trucks, key suppliers and recycling.
Ford SK Innovation will also be constructing a $5.8 billion BlueOvalSK Battery Park in Central Kentucky, which will involve "twin battery plants" to produce EV batteries for Ford's North American assembly facilities rolling out electric Ford and Lincoln vehicles.
The collaboration between Ford and SK innovation was announced in May this year when the two companies signed a memorandum of understanding (MoU) for a joint venture to manufacture battery cells and finished packs in the US.
Ford and SKI announced at the time that the joint venture would produce around 60 gigawatt hours (GWh) a year of battery cell capacity with scope for expansion by the middle of the decade.
Another facility is also under construction in Commerce, Georgia, which will supply both VW and Ford; the US carmaker will fit batteries produced there into its new F-150 Lightning electric pick-up truck, scheduled to begin production next year at a new factory at its Rouge complex in Dearborn, MI.
The additional battery and EV production facilities underline the scale of Ford's plans in electrification, as well as its objective to further secure battery cell supply in North America. The new battery mega-sites are also expected to create 11,000 jobs across the southern US, with 6,000 employees added to the headcount in Tennessee and 5,000 being hired at the plant in Kentucky.
According to a statement from the governor's office, production of advance lithium-ion batteries at the twin plants in Kentucky is set to begin in 2025. The state has hopes of becoming the nation's largest producer of electric vehicle batteries.
"This is a transformative moment where Ford will lead America's transition to electric vehicles and usher in a new era of clean, carbon-neutral manufacturing," said Ford Executive Chair Bill Ford.
"With this investment and a spirit of innovation, we can achieve goals once thought mutually exclusive – protect our planet, build great electric vehicles Americans will love and contribute to our nation's prosperity."
JOIN THE AUTOMOTIVE MANUFACTURING EVOLUTION SUMMIT DECEMBER 7-8 FOR MORE ON BATTERY CELL AND PACK MANUFACTURING
Securing supply chains
The Ford investments come just two months after US President Biden signed an ambitious executive order outlining a national strategy to make 50% of vehicle sales in the country electric by 2030. The mandate from the White House is supported by major American OEMs, including Ford, GM and Stellantis.
Ford has said they expect the company's vehicle sales to be 40-50% electric by that deadline. Likewise, GM intends to be all-electric by 2035, while Stellantis intends to hit 40% low-emission sales in the US by 2030.
GM is also investing heavily in EV and battery manufacturing in North America, including through its Ultium joint venture to build battery cells together with LG Energy Solution.
While Ford has long said it intends electrify its models in Europe, with plans to build and sell purely electric vehicles by 2030, the carmaker is now also set to electrify its production and sales in the North American market and said it plans to invest and build more vehicles in the US than any other carmaker.
As demand for EVs rises amid wider economic recovery, developing lithium-ion batteries is essential the success of Ford's electrification agenda. Currently, most battery cells and their supply chains are produced in Asia. The establishment of these new plants signals a massive intention to secure supply chains and bring output closer to home.
Sustainable battery ambitions
The Blue Oval City campus will be among the largest automobile manufacturing sites in US history and will be dependent on cloud-connected technologies and renewable energy sources to make the facility more sustainable, Ford said.
The assembly plant, according to Ford, is intended to align with its carbon neutral goals. The inclusion of an on-site wastewater treatment plant will also ensure that the plant does not use freshwater withdrawals, while zero-waste-to-landfill processes will accumulate materials for scrapping and recycling at facilities both on and off the site.
Ford also announced in September that it will be working with Ford and Redwood Materials to localise the production and recycling of lithium-ion batteries for its electric vehicles. Both companies aim to reach the "best approach" for collecting and disassembling end-of-life batteries from Ford EVs to produce all-new batteries in a closed-loop supply chain.
As with battery production, recycling capacity is also centred largely in China. According to the battery report, China accounts over two-thirds of all recycling facilities, handling the roughly 100,000 tonnes of batteries currently being recycled.
The Ford and Redwood agreement is specific to North America, showing a broader attempt to localise their supply, looking to build up recycling and closed loop methods in the US as demand for EV batteries increases.
Earlier in the year, Ford also announced a new global battery centre of excellence, Ford Ion Park, to accelerate its battery and battery cell technology research and development, including future battery manufacturing. Ford publicised that it will be accelerating its production of all-solid-state batteries for EVs following an investment in Solid Power, contributing to a $130m Series B investment round in which the BMW Group becomes an equal equity owner with Ford.
The OEM is also investing $185m in a "collaborative learning lab" in Southeast Michigan. dedicated to developing, testing and building vehicle battery cells and cell arrays, which will begin operations next year.
For more on the development of the battery supply chain globally, download the AMS special report on the global lithium-ion battery chain