Ford Motor has announced that it plans to nearly double the annual production capacity of its upcoming electric F-150 pickup by mid-2023.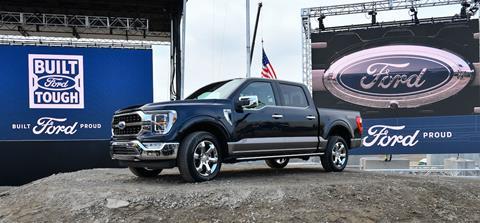 The US automaker cites strong consumer demand for the first all-electric version of America's best-selling vehicle, the F-Series for the capacity increase. From Thursday, the first group of reservation holders will be invited to place their orders for the F-150 Lightning.
"With nearly 200,000 reservations, our teams are working hard and creatively to break production constraints to get more F-150 Lightning trucks into the hands of our customers," said Ford president Kumar Galhotra.
"The reality is clear: People are ready for an all-electric F-150 and Ford is pulling out all the stops to scale our operations and increase production capacity."
Ford's stock surged to a 52-week high day of $24.56 a share on Tuesday before closing at $24.31, up by 11.7%. According to FactSet, this marks the stock's highest daily percentage increase since June 2020.
The US carmaker has highlighted its flexible production system in delivering the latest increase. A small task force of employees from manufacturing, purchasing, strategy, product development, and capacity planning are finding ways to adapt and expand the new model's production quickly.
Ford is working with key suppliers and its manufacturing facilities Rawsonville Components Plant and Van Dyke Electric Powertrain Center to find ways to increase the capacity of electric vehicle parts, including battery cells and battery trays and electric drive systems.
Ford appeared to have underestimated demand for the truck, leading to a rapid shift to try and boost production. This marks the second time Ford has said it plans to double production of the vehicle, set to hit the market in spring. The initial output was set at 40,000 units.
The increase indicates positive consumer response, not just for the F-150 Lightning but electric vehicles in general, amid a large-scale federal push to make EV sales 40 – 50% of all car sales by 2030.
In May, Ford outlined its EV ambitions with a target of 40% of the OEM's global vehicle sales volumes to be all-electric by the same federal deadline.
In addition to increasing Lightning manufacturing, Ford recently announced the tripling of production for the Mustang Mach-E and expects to reach 200,000-plus units per year by 2023. Ford's all-electric van, the 2022 E-Transit, also goes on sale early this year.
This move towards EV output is supported by an increase in the electrification of its manufacturing base.
Ford is building a new, highly efficient production facility in Tennessee, where it plans to assemble the next-generation F-Series electric pickups. Working with SK Innovation, Ford is building three new BlueOval SK battery plants – one in Tennessee and two in Kentucky – to build advanced lithium-ion batteries to power next-generation Ford and Lincoln vehicles.