Christian Vollmer at Volkswagen discusses how virtual tools have helped production move during the pandemic, why cross-plant collaboration has accelerated and VW's evolving manufacturing strategies to ramp up EV production.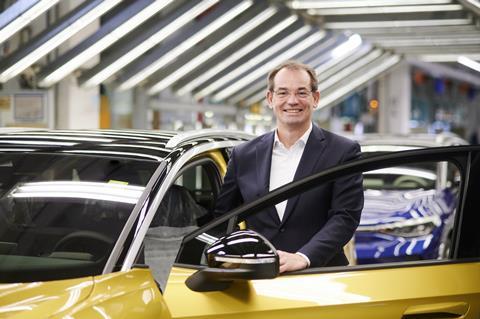 Mr. Vollmer, you have been head of production at the Volkswagen brand for nearly a year. Which new ideas have you implemented already?
I had already gained considerable experience in production across the group in Bratislava [Slovakia], China and Spain. The first task was to look at all the upcoming production launches, because this is how a plant is measured. That gave me a strong view of the launch competence across Volkswagen locations worldwide, including where new ideas may be needed at management level and how we can achieve a stronger transfer of knowledge from other locations.
Can you give us a concrete example?
Production of the ID. family started in Zwickau (Germany) and is now being rolled out to other plants such as Emden (Germany), Anting and Foshan in China or Chattanooga in the US. It is important that we share knowledge about processes across plants, as this prevents us from repeating possible mistakes. That is why it is critical to involve the teams on the ground. For example, managers and employees from Emden or Chattanooga have been in Zwickau to learn from the production there. Conversely, staff from our plants in Saxony [Zwickau and Dresden] will accompany vehicle launches based on the modular electric drive kit (MEB) platform at other plants to optimise processes.
This intensive exchange requires a willingness to see 'copy culture' as a positive form of cooperation. During my time in China, I learned that we shouldn't always see copying as negative but should understand it as an appreciation of work. I am trying to convey this type of learning, among other things, in discussions with our plant managers.
As we set out to transform the Volkswagen brand so comprehensively, we need a sense of togetherness and team spirit across locations to help us advance, rather than being in competition with one another.
You have been working in different areas and locations of Volkswagen production for more than 20 years. What are the biggest changes you've seen?
When I started my professional career in 1999 at the main plant in Wolfsburg, first in press shop planning and then as assistant to the production director, the challenges facing a car manufacturer were completely different compared to today. We were just discussing the emerging SUV trend, while internal combustion engines defined the day-to-day business. That has only changed in the past five or six years as we developed plants like Zwickau for electromobility. We are now in the middle of a transformation that will keep us busy for at least two decades, because technology is constantly advancing.
This interview first appeared in German in Automobil Produktion, a sister publication to AMS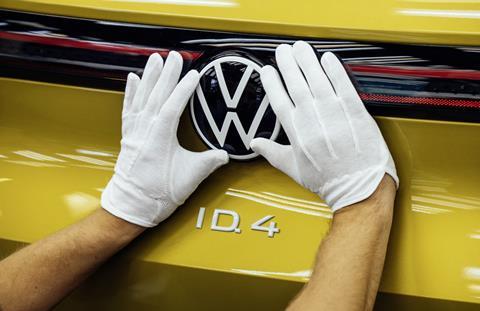 You succeeded the previous board member for production Andreas Tostmann in the middle of the pandemic, which repeatedly forced Volkswagen to stop production at short notice. How has this experience impacted your work?
Spain was hit hard at the beginning of the pandemic, and I saw the effects on production first hand at Seat. I was one of the first in the Volkswagen Group manufacturing network to stop a plant. The lockdown in the Martorell region was so drastic that we were simply no longer able to work. When I succeeded Andreas Tostmann last August, the situation was different, as Germany had coped with the first wave of the pandemic much better than other countries. I was able to visit the German locations and Bratislava in the first two months to get an overview.
That changed with the second wave of infections.
That's right. As of October 2020, the opportunity to engage in person with employees on site ceased to exist. This was particularly critical because the pilot phase in the year before SoP (start of production) is very important, as it is when we really stress test pre-series production.
As a result, we turned to new forms of communication, for example in launching production of the Volkswagen Taos at plants in Argentina and Mexico. I call it 'mixed-reality collaboration' – we installed cameras in the pilot halls, and employees wear bodycams to record as they walk around the car. This has helped me to see the situation in real time as if I were there.
However, I also quickly realised that it was not enough. As a result, we shipped certain new parts, such as the bonnet or steering wheels, from the pilot halls in Mexico or Argentina to Wolfsburg, so that I could also touch and feel these components. That has worked very well and although it is an approach borne out of necessity, we will certainly still use it after the coronavirus pandemic. It means that even during these critical pilot phases, I won't have to travel as much anymore.
Why weren't such forms of collaboration used much earlier?
It is important to work with all your senses in manufacturing. You don't just have to look at a car in pre-series production, you must also touch, smell, and hear it. Virtual collaboration can only replace such impressions to a limited extent. In the past, the connection speed and thus the image resolution were also simply not sufficient to capture all the details. The coronavirus crisis led us to press reset and to think various production processes. After the pandemic, for example, we will maintain more of the virtual collaboration methods that I mentioned.
The auto industry not only has to cope with the corona crisis, but the global shortage of semiconductors. How are the ongoing bottlenecks impacting production?
The situation is very tense and will remain so for some time. I do not expect the shortages to ease until later in 2021 – and until then we will probably not be able to produce at the levels we had planned. We are in close contact every day with the Volkswagen Group taskforce to deal with the issue and we are already trying to prepare as best we can to make up for lost production volume.
Your sister company Porsche is building the upcoming Macan, with a full mix of electric, hybrid and combustion engine powertrains on one assembly line. The Volkswagen brand has opted mainly to produce electric vehicles at dedicated plants. Will you stick to this strategy, or will we also see a mix of powertrains on the same VW line in future?
The first thing to say is that there is not just one single production strategy at VW. In China, for example, we also use a mixed production of powertrains, which is quite suitable for the first generation of vehicles using the MEB platform. The MEB has a completely different drivetrain concept, which in production impacts primarily the so-called 'marriage' [the point in the assembly line that unites the chassis, engine and transmission]. Otherwise the differences between between combustion engines, hybrids and EVs in areas such as body construction, paint shop and assembly are not so significant that they need to be separate.
The decision to switch production in Zwickau entirely to battery electric vehicles was nevertheless the right one, which we can see from the current plant utilisation figures. Nevertheless, mixed powertrain production is possible and certainly conceivable in the future at VW plants, depending on the market situation and customer requirements. However, it is not currently planned.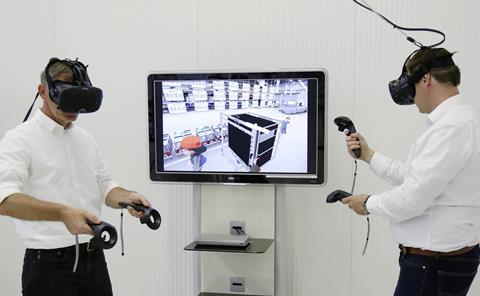 What role do production cycle times play in these decisions, as they are much shorter with the VW brand than Porsche, for example?
In terms of productivity, time planning in production is of central importance. The question is: how many minutes does it take to build the simplest car on a mixed-powertrain assembly line and how much time does it take to build the most complex? If it is possible to implement a time spread on the line between one and two hours, that is good. Anything beyond that would be unproductive and make it necessary to separate pure combustion and electric vehicle lines. With the quantity of electric vehicles that Volkswagen is producing, this has made homogeneous production the obvious choice.
The Trinity electric sedan is to be manufactured in a 'revolutionary' manner, with a complete rethink in production. Could you outline that more specifically for us?
With the Trinity project, we have more preparation time than with the ID. family, and that time helps us to better implement new production ideas at the Wolfsburg plant. It will be conceivable to automate more time-consuming processes in assembly, such as for installing seats or wiring harnesses, which vary noticeably depending on the equipment. We will also pursue 'clean design' with Trinity, for example reducing lettering on the tailgate or other features that require time-consuming manual processes in production. These are everyday topics in production, and with the time in front of us we will better integrate them into the design and development process, enabling us to have a more production-friendly vehicle right from the start.
I call it 'mixed-reality collaboration' – we installed cameras in the pilot halls, and employees wear bodycams to record as they walk around the car. This has helped me to see the situation in real time as if I were there.
-Christian Vollmer, Volkswagen
Together with Amazon Web Services (AWS), VW Group wants to digitise and thus optimise workflows in production as part of its new industrial cloud. What is your experience with this transition so far?
Our clearly formulated goal is to network the locations much more closely than in the past and achieve more transparency in the supply chain. The digital production platform (DPP) helps us to enable cross-location data exchanges and to react more quickly to situations such as the current semiconductor shortage. However, the DPP is also a kind of app store that makes certain applications and use cases available to all plants, which will help each factory to achieve their own cost targets more quickly. Use cases, for example, include predictive maintenance and servicing of equipment. If I can predict exactly when a machine will need a spare part, we can avoid failures and can increase production efficiency and productivity.
Predictive maintenance is not a new topic, but it feels as though car manufacturers like Volkswagen are still struggling to implement such technologies in everyday production.
The automotive industry has long found it difficult to think outside the box and learn from other industries when it comes to new technology topics such as big data analytics or machine learning. Today, it is completely different. Volkswagen is working successfully together on the smart factory of the future, the results of which will be seen in the Trinity.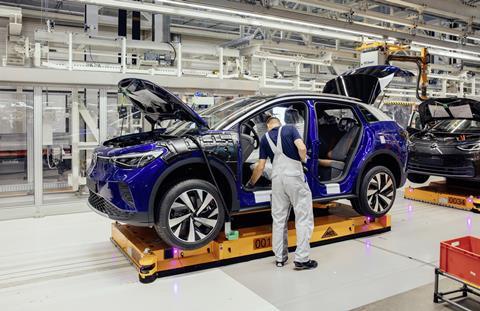 Digital twins are key in smart factory applications. Are such virtual versions of production at VW already a reality?
On a small scale, yes. At the Emden plant, for example, we use digital twin technology in welding systems. But the digital twin should also play a role in the overall building infrastructure to best plan factory halls, for example in terms of energy efficiency. With the MEB integration, such as at Emden, we can avoid certain problems from the outset.
We now know what you've been working on since taking over the role. What is at the top of the agenda over the next year?
In the coming months, the aim will be to closely interlink my so-called 'Produce Together' approach with the 'Accelerate' strategy, which the new brand management board has formulated. Up to 2030, for example, digitisation must be given an even higher priority. Above all, however, I want to encourage my production teams to learn from one another so we can implement new approaches faster and more smoothly. This will be particularly important when crises such as the coronavirus pandemic or the chip shortage are behind us.
For more on changes in automotive production and assembly processes, read the latest AMS digital edition on material flow and automation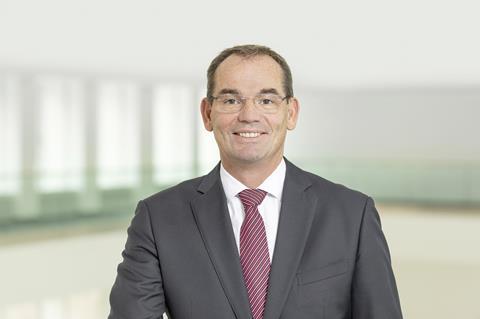 Curriculum Vitae
Christian Vollmer, Volkswagen Passenger Cars
1999. Starts career in press shop planning at the Volkswagen plant in Wolfsburg, Germany, and later works as assistant to the board member for production
2005. Production Manager at the Volkswagen Group plant in Bratislava, Slovakia
2010. Managing Director Production for the SAIC Volkswagen joint venture plant in Shanghai, China
2014. Technical Executive Vice-President of SAIC Volkswagen
2018. Board Member for Production and Logistics at Seat
2020. Board Member for Production and Logistics at Volkswagen Passenger Cars