Volkswagen says it is expanding its Tennessee factory to build a North American centre for electric vehicles, for both assembly and engineering functions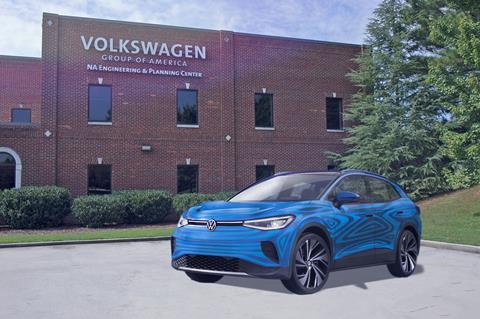 The Engineering and Planning Centre (EPC) in Chattanooga will feature a high-voltage laboratory designed to develop and test electric vehicle cells and battery packs for upcoming models assembled in the US. Volkswagen is planning to use battery cells manufactured by SKI in Georgia for the EVs it builds in Chattanooga.
"There are two ways that auto companies approach the development of electric vehicle batteries," said Wolfgang Maluche, vice president of Engineering at Volkswagen of America. "A lot of them will farm out the development and testing of batteries to another company, and some will actually do the work of developing and testing in-house. We are doing the latter."
VW says the EPC will feature a range of test equipment, including pressure testers, explosion-rated climate chambers and a custom multi-axis shaker table (MAST), which is designed to test the integrity of vehicle components in the difficult conditions they might face on the road. This has been specifically designed for electric vehicle batteries since these are the largest and heaviest component in an EV.
"The battery is not only shaking; it is going through a series of harsh conditions to test its durability in a variety of possible environments, from the South Pole to the Sahara," said Jason Swager, the director of Electrical Development. "We needed to build a MAST that could withstand the immense force and frequency that we need to test these batteries."
To run a MAST at such high frequencies, the OEM had to design its own tool rather than using an outside supplier. The supports for the MAST will be buried 12 feet under the lab's floor and buttressed with concrete to help withstand the forces in use. VW plans to break ground on the lab in the near future, with the goal of being fully operational by spring 2021.