Renault has entered into a strategic partnership with Envision AESC as it sets up a gigafactory in Douai, to support manufacture of latest technology, low-carbon batteries, and signed a MU with the French start-up Verkor to co-develop and then manufacture high-performance batteries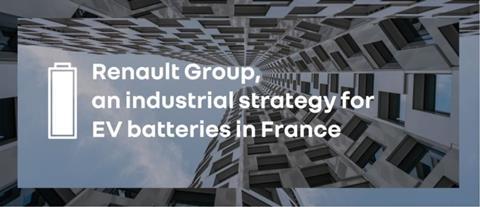 Renault says the two new partnerships will compliment existing programmes, in particular the agreement with LG Chem, which currently supplies battery modules for OEM's electric range and for the upcoming MéganE. It's noted that research will also continue within the Alliance to deploy solid battery technology from 2030, with the ASSB project (All Solid-State Battery technology).
The partnering with Envision AESC will see the development of a gigafactory in Douai with a capacity of 9GWh in 2024 and with aim of reaching 24GWh by 2030. As the battery arm of global green tech company Envision Group, it will invest up to €2 billion to produce latest technology, cost-competitive, low-carbon and safe batteries for electric models, including the future R5.
Renault points to the proximity of the Envision AESC's gigafactory to its ElectriCity production sites at Douai, Maubeuge and Ruitz, which will improve the efficiency of its EV production chain. Douai's gigafactory opens the way for the production of low-carbon batteries as part of the objectives outlined in the European Green Deal and for the development of closed-loop recycling solutions for production waste and end-of-life batteries.
The Memorandum of Understanding with Verkor sees Renault take a 20% stake in the company. The initial phases of the partnership will involve the financing of a R&D centre (Verkor Innovation Centre) and a pilot line for battery cell and module prototyping and production in France as early as 2022. The second phase will see Verkor moving forward to create the first gigafactory for high performance batteries in France, with an initial capacity of 10GWh for the Renault Group from 2026, potentially rising to 20GWh by 2030.
"Our battery strategy builds on Renault Group's ten years of experience and investment in the electric mobility value chain. The latest strategic partnerships with Envision AESC and Verkor greatly bolster our position as we ensure the Europe-based production of one million electric vehicles by 2030. This marks a major milestone as we strengthen our competitive edge, by rooting our Group in the underlying momentum of French industry and striving to reach our carbon neutrality objectives," said Luca de Meo, CEO of Renault Group.