The French and Chinese automakers will develop and produce internal combustion engines for their own products as well as for other automakers.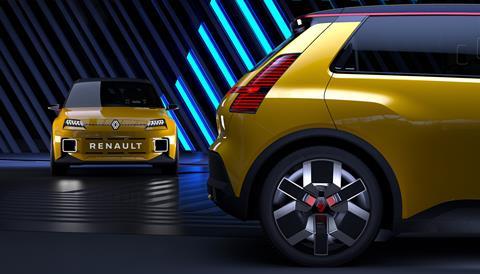 Renault will form a 50-50 joint venture with China's Geely to produce internal combustion engines for the two brands and for other automakers, the French company said on Nov. 8.
Renault will also create a separate unit dedicated to EVs and list this on the Paris stock exchange, it said.
Renault and Geely will unite their technological, industrial and R&D assets to create a first rate powertrain supplier, Renault said. The joint venture will have estimated revenues globally of €15 billion from the outset, according to its statement.
The company says it aims to become a 'next generation' automobile group as part of its Renaulution strategy revealed by CEO Luca de Meo, by focusing on five business areas.
These are the electric vehicle and software unit Ampere, sportscar unit Alpine which will become a zero emission brand, mobility service business Mobilize and circular economy business The Future is Neutral which will include parts reuse and battery recycling.
A unit called Power will continue the work of developing internal combustion engine vehicles and hybrids for the Renault, Dacia and Renault LCV commercial vehicle brands. Power's business activities will be known as project Horse.
Partnership ecosystems will be created to enable future growth, Renault said.
Ampere, the EV-focused company, will be listed on the Euronext Paris stock exchange in the second half of 2023 with Renault holding a large majority of its capital.
Renault has set up partnerships with two major tech companies, Google and Qualcomm Technologies, to develop disruptive technologies supporting the development of the software-defined vehicle which includes a centralised electronic architecture and vehicle operating system known as Car OS.
Sportscar division Alpine will develop globally with more than half of its future growth to originate outside of Europe through business partnerships, plans which will be supported by the rise in the financial value of the brand's Formula 1 assets.
Commercial vehicle activity will launch together with an automaker, a revolutionary family of electric utility vehicles with connected features, the FlexEVan. FlexEVan's disruptive technology will reduce operating costs for fleets by 30%, Renault said.
Renault expects to generate an operating margin above 8% in 2025 and for this to surpass 10% in 2030 with free cash flow above €2 billion a year on average from 2023-2025 and above €3 billion from 2026-2030.
Renault said it plans to re-establish dividend payments in 2023, the first of which will be a sum generated in 2022, subject to shareholder approval. Such a dividend policy is a first for Renault Group, it said, without explaining further. The rate of distribution will progressively increase up to 35% of group net earnings in the medium term if the automaker can return to investment grade status.
"Today's announcements are a sign of Renault Group's determination to prepare the company for the future challenges and opportunities generated by the transformation of our industry," said Renault Group CEO Luca de Meo.
"After having carried out one of the fastest turnaround plans, after having prepared the company for growth by ensuring the development of the best range of products in decades, we intend to position ourselves even faster and stronger than the competition on new automobile value streams: electric vehicles, software, new mobility and circular economy," he said.
Renault will extend its partnership with Google which began in 2018 after signing new agreements which include work on software-designed vehicles whose features can be seamlessly updated through Android Automotive and Google's cloud technologies.
The initiative is also linked to Renault's "Move to Cloud" ambition of storing more of its data to the cloud.
The companies will create a digital twin with artificial intelligence technologies to facilitate integration of services into the vehicle and create new in-car service applications.
"The complexity of the electronic architecture of cars is increasing exponentially through the effect of the sophistication of functionalities and services that customers expect," de Meo said.
"With a shared computer platform, continual updates and rationalised access to the car's data, the software defined vehicle approach together with Google will transform our vehicles into more technological objects."
"With Google, we go beyond simple cooperation. Two champions, one in software and the other in mobility, join forces to create the technologies of the future which will change the paradigm."