Lightweighting has become one of the most important features when it comes to designing EVs. As calls for more sustainable production practices become louder, creators are looking at new innovative ways to lighten the load.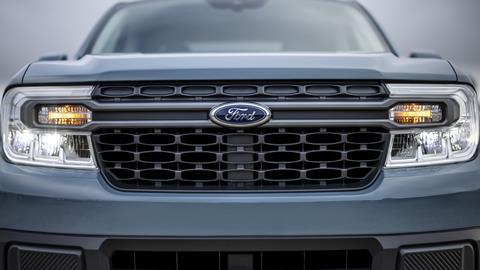 Stripping back mass and lightening the weight has quickly become a driving force in the design and manufacturing of Electric Vehicles (EV) and their powertrains.
Under pressure from global climate targets to reduce individual carbon footprint, concerns of long-term infrastructural decay, as well as visceral consumer preference, industry insiders are pursuing creative and innovative methods to drop the overall weight of vehicles that are already far heavier than cars with Internal Combustion Engines (ICE).
Speaking on an AMS Lightweighting Livestream, experts at the forefront of reducing weight outlined how EV design can represent much of the incongruity involved in the lightweighting process.
Trimming the fat
"If a part doesn't need to exist, don't make it", said Scott Anderson, the Lead Interior Designer of SUVs and Trucks at Ford.
Regarding the design of the Maverick compact hybrid truck, he outlined how design choices of interior parts were made to avoid trying to make materials look like what they are not, like giving plastic a leather appearance.
With customer preference shifting towards sustainable products, the Maverick showcases its recycled materials by integrating carbon into plastic for "free". The plastic also utilised bright colours to replace the need to pretend to be leather or chrome for an "honest "appearance.
Anderson added how by removing unnecessary decor and exposing the vehicle's framework, the designers were able to reduce weight and simplify the product.
"Instrument panel, door trims, pieces of the interior, takes a lot of mass out that wasn't really actually adding value to the customer", Anderson said.
In what he calls "free geometry", structure, storage, and design were brought together to achieve a massive jump in efficiency.
To further strip away excess mass, decoration is often seen conflicting with lightweighting. However, by integrating stylistic elements into the vehicle's structural factors, like stripping away the cup holder and integrating it into the door interior, what was once a contrast has become a synthesis.
While a vehicle is more than the sum of its parts, this process of forensically deciding to strip away aspects of the interior and allow the frame itself to play a visual role, it can accumulate in the removal of large amounts of weight from the car.
Speaking about the approach to designing Ford's F-150 Lightning and its front trunk or "frunk", Senior Exterior Designer Elvir Mesalic, added how essential working "hand in hand with engineering and manufacturing" was for creative packaging, cost and weight optimisation.
"If a part doesn't need to exist, don't make it… Instrument panel, door trims, pieces of the interior, takes a lot of mass out that wasn't really actually adding value to the customer"
-Scott Anderson, Ford Design
Pushing the limits
Gestamp, which specialises in the design and development of metal components, has been making innovative leaps in assembling safer and lighter products.
Paul Belanger, who serves as Director at the Spanish-owned multinationals North American R&D Center, explained that steel parts were being created with consideration to high-strength quality, weight, and ductility.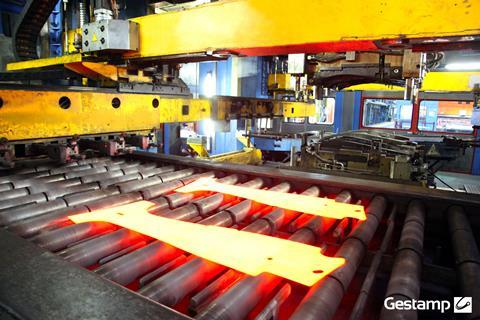 For EVs, Gestamp has also been advancing how it builds battery enclosures by placing ductile patches stamped in a single operation instead of 21 individual parts with no additional reinforcements due to it being stamped with one metal piece.
Mixing materials can present some joining challenges, as can pushing the strength level of steel as part of the joining process.
A primary consideration, according to Belanger, is cost. The materials have to use existing processes to provide an efficient solution.
"We've been able to find ways of producing these new materials within existing assets which is key to providing good value proposition", he said.
When it comes to lightweighting, it can be the removing all but the most essential parts can lessen expenses as well as reducing weight. However, the pursuit of new effective materials can have the contrasting effect of driving costs up.
Opening up possibilities
On the increasing industry focus on weight, Anderson described lightweighting as a design consideration now as a "top item" because as customers look for battery electric vehicles (BEV), the developers consider range as a purchasing element.
He added that this has now been amalgamated with range. The ability to drive around town and other uses such as towing and work are all considered. Mass reduction, which was previously a background premise for a designer, has become an industry spotlight.
Managing payload and cargo, gain-bandwidth product (GBW) are just as important as absolute weight and the task, Anderson explained, is managing that together. Customers want the same efficiency from their trucks but with a huge range benefit.
In terms of packaging, the size and layout of the cabin and interior, EVs offer some fresh opportunities due to their new position. Elvir Mesalic explained how this presents both scope and challenges for lightweighting.
"Packaging has a huge influence on us designers. It's been lately quite an exciting time walking through different studios and seeing really fresh new silhouettes that are being enabled", Mesalic said.
However, bigger glass areas such as windshields and roofs can drive up weight. A lower centre of gravity and batteries having a horizontal layout enables a design of more front and rear graphics, facilitating a balance of modernity and weight. Crossovers and SUVs, such as with the frunk, can also bring out the users experience and find this balance between the two.
Anderson outlined further difficulties from the interior point of view. EVs still have motors and other parts under the hood giving frunks a certain Z height.
"You do have flat floors, but you also have items that go underneath, seating packages, heel points are getting taller and the seals are going down, so the battery pack wafers themselves sometimes make thicker floors, so you end up with a different chair height on the inside or different headroom", he said. "So, we're always trying to find out the right proportional balance for usability".
Cost vs utility
Paul Belanger stressed that approaches in the future towards lightening have to be "holistic" as opposed to specific, requiring more innovations from all tiers and integrating them into the design.
He emphasised that value considerations can often be contradictory with removing weight, and cost must remain at the forefront of any design decisions. Removing weight is always possible by using different materials, but producers may be simply unable to sustain that cost increase.
Anderson said that the Ford studio is now reorienting their business, with the Maverick becoming an example for other designs.
He said there are still many areas where weight can be removed, citing a study for the ICCT that found 80% of interior weight comes from the seat frame alone, providing an opportunity for materials and technologies to produce lighter seating.
"It's about being reductive … instead of just having sheet metals with carpet over it, do we do composite body structures where there are aldehyde composites in the flooring?" he added. "I think there are big pieces that we can challenge convention on."
The panel of experts agreed that 3D printing is not currently cost-effective as a replacement for conventional material in high-volume manufacturing but will provide wider degrees of freedom from an engineering design perspective.
A heavy price?
The drive towards lightweighting of EVs occurs amid a global tightening of vehicle emissions regulations, being led primarily by the European Union and China. Other regions are now following suit, including the United States under the Biden administration, which had been lagging. But are these measures being directed in the right place?
Emissions regulations put pressure on OEMs to drop vehicle wait to cut carbon output, particularly regarding non-structural components such as electronics, seating, and fabrics.
However, Internal-Combustion Engine (ICE) vehicles and EVs may be being unnecessarily equated in the quest to reduce weight. While mass reduction is an important factor generally in cutting emissions, EVs themselves do not have to meet targets as regulators tend to classify them as zero-emission.
"Weight reduction is a factory in maximising EV driving range, but regenerative braking systems fitted to all EVs allow the vehicle to recover in deceleration 90%+ of the energy lost in acceleration. Therefore, the weight of EV's is significantly less important than with ICE. In fact, EVs are already typically 200-300 kg heavier than comparable ICE vehicles due to the battery", said Daniel Harrison, Automotive Analyst at Automotive from Ultima Media, the business intelligence arm of AMS.
Falling costs of batteries may also see it become more cost-effective to install a large battery instead of expensive materials for weight reduction.
In years prior, it may have been remunerative to reduce weight for the carbon fibre chassis of the BMW i3 EV made sense to reduce weight when battery prices were high.
Nowadays, greater range and lower battery prices have seen its successor i2 EV use conventional steel. Indicating that, as vehicle fleets electrify, the focus on lightweighting itself may clash with effective design.