Lotus Cars has unveiled its full range of EV performance cars demonstrating innovations in lightweight chassis technology for the production of its electric sports vehicles. According to the company, they will be essential in both performances of electric vehicles, as well as in maintaining efficiency in manufacturing.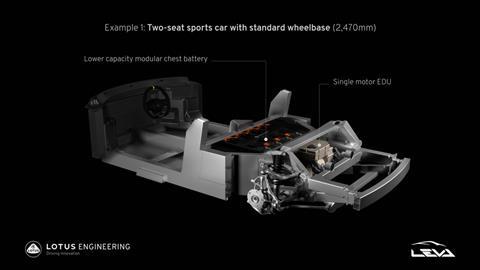 The UK carmaker has been developing its chassis through Project LEVA (Lightweight Electric Vehicle Architecture), a research programme designed to develop all-new lightweight structures for the next-generation battery electric vehicles.
The lightweighting programme, which was launched in October last year, has helped Lotus to reduce the weight of the rear structure of an EV by 37% compared to the Lotus Emira V6.
Richard Moore, executive director of engineering at Lotus Cars acknowledged how important such engineering in structures and components is for developing electric vehicles. "[EVs are] heavy in comparison to their ICE equivalents, so the ARMD funding has helped Lotus to innovate earlier in the product cycle and develop a new vehicle architecture that targets lightweight and performance density from conception."
The Advanced Route to Market Demonstrator (ARMD) fund is a government-backed package designed to accelerate advancement to market readiness.
According to Moore, rather than developing a single vehicle, Lotus now has the "blueprint" for a new generation of electric sports cars, which Lotus Cars and Lotus Engineering, the group's engineering consultancy, plans to commercialise.
What do the blueprints mean for EV manufacturing?
All three EV layouts shown by Lotus include a common lightweight die-cast rear sub-frame with multiple interchangeable components. This means a single-vehicle architecture can accommodate two different types of battery configurations.
The 'Chest' layout involves the modules being stacked vertically behind the two seats. A chest layout is a 'mid-mounted power pack', ideal for sportscar or hypercar vehicle types, in which a low overall ride height and low centre of gravity are required, as is the case with the Lotus Evija pure-electric hypercar.
The second variation is the 'Slab' layout – otherwise known as the 'skateboard power pack'. It includes modules that are integrated horizontally under the cabin. This is primarily used in vehicles with a higher ride height and a taller overall profile.
The new subframe includes cylindrical battery cells for high energy density, with the option of a single or twin electronic drive unit (EDU) to support. Environmental impact has also been reduced, according to Lotus, with its cold cure, spot bonding and advanced weld processes throughout the assembly process.
The new manufacturing methods are anticipated to be used on both the Lotus new electric sports model, which is set for release in 2026, as well as for third-party clients through Lotus Engineering. This could mark the beginning of a wide variety of electric vehicle applications, with new levels of flexibility and modularity in wheelbase and propulsion solutions.
Project LEVA
Since its announcement in October last year, Project LEVA is headed by engineer Richard Rackham, head of vehicle concepts at Lotus, who worked on developing the extruded aluminium Lotus Elise architecture 25 years ago.
Rackham stated that "Project LEVA is as revolutionary now as the Elise architecture was in 1996".
He pointed to significant weight savings throughout with focus on performance and safety in the structures. He also highlighted the use of the vehicle structure as the battery enclosure itself, having an integrated electronic drive unit (EDU), eliminating bolt-on subframes and optimising the multi-link suspension components.
On Project LEVA, Lotus has worked with supply chain partner Sarginsons Industries and leading academics from Brunel University London to enhance light-weighting methods.
The path to full electric
Along with many OEMs, Lotus plans to transform into an all-electric brand. While its new chassis technology is intended to underpin the future sports range, the carmaker announced its forthcoming Type 135 sports model in August earlier this year.
Lotus confirmed in April that its E-Eports vehicle architecture was one of four Lotus-developed chassis that would serve as the basis for future models. In January, the company signed a Memorandum of Understanding with Alpine, the performance car division of Renault Group, to examine possible areas of cooperation, including the joint development of an EV sports car.
A broader strategy?
Lotus is planning to expand its hold over the market with plans to expand into the UK but, more pressingly, into China, along with Chinese OEM Geely, which owns a majority stake in the British car company.
Lotus has recently upgraded its manufacturing sites in the UK, including a £100m ($137m) investment in its assembly plant in Hethel, where the upcoming Emira will be built. However, Lotus electric vehicles and architectures will also be built in China with Geely, at a new factory in Wuhan.
This new plant is scheduled to open later this year. Numerous other brands part of the wider Geely family, such as Zeekr, which is developing its own battery technology, will also be using the 150,000-unit capacity site.
Lotus Technology – a new division of Group Lotus – officially announced the opening of its new global headquarters in Wuhan, China, set for completion in 2024.
China is currently the biggest market for EVs, and the Chinese consumer base is following the global trend of rapidly increasing demand. Establishing new methods of lightweighting means a potential to take advantage of this trajectory.
Last year, Zhejiang Geely Holding Group said the architecture for its new electric model would be offered up to rival manufacturers.
Lotus said it will be using four new architectures for EVs in future. The British company has stressed that these underpinnings are reserved exclusively for Lotus within the Geely Group but they will be available to third parties through the Lotus Engineering consultancy.
Dropping the weight
While Lotus may be planning an expansion into both eastern and western markets, it is also following ongoing trends in producing more lightweight vehicles.
With the shift to electric powertrains and a growing focus on sustainability in manufacturing, reducing weight has become increasingly a priority. However, as EVs still remain heavier than the ICEs, companies are pushing for new innovations in lightweighting.
Top designers from Ford gave AMS an exclusive insight into methods of lightweighting in July this year, regarding the electric pickup Ford F-150 Lightning, and the new Ford Maverick hybrid compact truck.
Design choices, including using more sustainable material and building compartments and aesthetics into the frame itself are examples of how an accumulated reduction in weight is being considered in the design.