The Chapman Production Centre is already building the Emira, the last petrol-powered car from Lotus and is latest stage of £100m redevelopment of the company's UK facilities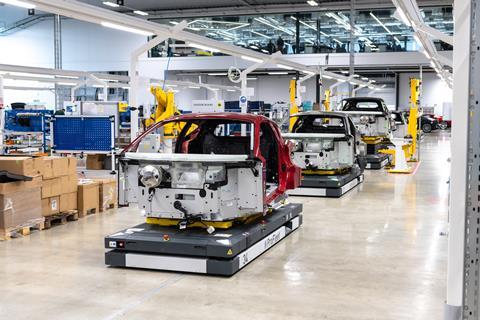 Lotus says the new production centre has the capacity to build around 5,000 cars a year and the buildings which housed the previous assembly lines have been converted to sub-assembly, housing a new framing line which builds the car bodies as part of Emira pre-production, with robots applying bonding agent to the sides, roof and cantrails.
The OEM has introduced more automation into its production operations with Automated Guided Vehicles (AGVs) being used for the movement of cars-in-build on set routes around the factory, allowing operations teams to focus on assembling the vehicles. The company says that by using AGVs, it has future-proofed its sports car manufacturing system as changes can be made quickly to accommodate different manufacturing processes as new vehicle models are introduced.
A new paintshop also features a high level of automation to apply primer, colour and clearcoat. Lotus says this new system is more efficient with a dry filtration process using 60% less energy than a wet system, and electrostatic primer on body panels reducing paint usage by 30-40% compared to the previous hand-sprayed process.
The company's investment in its production operations also includes Lotus Advanced Structures (LAS), a new sub-assembly facility in Norwich, UK. This houses the bonded and extruded chassis assembly and the subframe and fuel tank manufacture for all Lotus cars. The chassis and front-end assembly line includes robot bonding agent application, 12 new CNC milling machines and a new laser cutting machine to manufacture fuel tanks, rear subframes and many of the steel and aluminium components used on the Emira.
Lotus notes that it has recruited new staff across all areas of the business including manufacturing operatives, engineers and technicians. In vehicle assembly and production operations specifically, 300 new staff have joined the company and they will be trained at Lotus Learning Academy, based at LAS.