The sportscar maker has made a £100m investment in its UK facilities that will support the production of new models and the expansion of engineering and consultancy services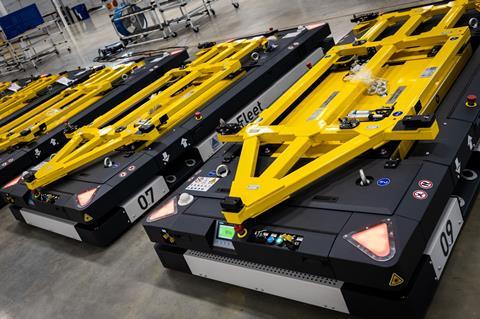 Two new production halls at the company's Hethel location are part of the investment programme. One is in the pre-production phase for the Emira. The other has completed prototype production for the Evija electric hypercar and first customer cars will be built later this year.
Other additions include a new paint shop that features automated paint application systems, which, the company says, will improve quality and through-put of vehicles. It also features a combined primer and clearcoat line. 'Dry' commissioning is scheduled to begin to test the physical systems, such as conveyors, transfers, lifts and ovens. 'Wet' commissioning will follow later in the summer.
A framing line is now operational, building car bodies as part of Emira pre-production, with robots applying bonding agent to the sides, roof and cantrails. Lotus is using automatically guided vehicles (AGVs) to move the cars in build on set routes around the factory, allowing operations colleagues to focus on assembling the vehicles. The company notes the ease of programming these Routes and that this system will offer a flexible and future-proof approach to its manufacturing operations.
In the new 12,000 sq. m main assembly hall, all station gantries have now been installed. Wheel Alignment and Headlamp Aim (WAHA) equipment, a Vehicle Configuration and Test System (VCaTS), monsoon water test booth, rolling road and fuel fill area are all installed and will be commissioned by the end of June.
"The move to a part-robotised production is the right one for Lotus as we launch the Emira. Everything is about repeatability and efficiency to drive quality. Our workforce is incredibly skilled, and robots help them to deliver the consistency we need at the volume we need it," said executive director of operations, David Hewitt.
He added: "Our cars will remain 'Handmade in Hethel', though our people will be supported by new processes and technologies that will only enhance efficiency and build quality. It is a 'best of both worlds' solution."
In addition to the main production areas Lotus has also invested in a new fabrication facility. Announced in July 2020, LAS is Lotus' new fabrication facility in Norwich. The company says consolidating chassis assembly from Lotus Lightweight Structures in Worcester with subframe and fuel tank assembly from another facility in Norwich, and relocating both into LAS will increase efficiency and reduce logistics costs and transport emissions.
The chassis and front-end assembly line, including robot bonding agent application, is now operational at LAS, supplying components for the pre-production of Emira. Eight new CNC milling machines are being installed, plus four more transported from Worcester. A new laser cutting machine is being commissioned to manufacture fuel tanks, rear subframes and many of the steel and aluminium components used on the vehicle.