The initiatives aim to increase recycled content in new vehicles while establishing a closed loop for the relatively expensive and scarce minerals in EV batteries.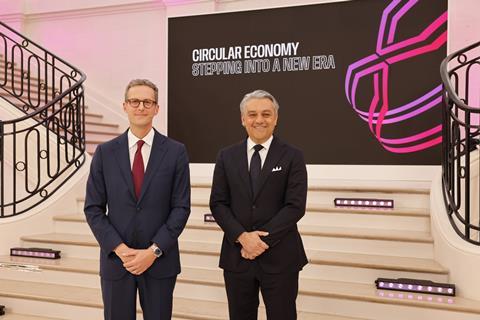 New initiatives by two OEMs to manually recover parts from end-of-life vehicles for reconditioning then re-sale, the so-called circular economy approach, seem to run counter to the foundations of vehicle making, with new materials and components incoming and all-new vehicles leaving the plant.
Yet, Renault and Stellantis this month set out how they plan to embrace this waste-cutting strategy with dedicated circular economy business units. Both expect revenues of €2 billion or higher and in Renault's case, a 10% operating margin by 2030.
Stellantis says recovery and reconditioning of parts from end-of-life vehicles can reduce materials consumption by 80% and halve energy use versus the production of a new component. It aims to generate €2 billion in revenues through this "cradle-to-cradle" business model by 2030, which will sit within a newly created division called SUSTAINera.
Renault has dubbed its circular economy project 'the Future is Neutral' and similarly, it aims to generate €2.3 billion by 2030 in revenues. Renault expects to invest around €500 million in the initiative by the end of the decade and said it will offer shares specifically in this business unit to raise some of the capital.
Stellantis will base its circular economy hub at its Mirafiori plant in Italy while France's Renault has already established its so-called reFactory in the Parisian suburb of Flins.
"Stellantis is in the race to build a sustainable and profitable business based on circular economy principles in the markets where we operate," said Alison Jones, Stellantis Senior Vice President, Circular Economy Business Unit.
"We are now scaling up with an intense rigor, building our capabilities, teams and facilities, while creating a smart, integrated ecosystem to better manage material scarcity and our drive to carbon net zero."
Stellantis says it will stock examples of around 12,000 distinct components and supply them to 155 national markets. It will also seek to keep supply chains short with 'local loops' to recover parts from vehicles sold in specific markets for reconditioning and re-sale in the same countries.
The circular economy is growing in prominence within automotive due to the vast amounts of materials it uses to produce long lasting, high-value goods. The benefits, the automakers say, contribute simultaneously to their goals of a smaller carbon footprint and reduced waste while also helping buffer the effects of supply chain shortages.
Stellantis is aiming for company-wide carbon neutrality by 2038. Renault aims to achieve the same by 2040 in Europe and worldwide by 2050.
Both automakers are preparing to establish EV battery pack reconditioning which will stretch finite resources of the necessary minerals further and reduce exposure to a potential squeeze in supply towards the end of the decade, as predicted in the AMS 2022 Battery Supply Chain and Manufacturing Report.
As well as reconditioning of parts, recycling of what cannot be reused is the other key pillar of circular economy initiatives. Renault states that around 85% of the materials in a car can be recycled yet the content of recycled materials in new cars hovers between 20 and 30%, a level it aims to substantially increase.
"In automobiles, the most underused resource is the car itself … The Future is Neutral brings together the expertise to transform this potential into new growth levers. This new entity has the mission of pushing the car industry towards resource neutrality, taking as much material as possible from each vehicle for the production of a new model," said Jean-Philippe Bahuaud, the new business unit's CEO.