The first series-produced BMW i4 has rolled off the line at the OEM's Munich plant in the first step in the German carmaker's goal to turn at least half of its output into electrified vehicles by 2023.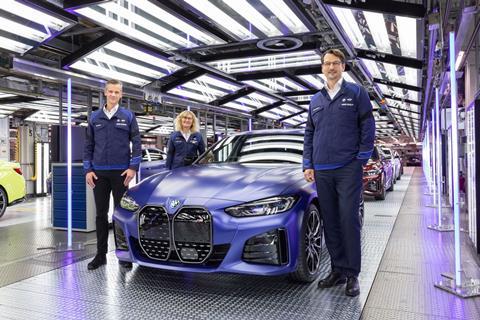 Production operations at the near-100-year-old plant have been adapted to integrate this new all-electric vehicle. BMW noted that all drive variants are now produced on a single assembly line, marking a huge milestone in its EV manufacturing.
"We succeeded in integrating the new vehicle into our existing systems without halting production. The team and our partners did an amazing job," said Peter Weber, Director of BMW Group Plant Munich.
The shift in manufacturing direction saw some existing systems being removed, and new ones installed and ramped up. The primary difference between the BMW i4 and traditional architectures is the electric drive and high-voltage battery. Around 90% of the existing systems in the Munich bodyshop are still able to be used for the new model. Additional ones were only required for the floor assembly and rear end.
Another factor was the installation of batteries in the electric models. The battery pack is now bolted onto the body by a new, fully automated battery assembly system working from below. It is scanned by fully automated, high-resolution camera systems beforehand to ensure the surface is clean and no damage-causing adulterations are present.
The plant now manufactures a range of products, including the BMW i4 as well as the ICE and hybrid BMW 3 Series Sedan and Touring, the BMW M3 and the BMW 4 Series Gran Coupe.
Digitalisation
BMW has also been rapidly integrating digitalisation into its manufacturing process with the entire Munich facility being 3D-scanned to gather every detail and accumulate basic digital data of both the building and its systems. Virtual data planning is already used by BMW in its buildings and systems. Data from the design and planning tools of various producers is converged to create photorealistic real-time simulations in a single collaborative environment. The information taken from the 3D scans is also syphoned into the Omniverse platform.
The scans are then processed and saved on the cloud, so the data is available anywhere using a browser-based tool. Several BMW plants have already been fully 3D-scanned, such as Spartanburg and Regensburg. Plant Dingolfing is also being scanned.
By the end of 2022, every major car plant in the BMW Group production network will have been scanned completely and digital data will be available universally.
A less radical approach
The move from BMW reflects a more general drive towards full electrification in a way that does not require 'radical' restructuring or huge infrastructural changes. Rather than building new plants to meet targets, existing plants can often be adapted. BMW has also been taking an approach of using vehicle platforms that are able to support multiple powertrains, including ICE, hybrid and electric vehicle. However, the company has signalled that it would develop a dedicated EV platform, which it plans to build at a new plant in Hungary after 2025.
Volkswagen, meanwhile, has been reconfiguring a number of plants into dedicated electric vehicle facilities, including Zwickau, Dresden and Emden, which are all producing vehicles on its MEB electric vehicle platform. Other Volkswagen Group plants, however, are also producing both EV and ICE models.
Daimler has likewise been re-using plants to support electrification. Mercedes factories Berlin and Stuttgart's Untertuerkheim district, adjacent to Daimler's headquarters, became central to the Mercedes-Benz maker's plans to re-orientate production and shift towards electric output as demand for traditional combustion engines is expected to decline.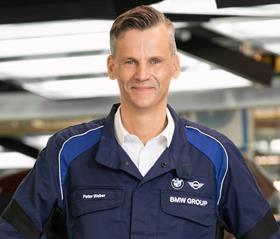 Dr Peter Weber, Director, Plant Munich, BMW Group, will be speaking about the transformation of BMW Plant Munich as the opening to the AMS Automotive Evolution Summit on May 17-19, where he will be joined by experts from Scania, Volvo Cars, ZF, Gestamp and others.