BMW is on an EV offensive and is taking the opportunity to revamp its plants with automation and digital twins. Mark Smyth spoke to the global boss of production, Milan Nedeljković, about the challenges and opportunities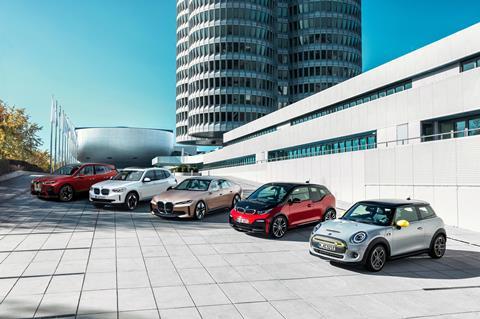 BMW has ambitious plans to meet the demand for electro-mobility around the world. Earlier this year it revealed its iX3 SUV after years of offering just one fully electric car, the i3. Then at its NextGen 2020 event in November it revealed its new iX, the production version of the iNext concept, which will begin production in 2021. It will be followed by the i4 saloon and then by electric derivatives of most other BMW models, including the X1 and the 3, 5 and 7 Series.
It's very much all change then as the BMW Group adapts to a new era of electrification, but how will it impact on a production network that manufactures over 2,500,000 vehicles a year? AMS spoke to Milan Nedeljković, member of the board of management at BMW AG for production to get his view on implementing the latest production technology.
BMW is one of few OEMs that produce many of the components for electrification themselves, according to Nedeljković, even down to securing sufficient supply of raw materials for batteries.
"We have set up the technological process chain, which we cover from the laboratory of how a battery should be set up chemically and mechanically, to assembling modules ourselves," he explains. "We have developed our own electric motors and we are producing them ourselves."
Making electric and ICE play nice
It's not all about electric though, not yet anyway, and during this period of transition Nedeljković is managing a global production network that has to assemble both internal combustion-engined vehicles and electric models.

"The knowledge we took from the i3 was the integration of electric cars into the normal production line with combustion vehicles," he says. "The biggest challenge was to integrate the marriage station where the combustion engine is fitted into the chassis of the car – to get the high voltage battery and the electric motor into the car at the same station and get it right in sequence."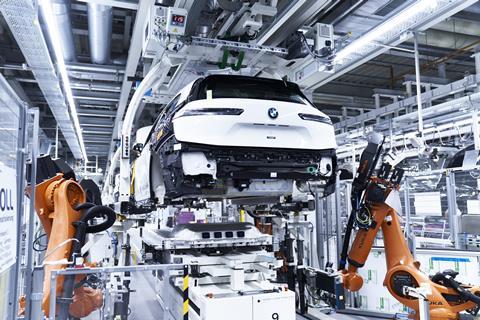 Having overcome that challenge, production lines now have the flexibility to adapt to different volumes between the various powertrain types, something that provides a great advantage when it comes to responding to any potential changes in demand for electrified products.
For OEMs that only produce battery-electric vehicles, Nedeljković says that the sequence on a line might be different but points out that at the moment BMW sees it as a big advantage to be flexible and not have to depend purely on market demands, but to be able to offer customers the full range of choices.
"The knowledge we took from the i3 was the integration of electric cars into the normal production line with combustion vehicles" – Milan Nedeljković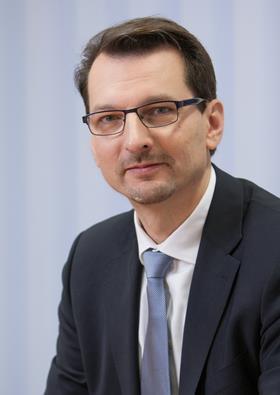 That isn't to say he is not considering plants that produce exclusively electric vehicles. Currently BMW is partnering with Great Wall to produce the Chinese-market version of the electric Mini and with Brilliance to build the BMW iX3 (including cars headed to Europe). However, it could decide to designate the new production site under construction in Debrecen, Hungary, as an EV-only plant.
He would not reveal exactly which models will be built there, nor when production will actually commence, but shared that it will be the first location to build cars using the group's new dedicated EV platform: "This architecture will be in use from the middle of the decade. It will ramp up for the first time at our future plant in Debrecen, Hungary, before being rolled out across our global production network in stages."
High level of automation across the network
Like all plants in BMW's global production network, Debrecen will feature a high degree of automation, something Nedeljković has seen grow substantially within the company since he joined as a trainee in 1993.
"The principle we are following in the worldwide production network of BMW is to use common standards, and therefore we are applying the same automation level in nearly all plants worldwide," he says. The highest levels of automation are in the bodyshop and paintshop, both of which are now completely automated in all plants, as well as the marriage station and the installation of glass roofs.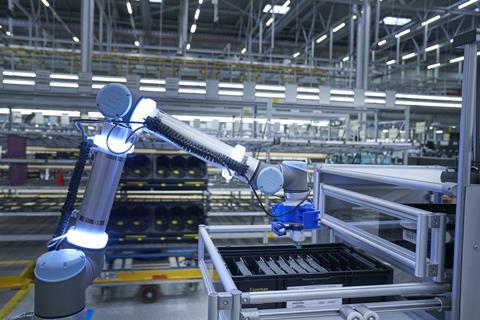 However, he says 90% of the work is still manual, something he expects to continue for many years to come. "There are some elements which can be automated in the future, but this is the new generation of robots, which have sensors and can work next to humans," he says. "These kinds of robots are now being rolled out, but it will take years before they become really practical and feasible for industrial application."
It's in logistics where he is seeing a significant shift towards automation. Automating this area of production is a priority across all plants in the company's network, so much so that BMW has even developed its own automated guided vehicles (AGV).
"Smart logistics is using visual technology and artificial intelligence to enable our logistics vehicles to move themselves in our production environment," says Nedeljković. "We have applied this technology in the last two or three years and have designed our own AGVs which we use now in our environment, which don't need any additional antenna routing as they are intelligent enough to find their own way."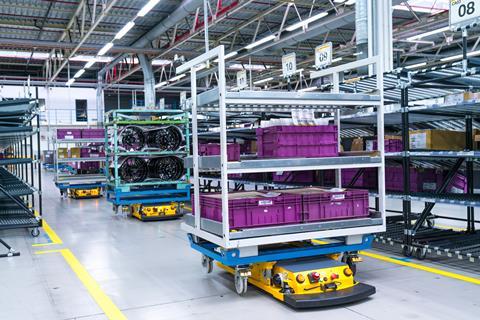 BMW is so confident in the technology behind the autonomous logistics robots that it has founded a subsidiary called Idealworks to sell them to external customers, including competitors and companies outside of the automotive industry. Idealworks currently employs 30 people developing the iw.hub, which uses a BMW i3 battery to allow it to transport loads of up to one tonne for at least an entire shift.
Need for agility
AGVs are not the only vehicles connected to the global production network, so too are the cars that customers drive every day. In this era of connectivity, Nedeljković says that every car generates data that can be fed back to the company's quality departments. If any problems that stem from production issues are identified with a vehicle in the field, the issue is caught and analysed more quickly and changes can be made.
Another technology that allows for quick changes is 3D printing, something Nedeljković expects to be used more significantly over the next five to ten years. Currently it mainly proves its worth in low-volume applications, for product development and prototype vehicles. However, he says it is also being used to print tailored components for customers.
"What we are doing today for our Mini customers is printing individual components for something like the dashboard of the car," he says. It can be ordered online and a customer can choose to have their name or a picture 3D printed and fitted on the production line.
Opportunities abound, but Nedeljković is having to deal with some significant challenges too. One is of course Brexit, which will impact not just the Mini plant in Oxford, England, but also other sites within the Group's production network. He says that all practical precautions have now been taken and while they are preparing for some possible turbulence, he is not expecting too much disruption.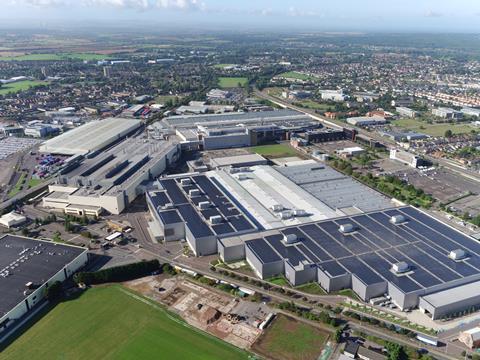 Like everybody else, what he was less prepared for was Covid-19. "What we've seen in the Corona crisis was the impressive flexibility of the whole process chain, including the suppliers, but also our own plants in managing this pandemic crisis. Setting up barriers, finding space to really get distances into the areas and rethinking processes and separating people working next to each other with fences. All this happened in a very short time, very effectively, thanks to the creativity of the people and the shop stewards in finding solutions to still be able to run a factory."
The crisis is far from over, but like his counterparts throughout the automotive industry, Nedeljković is looking way beyond it. He and his global team are creating the production strategies for the next decade and beyond and the technology to achieve them.
The production game
Creating the production lines of the future and even managing the current ones is rapidly becoming something that is done in a virtual space. However, it is not traditional modelling software, but a video game engine that is being used by many OEMs, including BMW, to simulate production environments and train AI.
Ross Krambergar is in charge of geometric simulations for virtual commissioning at BMW and tells AMS that the company turned to the creators of the popular game Fortnite for assistance. The Unreal Engine is what Epic Games uses to create the seemingly limitless environment for the game.
"Once you've got an accurate 3D environment of your production process, you can run a lot of simulations that give AI a playground where it can try to learn and try to make decisions" – Ross Krambergar, BMW
The key, according to Krambergar, is to have good 3D data. That is true of greenfield sites where the data has been created before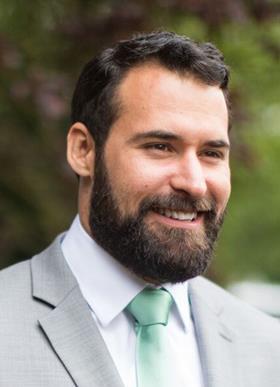 construction even begins, but for existing plants the 3D environment needs to be generated while production is actually going on, something that he says is more difficult. Once you do have the data, you can match it with the latest in artificial intelligence (AI) technology to plan production lines and monitor them.
"Once you've got an accurate 3D environment of your production process, you can run a lot of simulations that give AI a playground where it can try to learn and try to make decisions," says Krambergar. "This playground is completely risk-free, and the more accurate we can make that playground to the real world, the more confidence we can have in the decision making of the AI."
The 3D environments are already in use in China, the US, Mexico, South Africa and of course Germany, and Krambergar says that one of the most impressive aspects of the simulation is that it has been possible to get people that have no programming or coding experience to use it. However, he says there is still some way to go to make it easier, to have standard libraries which can be accessed more quickly.
"We want people to be able to access this technology and to be able to utilise all the power [that comes] with it, without actually having a monster of a machine in front of them," he says. To make it truly accessible, the team wants to make it possible to run the application on any device, by making it web browser-based and making all the information accessible remotely.
Read more about automation in the AMS Winter digital edition.