The OEM says Zwickau plays a key role in its planned changeover to e-mobility, having so far invested €1.2 billion to convert the car manufacturing plant to electric vehicle production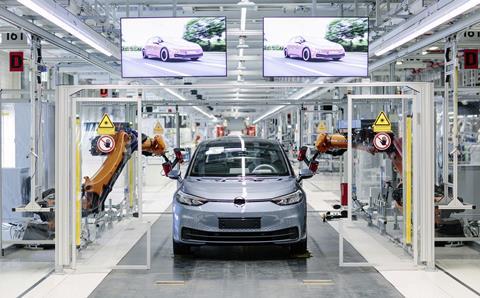 All conversion work will be completed this year and VW aims to produce 300,000 electric vehicles based on the modular electric drive matrix (MEB) in 2021, Zwickau's first full production year as an EV factory. The site will become a lead plant in the transformation of OEM's global production network. Pre-production of the ID.4 has already started at the Anting plant in China, the Chattanooga site will start the ID.4 production in 2022.
Ralf Brandstätter, CEO of the Volkswagen brand, said. "Following the ID.3, this is already the second model based on the modular electric drive matrix (MEB). Going forward, the car will be built and sold in Europe, in China, and later also in the USA. That is how we are scaling the MEB platform globally and laying the economic foundations for the success of our ID. family."
Board Member for E-mobility, Thomas Ulbrich, said: "We are right on schedule with the Volkswagen brand's transformation process to e-mobility. The ID.3 is now being followed by the ID.4. Given the major societal challenges of recent months, the successful start of ID.4 series production is an exceptional achievement, so my appreciation and thanks go especially to the Volkswagen team in Saxony and all members of the ID team. The second model in the ID. family is already rolling off the assembly line where, only recently, ICEs were still being built."
Apart from manufacturing at the Zwickau factory, the components plants in Brunswick, Kassel, Salzgitter and Wolfsburg are also involved in the production of electric vehicles. They manufacture components such as the electric motors or the battery systems. The ID.3 will also be built at the Gläserne Manufaktur in Dresden from 2021. The car manufacturing plants in Emden and Hanover are scheduled to begin building electric vehicles from 2022.