BMW has invested $125m in its San Luis Potosí plant over the last two years, expanding the plant significantly. It will build the model 2 Series Coupé exclusively in Mexico for the global market.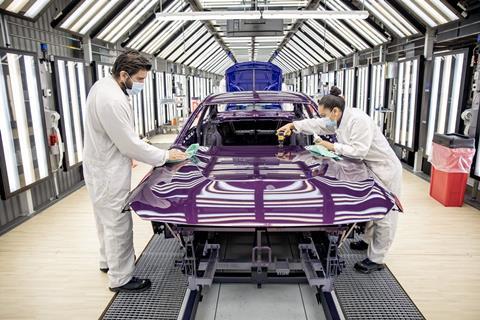 The BMW Group plant in San Luis Potosí, Mexico has begun producing the new BMW 2 Series Coupé model following expansion of capacity and manufacturing flexibility. It was the first new model to be fully launched from the Mexican plant, which opened in 2019.
Milan Nedeljkovic, BMW board member responsible for for production, said: "The BMW Group Plant in San Luis Potosi builds on the experience and best practices of the [BMW] global production network. As the latest addition to the network, it benefits from the latest innovative and highly efficient technologies, which have also contributed to it becoming one of the company's most sustainable production sites."
BMW has invested an additional $125m in the plant since it opened; it has partly allocated funds to expanding existing facilities and acquiring further equipment necessary for the new model's assembly.
For example, the expansion saw 82 new robots installed in the bodyshop, while existing robots saw an upgrade in their programming, allowing them to handle parts with different geometries.
It also meant the current equipment would be able to weld, rivet and bolt parts together to combine an intelligent mix of materials (steel, high strength steel and aluminium) for a lighter but strong frame.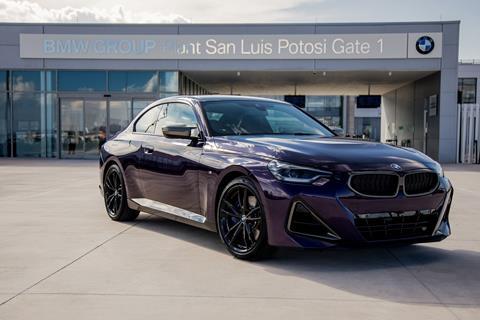 Another portion of the investment was used to train assembly area staff to work with a shorter body, with only two doors, as this change requires a separate approach to those already existing in the production line.
BMW's paintshop and the materials analysis team furthermore launched two new specific colours for the BMW 2 Series Coupé; Brooklyn Gray and Thundernight Metallic. The latter is a new BMW Group colour, produced only at the San Luis Potosi factory.
Until now, BMW has focused production and distribution at the Mexican plant on the 3 Series sedan. In summer 2020, it added production of a plug-in electric vehicle (PHEV) variant of the BMW 3 at the plant.
According to Harald Gottsche, president and CEO of BMW Group Plant San Luis Potosí, BMW will build the 2 Series Coupé in Mexico for worldwide export.
"With the new 2 Series Coupé we will show the enormous capacity existing in this country. I am convinced that this will be the first of many other successful launches", he said.
BMW has drawn on a mix of local and global talent to launch the new model in Mexico. Senior exterior designer Jose Casas, who is Mexican, helped to define the 2 Series Coupé design language around athleticism. Following design, BMW's R&D teams in Germany collaborated closely with the local production planning team in San Luis Potosí, according to the company. The carmaker's purchasing division also played a significant role in selecting and developing local, regional, and global suppliers.
BMW said it plans to release the new BMW 2 Series Coupé model in North America for commercial sale later this year and early 2022 in the European market.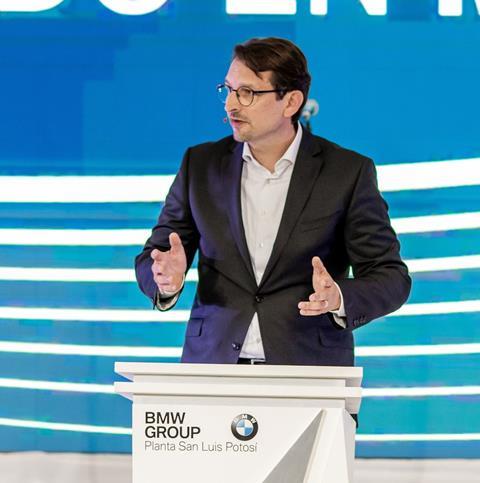 A more robotic future
BMW's investment in robotics and equipment is consistent with broader moves by the company to automate and digitalise production. According to an interview with Milan Nedeljković in AMS last year, automation has grown continues to grow substantially, and will see further development in manufacturing and logistics operations.
"The principle we are following in the worldwide production network of BMW is to use common standards, and therefore we are applying the same automation level in nearly all plants worldwide," he said in the interview.
Most automation is located in the bodyshop and paintshop, both of which are now completely automated in all plants and the marriage station and the installation of glass roofs.
Nedeljković acknowledged that 90% of work is still conducted manually, and he expects this to continue for years to come.
"There are some elements which can be automated in the future, but this is the new generation of robots, which have sensors and can work next to humans," he said. "These kinds of robots are now being rolled out, but it will take years before they become really practical and feasible for industrial application."