The BMW Group has signed a corresponding agreement with Salzgitter AG to deliver low-carbon steel.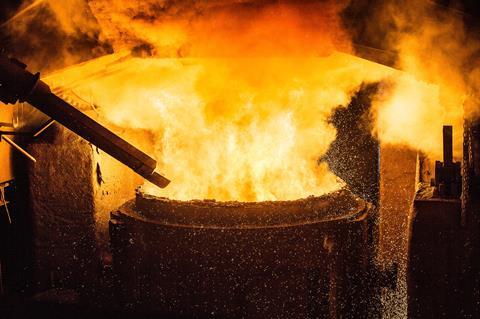 The steel, primarily produced using natural gas or hydrogen and green power instead of fossil fuels, will be used in the standard manufacturing of vehicles at the BMW Group's European plants from 2026 onwards.
This move marks an expansion of the BMW Group into its sourcing of low-carbon steel to two separate suppliers.
"Our aim is to reduce vehicles' lifecycle carbon footprint with a holistic approach. With steel, in particular, we are leading the way by sourcing low-carbon steel for our plants in Europe in the future," aid Joachim Post, member of the Board of Management of BMW AG responsible for Purchasing and Supplier Network.
Recycling materials has become a priority of OEMs looking to decrease carbon output to avoid unnecessary waste and fossil fuel use.
Salzgitter AG is putting 'circularity' at the centre of its new strategy, according to Gunnar Groebler, CEO of Salzgitter AG.
"We firmly believe that closed loops of recoverable materials can only realise their full effect with strong partners. We are delighted about the circular economy cooperation with the BMW Group and the agreement to supply green steel to our long-standing customer. Partnering for Transformation – this is how we will translate our new corporate vision into practice."
The German carmaker aims to use low-carbon steel to meet over 40% of demand at its European plants by 2030, reducing CO2 emissions by up to 400,000 tonnes annually.
In October last year, BMW previously signed an agreement with H2 Green Steel. The Swedish startup will supply the BMW Group's European plants with steel produced exclusively using hydrogen and green power from renewable energies from 2025 onwards. This process aims to reduce CO2 emissions by around 95%.
BMW Group press plants in Europe process more than 500,000 tonnes of steel per year.
Gradual transition to low-carbon steel production
Salzgitter AG is shifting to virtually carbon-free production. Electricity from renewable sources and its use in hydrogen production from electrolysis is essential to this transformation process. In addition, green hydrogen will phase out the coal currently used in the conventional blast-furnace process.
This is done through so-called direct reduction plants, which utilise hydrogen to reduce iron ore to iron in the solid-state directly. The solid iron produced in this way is then melted down with steel scrap in an electric arc furnace powered by renewable electricity.
Salzgitter AG plans to use this method to incrementally reduce CO2 emissions from steel production to around 5% of original output levels.
Better steel, less steel
Along with acquiring steel from more sustainable sources, OEMs have also made lightweighting vehicle structures a priority, reducing the use of heavy materials.
Carbon fibre-reinforced plastics are playing an increased role in this. This robust, stiff and lightweight composite has started to see use in mainstream vehicles in recent years, such as BMW's 7 Series and Audi's A8. In addition, carmakers are increasingly looking to meet increasingly stringent global regulations on fuel efficiency and carbon dioxide emissions.
In 2019, BMW signed an agreement to see its long-term partner, carbon-fibre manufacturer SGL Carbon, supply carbon fibres and semi-finished textile products for a range of components for the iNEXT EV.
The agreement also sees SGL of Wiesbaden supply BMW of Munich with different glass and carbon fibre fabrics. Much like those used in the i3, i8 and 7 Series, the carbon fibres are manufactured at SGL's plant in Moses Lake, Washington, US, and will be used to produce fabrics in Wackersdorf, Germany.