The pioneering initiative will reduce the resource, energy and emissions intensity of a car's lifecycle since some components can have a second life as used, reconditioned parts.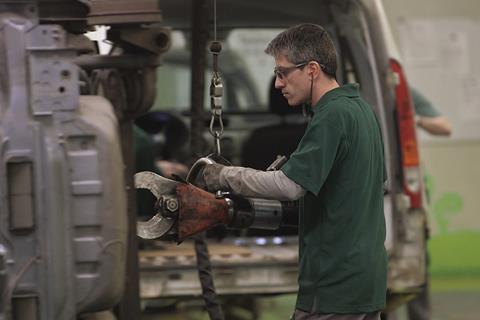 French automaker Renault has rarely shirked over its history from being a first mover. It has taken risks on concepts that have sometimes paid off hugely and reshaped aspects of the industry even if that entailed a few sales-flopping models along the way.
Now it's at it again, but this time at factory level, embracing the circular economy principles of re-using and reconditioning parts and fully recycling them only when their useful life is exhausted at what the company says its Europe's first circular economy industrial site dedicated to mobility.
It's a bold move within automotive where the business model has typically centred around a one-way flow of materials and components into a factory with finished vehicles exiting, never to return.
And so it was since the 1950s at Renault's Flins plant northwest of Paris. The plant has produced more than 20 models, from the Dauphine to the electric Zoe today, and was at one point the carmaker's largest factory in France.
But Renault is transforming the site to develop a circular economy business. Today, some vehicles or their major parts like powertrains are making a comeback at end-of-life for dismantling and recovery of parts for reconditioning and sale with guarantee in the OEM's parts distribution network. Over the next two years, the plant will end new vehicle assembly altogether, but live on dedicated to providing a second life for vehicles and parts. On a recent visit to Flins, AMS had the chance to see the so-called ReFactory, in action.
The environmental benefits of circular economy principles for the carmakers are linked to a reduction in energy use and therefore emissions savings through avoidance of remaking of many metal and plastic parts – some of the industry's most energy-intensive processes.
Crucially for Renault, if the initiative is to last, it sees significant money to be made too in using in-house expertise to restore value and lifespan to proprietary components. The company has stated a target revenue of about €2 billion by 2030 and 10% operating margin.
"If we are ever in doubt, we just recycle the part and get it melted down," Steven Arzur, head of remanufacturing, told AMS on a walk around the site.
As Renault directs resources for the production of EVs to its so-called ElectriCity cluster of factories further north in France, away from this suburban Paris location, Renault's circular economy activities – to become a separate business called The Future is Neutral – will become Flins' new vocation once it ends production of its last cars, which include the Zoe and as well as the Micra of alliance partner Nissan. The Zoe, one of the first mainstream EVs, launched in 2013, ends production at the end of 2022 and the Micra in early 2024.
It's a major shift for the sprawling plant which has produced most of the brand's best-known cars over seven decades.
But it is also an idea that other OEMs are moving towards. Stellantis, a conglomerate which now contains rival French brands Peugeot and Citroen, has announced it too will launch a circular economy business, signalling that the pursuit is gaining traction as automakers set out their timetables for achieving carbon neutrality. Renault Trucks, a division of Swedish commercial vehicle manufacturer Volvo Group, is also establishing a remanufacturing centre in Lyon in early 2023.
Return journey
Dismantlers at the Flins ReFactory take apart about 200 engines and 150 gearboxes a day as they flow in along a conveyor belt for processing at individual workstations. There are currently 800 workers across all circular economy activities in Flins and Renault aims to increase that to 3,000 as this business expands.
A key piece of equipment a room-sized metal box with windows, a giant washing machine in which grimey parts are rinsed with acid and cleaned with ultrasound waves to emerge free of grease.
In 2021, 65% of the parts recovered were re-used, 15% were recycled at Renault's own foundry and the remaining 20% recycled by third parties, Arzur said.
Flins began reconditioning of some electric motor parts six years ago when volumes would have been small with its Zoe and Twizy models in their infancy.
Head of development of renovation of mechatronic parts, Pascal Ferri, showed a recovered EV motor's stator, which helps turn electrical current into torque, pointing out that the complexity of making such a part meant its refurbishment and reuse was a "win-win" for both OEM and customer.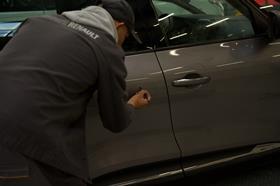 A further strand of the circular economy initiative at Flins is reconditioning of vehicles from Renault and other manufacturers that have a still-high residual value. The cars are mainly trade-in stock or end-of-lease vehicles sent to the plant by dealers who pay for the service, benefiting from OEM expertise to erase war wounds of the many cars among the stock which hail from the bustling Paris area.
Flins sends the dealer a quote for vehicle restoration to near factory condition to determine if the potential added value will cover or more than cover the cost involved.
When the reconditioning is complete, the site has a partly-automated photobooth the vehicle is driven into to produce bright and clear pictures of the car for use on the dealer's website.
This area of the Flins plant runs around the clock with three 8-hour shifts and it has been turning around 130 cars a day since starting in September 2021. It is aiming for an eventual throughput of 45,000 cars a year.
Renault has created a so-called 'university' and training centre to impart the skills the workforce needs to develop the circular economy business and it aims to have put 4,000 employees through its training offering by 2025.
Battery un-pack

Another facet of Renault's circular economy initiative which could grow to be among the most significant as EVs supplant ICE dominance, is re-use and recycling of batteries. The automaker was one of the first mainstream carmakers to market with the Zoe in 2013, and so was also one of the first to start receiving back end-of-life packs.
In most cases, Renault never lost ownership of these packs, having mostly offered them on a lease-basis together with the purchased car. Where possible it is putting the battery packs to immediate use on the Flins site to store renewable power, thereby shrinking its carbon footprint. Eventually they will be sent for recycling when unable to perform this task.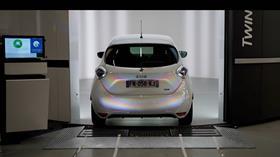 The automaker aims to achieve carbon neutrality in Europe by 2030 and globally by 2050.
Re-use and recycling of battery packs is in its infancy in Europe and elsewhere but will balloon in significance in the next few years as volumes of used packs start to swell while a ramp up in sales of new EVs put pressure on the minerals supply chain, increasing the economic viability of recovering these minerals as well as to comply with legislations.
The packs are stored on the grounds of the Flins site inside shipping climate-controlled shipping containers.
Renault announced in November it had inked three major deals for energy supply from solar power and geothermal engineering companies with a 15-year duration which it expects to slash its carbon footprint at French manufacturing facilities as well as cutting their use of natural gas, a fuel now scarcer in Europe since Russia's February invasion of Ukraine.
The company's efforts to reduce energy usage in France since the start of 2021 have summed the equivalent of closing down a single factory, the company said.