The reduction in energy use includes an even higher cut in the automaker's consumption of currently-scarce natural gas.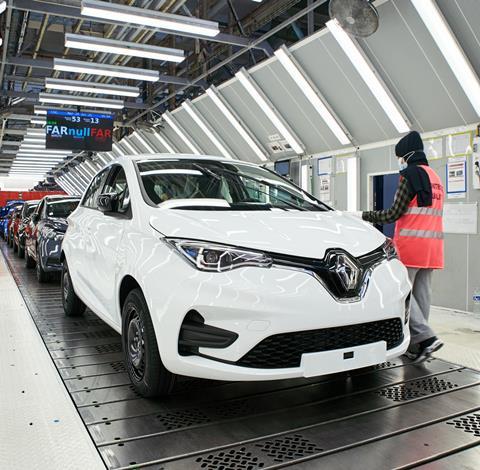 French automaker Renault has lopped nearly 10% off its industrial energy consumption footprint in France since early 2021, roughly equivalent to closing one entire factory, with much larger cuts to follow by the middle of the decade, it said.
The energy use reduction includes a higher 13% cut in consumption of natural gas, providing some buffering against what has become by the main driver of accelerating inflation linked to Russia's invasion of Ukraine and subsequent restriction of gas exports.
Further incremental savings in 2023 will push the total energy use reduction to 14% versus 2021 with a 17% cut to gas consumption within that, Renault said.
The company aims to reduce energy consumption per finished vehicle by 40% versus 2021 by 2025 which, if achieved, will make it one of the world's most energy efficient car manufacturers, it said.
The company aims to meet 50% of its energy needs from renewable sources in France from 2026 and use only these sources from 2030 onwards. It has set a target of carbon neutrality by 2030 at its European sites and for all its global locations by 2050.
With a heavy reliance on nuclear for electricity production, France has been impacted less than its European peers by the current energy crisis. Automotive powerhouse Germany is particularly exposed however with its heavy reliance on Russian gas. German automakers flagged energy as one of the key risks for the months ahead in recent earnings statements.

Renault set up an energy crisis 'task force' in July to find ways to reduce consumption from heating, ventilation, lighting and compressed air production and to reduce energy needs related to the start-up and shut-off of equipment.
It has set up a monitoring system which alerts it to abnormal or excessive energy consumption and plans to invest €2.2m this year to add sensors and meters to expand this. It will also turn to 'digital twin' technology to model and optimise energy needs in a partnership with Google Cloud.