Renewed coronavirus lockdowns in China blighted an April-June quarter subdued by ongoing semiconductor shortages and wire harness supply disruption for some OEMs.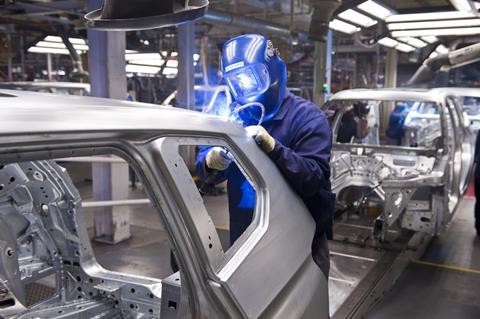 Output in the March to June quarter continued to be bridled by supply chain disruption, including the limited availability of semiconductors. For manufacturers with operations in China, several said they had been impacted by renewed coronavirus lockdowns.
Automakers in Germany, a country whose energy system has been particularly reliant on Russian gas supplies, flagged risks to energy supply as a key risk in their outlooks.
Here is a summary of production-related comments from the earnings reports of several major automakers:
Volkswagen Group
The group halted automobile production at its two sites in Russia as well as exports to the country as a result of its invasion of Ukraine. The company said energy shortages were a risk from the conflict as well as potential constraints in the supply of raw materials and parts for the production process.
Amid the backdrop of supply chain disruption, Volkswagen marked several anniversaries in the quarter – the 10th year of the Modular Transverse Toolkit (MQB) platform which has equipped 32 million cars from the group's brands. The quarter also marked the 50th year of the Porsche 911 Carrera RS 2.7 and 20 years of Porsche production in Leipzig.
Volatile parts availability continued to exert a "significantly negative" effect on vehicle deliveries, the group said.
BMW
Production increased versus the first quarter. The automaker said limited availability of wiring harnesses due to Russia's invasion of Ukraine and coronavirus lockdowns in China had hampered output in the first half of the year. Wiring harness scarcity has eased but semiconductor chip shortages continue to impact the supply chain, it said.
Lower unit sales were more than compensated by improved pricing power amid a tighter product supply combined with a higher value product mix.
"In the first quarter, the BMW Group had assumed that the supply situation for semiconductor components would ease during the second half of 2022. In the meantime, however, it is no longer expected to improve appreciably over the remainder of the year," the earnings report said, predicting a slight decline in car deliveries in 2022 versus 2021.
The automaker also expects to contend with higher energy prices in the second half of the year while a less favourable economy is likely to trim consumer demand, which could eradicate an above-average order backlog, BMW said.
Deliveries of finished cars:
| Automaker | Q2 22 | Q2 21 | % | H1 22 | H1 21 | % |
| --- | --- | --- | --- | --- | --- | --- |
| BMW (inc MINI, Rolls Royce, BMW Brilliance JV, excludes motorcycles) | 616,878 | 614,009 | 0.5 | 1,160,094 | 1,339,047 | -13.4 |
| VW Group | 2,116,000 | 2,194,000 | -3.5 | 4,160,000 | 4,512,000 | -7.8 |
| Mercedes-Benz (inc. Smart) | 487,100 | 521,200 | -6.5 | 974,100 | 1,060,100 | -8.1 |
| Stellantis | N/A | N/A | | 2,934,000 | 3,080,000 | -4.7 |
| GM | 1,421,000 | 1,427,000 | -0.004 | N/A | N/A | |
| Renault | N/A | N/A | | 1,001,109 | 1,136,866 (exc. Russia) | -11.9 |
| Tesla | 254,695 | 201,304 | 26.5 | N/A | N/A | |
| Ford | 1,032,000 | 764,000 | 35 | 1,998,000 | 1,826,000 | 9 |
| Toyota | 2,013,000 | 2,148,000 | -6.3% | N/A | N/A | |
| Source: Corresponding automaker's quarterly or half-year report to June 30, 2022. | | | | | | |
Mercedes-Benz
The luxury automaker has set a goal of switching to electric-only products where market conditions enable it by the end of the decade, prompting preparations across its global production network in advance of this. In Europe, Mercedes-Benz is investing €2 billion in its production sites as part of its 2022-2026 business plan. Like the Volkswagen Group, Mercedes-Benz also halted both local production and exports of finished cars to Russia, in early March. It also suffered a negative impact from limited supplies of semiconductors, it said.
GM
The U.S. automaker said the second quarter of 2022 was hampered by the impact of the coronavirus pandemic but that production levels began to improve from June.
The company said its outlook for the second half of 2022 is "strong" with production and deliveries to rise sharply in the period.
It highlighted an initiative it described as unique in the auto industry, of securing binding agreements for all raw materials needed to produce the batteries it will need to produce 1 million EVs in 2025, including for lithium, cobalt and nickel.
The company will begin production of Ultium battery cells at a manufacturing plant in Ohio from August.
Stellantis
The company halted import and export of vehicles to and from Russia in March and halted its joint venture assembly plant in April. It announced in June a binding offtake agreement with Controlled Thermal Resources Ltd. (CTR) for battery grade lithium hydroxide for the automakers EV production in North America. It announced a €50m equity investment in Vulcan Energy Resources and extended its binding offtake agreement with the company to 10 years from 5, also for lithium hydroxide, from the Upper Rhine Valley Brine Field in Germany. Separately from production news, Stellantis acquired the BMW-Mercedes Benz car sharing venture Share Now in May, its half-year report noted.
Renault
The French automaker's deliveries suffered a 1.8% impact due to the end of contracts to produce the Master and Traffic commercial vehicles for Opel and Fiat at the end of 2021. It expects ongoing shortages of electronic components to potentially shave 300,000 units off 2022 output and it expected the rise in commodity prices in the first half of the year to continue in the second.
Tesla
Lockdowns closed the EV-maker's Shanghai plant for part of the second quarter but the company reported one of the highest operating margins in the industry at 14.6%.
Production continued to grow in the second quarter at Tesla's Berlin-Brandenburg and Austin, Texas plants. In a first for the Berlin plant, it produced more than 1,000 Model Y cars in a single week, a level it will seek to increase over the remainder of the year. The Austin plant delivered its first cars to U.S. customers with 4680 cells and structural battery packs made by the automaker. The company said it continued investment to expand capacity at its factories and aims to set a production record in the second half. Tesla said it was progressing towards manufacture of the long-awaited Cybertruck at its Austin plant. Despite rising output, the automaker also cited an impact from semiconductor shortages and also expected to experience cost increases in the latter half of the year.
TATA Motors / Jaguar Land Rover
Jaguar Land Rover CEO Thierry Bolloré said the brand has "completely reinforced organisation setup to respond to the semiconductor crisis" which has also hampered the company. These measures were enabling JLR to increase production and tackle a record order book achieved in the second quarter. Ramp-up of production of the new Range Rover and Range Rover Sport had been slower than expected due to lockdowns in China.