Three automotive industry executives from Polestar, Volvo Cars and SSAB discuss approaches to removing carbon from carmaking with neither a ready recipe nor time for trial and error.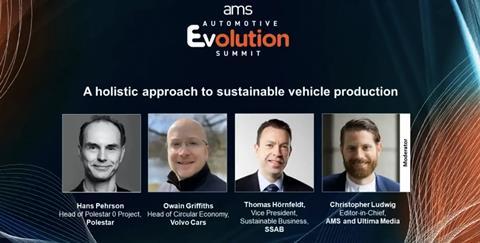 With automakers' sights fixed on an electric future and the internal combustion engine's days numbered, the industry is pondering how to wring out the CO2 from its materials, both in production and sourcing.
At the AMS Evolution Summit, representatives from Polestar, a high-end EV brand owned by Volvo Cars and Geely, Volvo Cars and steel producer SSAB outlined how they will rise to the challenge.
What is clear is that there are many routes to achieving this goal, each with their pros and cons. Choosing the right one is made trickier as long-standing assumptions about car ownership and personal transport needs are up-ended by digital technologies.
"One of the things about being a leader in this space is that we don't have a blueprint to work from," said Volvo Cars head of circular economy, Owain Griffiths.
There is no luxury of time for a trial-and-error approach either. Griffiths, who joined Volvo in 2021, has been tasked with drawing up a fully-fledged plan by the end of this year to turn Volvo's car business into a 'circular' one by 2040. The company is aiming to generate savings from initial measures it adopts of 1 billion SEK ($102 million) by 2025.
Polestar, which currently produces vehicles at Volvo and Geely plants in China and will launch production at Volvo's plant in the US later this year, has set itself a 2030 deadline to make its Polestar 0 electric crossover, "truly climate neutral", according to Hans Pehrson, project chief for the Polestar 0 model.
Aiming for the moon
Polestar aims to eliminate emissions entirely for the full production and lifecycle of this vehicle without any offsetting, a goal that Pehrson likens to the Apollo moon landing mission in the 1960s.
"They didn't know how it would happen but they knew that it must happen and they wanted it to happen," he said.
Although launch is eight years away, he said it was still like burning the midnight oil, and would require fixed programme decisions in just a few years – even though many questions remain around how to decarbonise many of the materials, production and logistics processes involved.
"By 2027 we need to start the car programme. It takes about two years for an architecture study. Should it be a convertible, an SUV, based on aluminium or steel and what will the business model be? We need to start about two years earlier. That's 2025," he said.
The path forward is likely to involve a change in materials used, potentially more steel and less aluminium, using less of each by choosing the strongest grades. Then, true to the principles of the circular economy, it may imply reusing entire structural parts from end-of-life cars in new vehicles, with no recycling involved.
Thomas Hornfeldt, vice-president of sustainable business at Swedish steelmaker SSAB told the panel that the company will offer "truly fossil-fuel free" steel from 2026 with a wider aim to make the company almost carbon neutral by 2030.
He noted that steel, which has been displaced by aluminium for some components, is experiencing a come-back.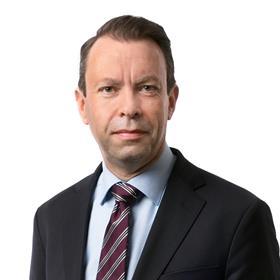 "We can see that applications that have in the past been using a lot of aluminium, like battery boxes for example, are now increasingly moving to steel. It's about sustainability. It's about recyclability and cost, but also performance," he said.
Stronger steels help chip at the CO2 problem of materials by making it possible to make lighter cars with less metal, which in turn brings energy efficiency benefits still relevant with decades to go until electricity grids fully decarbonise. In doing so, Hornfeldt reveals that SSAB's goal will actually be to sell lower amounts of steel across vehicles.
"I think our part is to sell less steel per vehicle, making sure that our customers use steels with as high a strength as possible … One of our key focuses is developing what we call advanced high strength steels to make sure we can achieve safe, reliable cars with as little material as possible, which means that also extends (driving) range," Hornfeldt said.
"I think our part is to sell less steel per vehicle, making sure that our customers use steels with as high a strength as possible."
-Thomas Hörnfeldt, SSAB
SSAB will later this year start providing zero emission steel, produced using hydrogen as the energy source, to Volvo Trucks to make its vehicles' frame rails. More components will use the greener steel once availability increases. Both Volvo Trucks and Volvo Cars aim to decarbonise their entire value chain by 2040, they have said previously.
Carbon fibre, whose comparative light weight and immunity to corrosion has made it an alternative for body panels on some cars, could also be displaced by steel again because it is hard to recycle, Hornfeldt said.
"When you recycle steel and melt it down, you really break the material down to atomic level and you create the virgin material for recycled content. There is no devaluation … It is about … having recycled content and recyclable content which I think is equally important here."
For Polestar's Pehrson, the future of materials remains an open question. The auto industry has yet to converge around an optimal materials mix. Its Polestar One model is largely carbon-fibre based, he said, while the brand also relies heavily on aluminium across its range. In turn, Polestar's futurely carbon-neutral 0 model, makes more use of steel.
"We don't really have the luxury of picking one or two materials now, because if we fail, we definitely won't have enough time to have alternative strategies," Pehrson said.
"We need to explore wisely … If we have enough evidence, (cars) could be made in steel, aluminium or plastic."
Car part hand-me-downs?
Perhaps the most radical idea on the table, if still one of the most remote, is re-using intact components from end-of-life cars in new ones. The return of products or components to OEMs years after sale would imply fundamental changes for automakers geared for a one-way flow of raw materials transformed into finished products, said Volvo's Griffiths.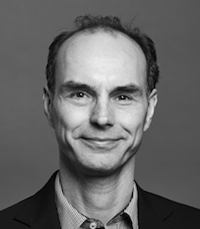 The company's adoption of megacasting which replaces multiple components, mostly in the undercarriage, with a single moulded fixture, could simplify that re-use of parts.
"What is going to be the future point of obsolescence and how can we design vehicles in such a way that large, heavy, energy and carbon intensive components can be reused? We are looking at this at the moment to find out if there's a possibility for that," he said.
Recouping those parts in future decades, means designing products now that will facilitate their recovery, he said.
"Any choices that we make now need to be aligned with that future scenario," Griffiths said.
Polestar's Pehrson said that eliminating CO2 from materials should also not overlook emissions generated by the increasing electronics content in vehicles. "Electronics has one of the highest, if not the highest CO2 burdens per kilogram produced … It's an area we really have to focus on to get these CO2 values down," he said.
"We don't really have the luxury of picking one or two materials now, because if we fail, we definitely won't have enough time to have alternative strategies" - Hans Pehrson, Polestar.
All three panellists emphasised the importance of collaboration to ensure the industry develops a joined-up approach to decarbonisation of manufacture, due to time pressures they are under. Griffiths pointed to the semi-conductor shortage as an example of what is at stake when the auto industry's myriad companies do not talk enough.
Pehrson said a 'Chinese whispers' approach of a company speaking only to its nearest upstream or downstream neighbours in the supply chain, will not suffice.
"It's not the way that this change can happen in the timeframe that we have in the future."
"We want to tell companies about our mission and want them to realise or think about what their future business will be. It doesn't matter if you are tier 1 or tier 2 or 3 or 4."
Click to watch the full session video with the Volvo, Polestar and SSAB executives.