Germany - Covestro and Carbon are hoping to make 3D printing applicable for mass volume applications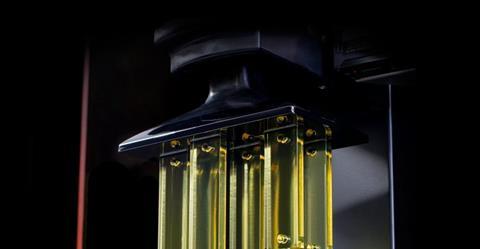 Germany - Covestro and Carbon have joined forces in the hope of making a 3D printing process viable for mass production. The two companies are tackling both the issue of sourcing material and the printing process itself.
"Our biggest challenge in the upscaling of additive manufacturing until series production lies in the supply of suitable materials in the required quality and quantity," explained Patrick Rosso, global head of additive manufacturing at Covestro. "By partnering with companies like Carbon, we are pushing existing scale boundaries and supporting various industries along the value chain on their way to digital mass production."
Based in Silicon Valley, Carbon developed digital light synthesis (DLS) technology which involves the creation of pieces in a vat of liquid plastic resin before they are cured using UV radiation. Oxygen counteracts the curing and creates a liquid dead zone, allowing the printed part to be pulled continuously upward without the formation of individual layers.
According to Carbon, additive manufacturing with DLS technology is up to 100 times faster than with stereolithography - another technique whereby the material is formed layer-by-layer using photochemical processes. Lamborghini become one of the first companies to use Carbon's DLS technology at the start of 2019. It currently prints its textured fuel cap with the Urus label on it, as well as a clip component for an air duct.
Covestro is now researching materials to enable an extended range of using it in industrial applications. It has been upgrading its laboratories for 3D printing in Leverkusen, Germany, in Pittsburgh, US, and in Shanghai, China.