We report on the new technology, techniques and investments in the world of paintshop being implemented by vehicle-makers around the world…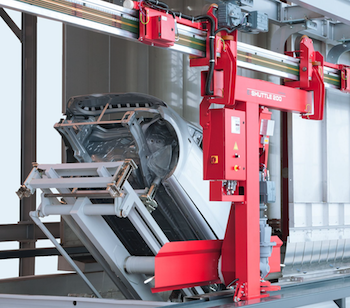 Expansion at BMW Leipzig
Eisenmann says it has been given overall responsibility for expanding the paintshop at BMW Group's plant in Leipzig. The company will convert the topcoat line and perform re-engineering work on pre-treatment and electrocoating. The project includes a new pretreatment/electrocoating system equipped with E-Shuttle 200 conveyors and e-coat dryers. Eisenmann says this flexible dip-coating conveyor enables a variety of vehicle models to be treated on a single production line. The existing topcoat line will be converted to a primerless painting process, and the finishing line will also be re-engineered. Installation work will commence in December 2018 and the project is scheduled to be completed by early 2020.
Paintshop projects in Asia
Dürr is working on a number of large-scale projects with Asian vehicle-makers. Vietnamese start-up VinFast, a subsidiary of VinGroup, is the first volume automotive manufacturer from the country. The company's plans include a smart factory with 250,000 cars per year in the first phase, starting with ICE drives then electric drives in future production.
Dürr is installing the paintshop at the OEM's new factory in Haiphong. The German supplier says this will be highly automated and feature integrated Industrial Internet of Things (IIoT) technology. In addition, it is said to feature a new layout concept that reduces the space required. This layout requires two levels, doing away with the third, so-called penthouse level. The compact design enables the concreted area to be reduced by approx. 15,000 sq.m.
The paintshop will include Dürr's IIoT-capable EcoInCure oven, which it says features a heating process from the inside out, suited to bodies with different material thickness, such as electric vehicles with their reinforced frame on the underbody.
Dürr's EcoInCure oven will be installed in a number of projects in Asia
In China, Dürr will act as general contractor for the construction of a complete paintshop in the new electric vehicle plant of the Chongqing Sokon Industry Group, which it says will be the first use of its new generation seven-axis painting robots in China.
In total, 60 Ecopaint robots from the latest generation are being used in the primer, top coat, and clear-coat lines for interior and exterior painting at Sokon. Also used will be 36 EcoRP E043i painting robots, 16 SCARA door openers and the six-axis models as a hood opener, and 20 robots from the EcoRSi series for seam sealing and applying insulation materials.
The German paintshop supplier is also working with Chinese start-up car brand Byton, which has similar requirements to those of VinFast with a 20% reduction in footprint of its new paint facility and the use of the latest technologies. Dürr's EcoInCure oven will also be installed at this project. The scope of delivery for the new paintshop for Byton FMC also includes Dürr's RoDip process for pretreatment and electrocoating – equipped for 60 units per hour.
Dürr says the order, placed at the beginning of 2018, includes material feeding for PVC and paint, shop ventilation, fire protection for the process systems, and a reverse-osmosis plant to reduce water hardness. From October 2019, the new Chinese OEM Future Mobility Corporation (FMC) will produce electric vehicles under the Byton brand at its company site in Nanjing. The new paintshop is initially designed for 150,000 vehicles per year – equivalent to 30 units per hour. Growth has already been factored in to allow capacity to be doubled.
Two colours, one process
Audi is addressing the challenge of applying two colours to a vehicle without the need for time-consuming and material-intensive masking operations, or a second run through the paintshop. The carmaker has developed an overspray-free process that is being piloted at its paintshop at the Ingolstadt plant. The test is currently with car roofs in contrasting black. This overspray-free process works through a robot-controlled, high-precision instrument measuring the laser-brazed seam between the roof and the side-panel frame before each car is painted.
A special applicator then applies the black paint directly to the car body in individual strips with millimetre accuracy. The applicator places the strips of paint with sharp borders and without any spray mist – that is, without any overspray. Audi says that it is planning to put the process into series production next year.
Audi's overspray-free process is being piloted at its paintshop at the Ingolstadt plant
Nozzles for coating with metallic and effect powder
Wagner says it now offers metallic flat-jet nozzles especially for the application of metallic powder and for coatings with difficult effects as an extension for C4 and X1 guns. They are claimed to counteract deposits through an adapted internal geometry and the optimised positioning of the electrode in the nozzle. The company has also expanded its portfolio with X-design nozzles for use with robots and for coating of hard-to-reach areas by hand.
BASF is providing surface pre-treatment and all coatings layers for NIO's ES8 electric SUV
EV coatings and new lab dosing system
BASF says it has provided surface pre-treatment and all coatings layers for the ES8 high-performance electric SUV from Chinese EV manufacturer NIO. The seven-seater electric SUV uses BASF's waterborne coatings technologies, as well as Oxsilan from the company's Chemetall brand, a thin-film technology for metal protection. The company notes that the pre-treatment and coating materials supplied to NIO are specifically customised to match the ES8's aluminium body. BASF collaborated with the NIO design team, based in Germany, throughout the design and development process for the ES8, as well as during production development in China.
As well as its EV projects the coatings supplier has also opened new laboratory for automotive OEM coatings at its site in Münster, Germany. The modular 'Lean Lab' concept aims to ensure optimised, digitalised and transparent processes and efficient use of resources in the laboratory area throughout Europe, says BASF. In recent years the company has invested €24m to completely overhaul an existing laboratory building for this purpose, which included adding an extra storey. BASF points to a new lab dosing machine, which is claimed to be unique in the coatings industry and was specifically built for the lab in Münster. The company collaborated with machine manufacturer FRICKE Dosing + Filling Systems from Minden, Germany, to develop the machine. At 12m long and weighing 8 tons, it can manufacture standard formulas from over 300 liquid raw materials.