Saving time, resources and environment impact, the OEM has introduced new overspray-free paintshop technology that can apply two colours in one process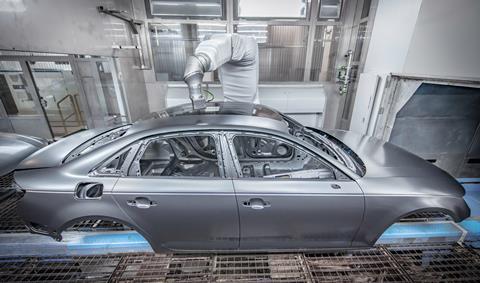 Audi has introduced new paintspray technology that tackles the time-consuming and material-intensive problems usually involved in applying contrasting roof finishes.
Achieving dual-tone paint styles has always come with difficulties in that two separate spray processes were required, sandwiching a time-consuming masking stage.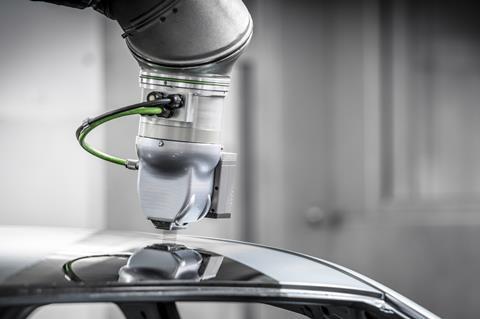 In the new technique adopted by Audi for its black-roofed A4 and A5 "edition one" versions, overspray-free painting technology applies two colours in the same process with no masking stage necessary.
The paint is delivered through an automated, high-precision instrument measuring the seam between the roof and side panel frame. An applicator then delivers, with millimetre precision, fine strips of a black paint developed specifically for the method.
A special applicator, the EcoPaintJet by Dürr, has a nozzle plate with around 50 barely visible holes, each approximately one tenth of a millimetre in diameter. Paint is applied the car body surface in parallel jets from a distance of 30mm.
The system is equipped with sensors providing 3D measurement of the area to be painted, calculating the optimum path and speed of the applicator as it moves through the process.
According to Dürr, apply a contrasting colour to a car body roof has a typical cycle time of 120 seconds – a huge improvement from a method where attaching and removing masking tape could account for about 50 minutes.
Audi began intensive testing the process in the spring of 2018, ready for series production in 2019. Now, the OEM is seeing the resultant benefits in terms of time, resource and environmental impact.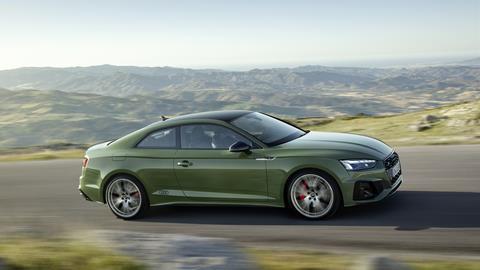 Like what you've read? Then why not become an AMS online member!
As a member you will gain full and unlimited access to our global coverage of automotive manufacturing, including our in-depth coverage of technology, OEMs, regions, suppliers, and materials. Also included are our business intelligence reports and forecasts, and we hope you will also consider joining us at one of our webinars in 2020.
We'll also keep you up to date with regular newsletters and dedicated member only communications, so you'll be the first to know about our latest features, reports and webinars.
To gain unlimited access to the exclusive content and features of Automotive Manufacturing Solutions please SIGN-IN or REGISTER FREE today.