Ford Motor and Volkswagen Group are growing their e-mobility partnership amid plans to produce a new electric model based on the MEB platform for the European market. Following plans to introduce another 7 EVs in Europe by 2024, Ford also aims to double its planned MEB volume to 1.2m units across six years.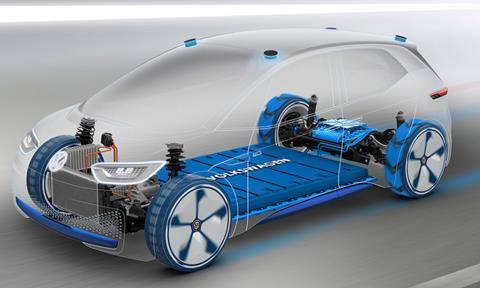 The MEB, or modular electric toolkit, will serve as an open vehicle platform and allow car manufacturers to electrify their portfolio quickly and for a low cost. The agreement was signed as part of the strategic collaboration between Volkswagen and Ford, including e-mobility, commercial vehicles and autonomous driving.
"This is also proof of the strengths of the MEB, which provides a unique package of high-tech, competitive costs and speed in implementing projects. The electric platform is thus the ideal solution for companies looking to speed up their electrification," said Thomas Schmall, Volkswagen Group board of management member for Technology and CEO of Volkswagen Group Components.
The first Ford model to use the MEB will be an all-electric crossover. It is expected to be produced at the Ford Electrification Center in Cologne from 2023 and will further push the US automaker's e-mobility strategy.
Initially, Ford planned to release just one model based on MEB with a total volume of around 600,000 units. No details have yet been released any details about the second planned model.
Ford has boasted that its alliance with Volkswagen is an essential element of Ford's commitment to offering full electrification and combating climate change.
VW hopes to expand the collaboration with Ford to strengthen itself as a platform supplier for electric vehicles, alongside developing the core business. The MEB platform can be used by various brands and manufacturers simultaneously and already offers the technological base for ten electric models from five brands. The platform is among the leading electric platforms globally and rolled out around 300,000 units in 2021.
The Volkswagen ID. Buzz, the most recent model to be produced on the platform, celebrated its world premiere last week.
The MEB is primarily manufactured at the German locations of Volkswagen Group Components in Braunschweig, Kassel and Salzgitter.
Ford and Volkswagen announced their alliance in 2019, beginning with the co-development and production of vans and pick-ups. The cooperation agreement established the basis for wider forms of co-operation, such as in electric technology and support services.