After JLR, Ford has also announced that all its vehicles for sale in Europe will be pure-electric by 2030. It is investing $1 billion in its Cologne (Köln) plant to make that a reality. This move will be supported by the sharing of the VW Group's MEB electric vehicle platform.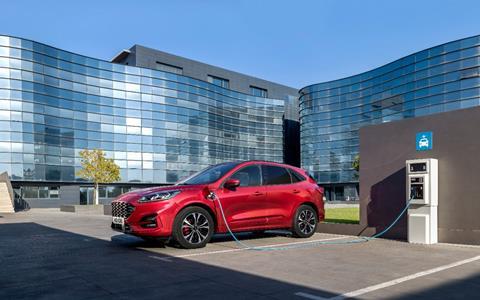 With commercial vehicles, its goals are slightly less ambitious. There is no hard target to phase out combustion engines in commercial vehicles yet but Ford will electrify the range. By 2024, all models will have a plug-in hybrid or pure-electric version available and Ford expects two thirds of its commercial vehicle sales to be plug-in hybrid or pure electric by 2030.
Ford has been running behind its European competitors when it comes to both pure EV and plug-in hybrid cars, having only just launched its first battery EV, the Mach-E – global model made in Mexico. Compared to a carmaker such as Groupe PSA (now part of Stellantis), which already has plug-in in EV versions of many models, Ford has some ground to make up. Its only European-produced plug-in hybrid is the Kuga SUV, which is joined by the US-produced Explorer plug-in hybrid. It also makes a plug-in hybrid Transit Custom van, with an electric full-size transit on the way.
Ford of Europe has only just become profitable again, thanks to restructuring and a stronger range of SUVs.
Cologne becomes electrification centre
To make this transformation possible, Ford will be refitting its Cologne plant with a $1 billion investment to be its primary EV facility and as such will be renaming it the Ford Cologne Electrification Center. The Cologne plant currently just builds the popular Fiesta small hatchback. The new electric models will reportedly be built alongside the Fiesta, which is to stay at Cologne.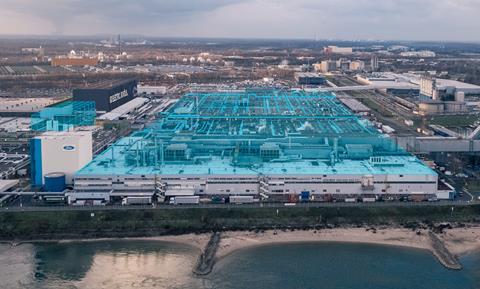 "Our announcement today to transform our Cologne facility, the home of our operations in Germany for 90 years, is one of the most significant Ford has made in over a generation. It underlines our commitment to Europe and a modern future with electric vehicles at the heart of our strategy for growth," said Stuart Rowley, president of Ford of Europe.
"The decision to make the production and development site in Cologne the e-mobility centre for Ford in Europe is an important signal to the entire workforce," said Martin Hennig, chairman of the General Works Council of Ford-Werke. "It offers a long-term perspective for our employees and at the same time encourages them to help shape this electric future."
Ford said it would share more details about its plans for Cologne in the coming months, and it is not yet clear what the future is of its other European plants. In Craiova, Romania, it builds the successful small SUV, the Puma. Valencia, Spain is the home of the Kuga SUV and Transit Connect small van, as well as its aging and unpopular large cars, the Mondeo, Galaxy and S-Max. Saarlouis, Germany, produces the still-popular Focus. Ford has cut shifts in Saarlouis and Valencia, and the former was rumoured to be in line for closure, although this has not been confirmed.
Platform and supply chain sharing with Volkswagen
Undoubtedly central to its new electrification plans is Ford's alliance with Volkswagen, which will give it access to the Volkswagen group's MEB platform. That is bound to create some cross-pollination between the supply chains.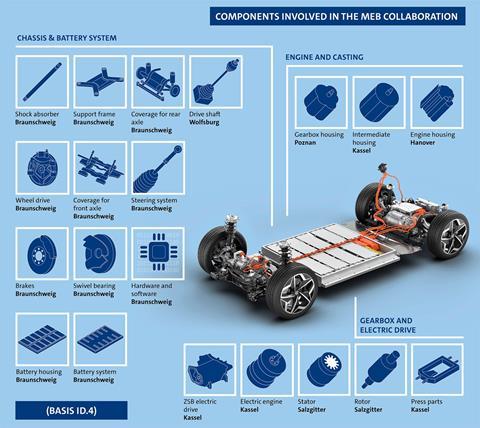 VW chairman Herbert Diess confirmed that the EV built in Cologne will be MEB-based with major components including the battery, electric motor, axles, steering, transmission and brakes shared between the two companies. As a result, Ford will get components produced in VW's Braunschweig (Brunswick), Salzgitter, Kassel and Poznan plants. For the time being, batteries will be sourced from Braunschweig, where VW assembles battery packs from imported cells. Significantly however, Salzgitter is the location for Northvolt Zwei, the battery cell factory that is being built and will be operated as a joint-venture between VW and Northvolt, an increasingly common way for OEMs to get into battery production.
The two companies announced earlier that Ford will engineer and build medium-sized pickups for both companies. This means that when Ford releases the next generation of its Ranger pick-up truck, likely in 2022, there will also be a VW version. Ford intends to engineer and build larger commercial vans for European customers, which implies that the next VW Transporter and Crafter Vans will be based on the Ford Transit Custom and Ford Transit, respectively.
At the same time, VW will also be building a pure-electric van based on the ID.Buzz concept at its Hannover plant, which will shift away from being a pure commercial vehicle plant to also building SUVs. VW also intends to develop and build a city van for both brands, likely a version of the Caddy.