General Motors has announced $6.6 billion worth of investment across Michigan to construct a new manufacturing plant and develop EV pickup production.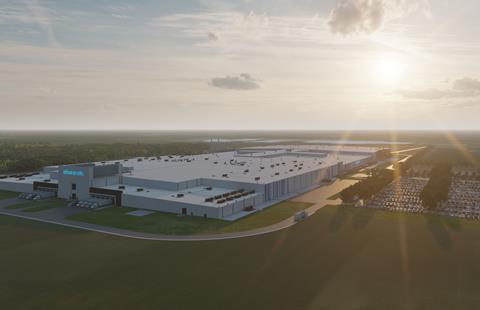 Speaking from the Boji Tower in Lansing, GM CEO Mary Barra said that the new investments aim to increase the carmaker's North American annual production capacity for EVs to 1m units by 2025. This comes as part of a broader funding plan where GM has pledged to spend $35 billion on EVs by the same year.
This includes $2.6 billion for a new battery plant in Lansing through GM's Ultium joint venture with LG Energy Solution, $4 billion to convert its Orion Assembly plant in suburban Detroit to produce electric trucks such as the Chevrolet Silverado and GMC Sierra starting in 2024.
GM also announced a further $510m for two Lansing-area vehicle assembly plants to upgrade current, non-electric vehicles.
Orion Assembly and GM's Factory Zero plant in Detroit are expected to produce most of the 1m units in North America. Orion is expected to make 360,000 vehicles a year by mid-decade. Factory Zero is set for 270,000 units, and GM is also converting plants in Tennessee, Canada and Mexico for EV manufacturing.
GM projects it will convert 50% of its North American assembly capacity to EV production by 2030 and exclusively offer light-duty electric vehicles by 2035. This is consistent with the Biden Administration's plans to have 40-50% of car sales by electric by that date.
The two projects are expected to create 4,000 jobs in the state, according to a Michigan Strategic Fund - the governing body of the Michigan Economic Development Corp.
This follows Michigan authorities approving $824m of incentives for General Motors battery and EV plants. The MSF board approved a $600m Critical Industry Program performance-based grant and a $66.1m Strategic Site Readiness Program grant for GM's investments.
The meeting reportedly saw board members agree to support GM's business investment. GM also received a tax abatement for a $1.3 billion investment at its Orion Assembly plant in Lake Orion.
EV production in America
Aside from sustainability goals set by Washington to reach net-zero carbon emissions, this also comes as the US looks to move production away from Asia, which currently dominates the EV market, and bring supply chains closer to home.
GM, with joint-venture partner LG Energy Solution, is currently building two Ultium battery cell plants in Lordstown, Ohio, and Spring Hill, Tennessee.
General Motors is also planning a joint venture with South Korea's Posco Chemical to supply Ultium Cells as reported. The companies already confirmed a joint plant to produce cathode materials in the US.
The majority of cathode processing is done in China, which causes a significant carbon footprint for battery cells that are later put together in North America. Moving materials between Chinese processing centres and future US battery cell plants risks supply chain disruptions similar to those facing the industry amid the global microchip shortage.
Other OEMs are also making huge investments in North America. Together with South Korean battery maker SK Innovation (SKI), Ford is investing $11.4 billion in new plants, the largest ever US investment in electric vehicles at one time. This will also include efforts to decarbonise battery manufacturing and supply chain processes. The move will also significantly increase regional battery production capacity in the US
In October last year, Toyota announced that it will invest approximately $3.4 billion in automotive batteries in the US through 2030. To further develop battery production localization, Toyota Motor North America also announced that it would begin a $1.29 billion project. The OEM said it would start a new firm and build an automotive battery plant together with Toyota Tsusho in the US, aiming to start production in 2025