The partnership follows the OEM's plans with LG Energy solutions in Canada, and continues a trend of automakers forming JVs to share investment and secure battery cell supply.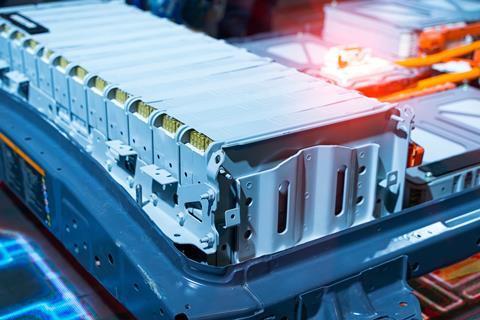 Automaker Stellantis and Korean battery maker Samsung SDI have announced plans to form a $2.5 billion joint venture to produce battery cells and modules in the US state of Indiana.
The joint venture will open a factory in the city of Kokomo in early 2025, creating 1,400 jobs and making 23 gigawatt hours (GWh) of cells annually, rising to 33 GWh within a few years.
The batteries will be fitted to vehicles produced at Stellantis factories in North America which produce brands that include Chrysler, Jeep, Dodge and Ram. The company aims for half of its North American vehicle sales to be battery electric models by 2030.
The news follows an announcement by Stellantis in March that it would create a joint venture with LG Energy Solution to invest more than C$5 billion ($3.9 billion) in what will be Canada's first large domestic EV battery factory. It is expected to open in 2024 with a production capacity of 45 GWh. The carmaker formed a joint venture with LG Energy Solution last year.
"Just under one year ago, we committed to an aggressive electrification strategy anchored by five gigafactories between Europe and North America," Stellantis CEO Carlos Tavares said.
"Today's announcement further solidifies our global battery production footprint and demonstrates Stellantis' drive toward a decarbonised future."
Gigafactory joint ventures are becoming increasingly common as automakers seek to simultaneously share investment risk and achieve security of supply of battery cells amid rapid growth in EV sales and expectations of competition for the mineral resources needed to make batteries while the mining industry catches up with this new source of demand.
There is also a technology transfer benefit to both parties. Automakers want to develop expertise in batteries while battery cell producers will gain knowledge about pack assemblies and how the cells perform in automotive applications.
GM has partnered with LG Energy Solution for the production of its Ultium battery cells at plants in Ohio and Tennessee and this year they announced another plant will open in Lansing, Michigan in late 2024.
Ford is investing $11.4 billion in three new US battery plants together with another South Korean battery maker, SK Innovation (SKI).
With its greater scale, Volkswagen is forming its own separate company for battery production including cells. The automaker recently named the six executives who will run the Salzgitter, Germany-headquartered company whose name is yet to be finalised.
Stellantis and Samsung SDI could increase the $2.5 billion investment to $3.1 billion, they said, while the Kokomo site's output is also expected to eventually grow beyond 33 GWh.
"We have secured a solid foothold in a rapidly growing North American EV market through the joint venture with Stellantis," said Samsung SDI chief executive Yoonho Choi.
Download the AMS global database of lithium-ion gigafactories here