The companies have entered into a memorandum of understanding to form a joint venture to produce battery cells and modules for North America. The new battery plant is planned to have an annual production capacity of 40 gigawatt hours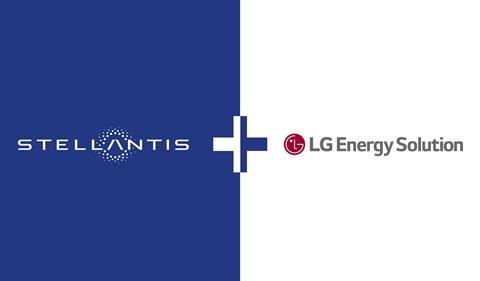 The parties say they are aiming to break ground for the new plant by Q2 2022, although the location has yet to be finalised, with start of production targeted for Q1 2024. The batteries produced at the new facility will be supplied to Stellantis assembly plants throughout the US, Canada, and Mexico for installation in next-generation electric vehicles ranging from plug-in hybrids to full battery electric vehicles that will be sold under the OEM's brands. Stellantis plans to invest more than €30 billion through 2025 in electrification and software development.
The Amsterdam-based automotive company intends to use this new site to supply battery cells and modules for its plug-in hybrid and all-electric vehicles rolled out at a number of plants in the U.S., Canada and Mexico. The location of the new gigafactory is not yet known.
The plant is scheduled to begin operations in the first quarter of 2024, aiming to reach an annual production capacity of 40 gigawatt hours and a total minimum of 260 gigawatt hours of capacity by 2030.
"Today's announcement is further proof that we are deploying our aggressive electrification road map and are following through on the commitments we made during our EV Day event in July," said Carlos Tavares, CEO of Stellantis.
The two companies have worked together on EVs since 2014 when LG Energy Solution (then LG Chem) was selected by Stellantis (then Fiat Chrysler Automobiles) to provide lithium-ion battery pack system and controls for the Chrysler Pacifica Hybrid, the automotive industries first electric minivan.
This announcement indicates a trajectory towards further cementing their partnership and continue utilising each other's strengths.
"Establishing a joint venture with Stellantis will be a monumental milestone in our long-standing partnership," said Jong-hyun Kim, President and CEO of LG Energy Solution. "LGES will position itself as a provider of battery solutions to our prospective customers in the region by utilizing our collective, unique technical skills and mass-producing capabilities."
Stellantis intends to inject €30 billion in investment through 2025 in electrification and software development, while also aiming to continue to be 30 percent more efficient than the industry relating to overall Capex and R&D spend versus revenues.
This comes amid an overall drive towards establishing joint ventures to produce EVs and their essential components.
This announcement follows the recent agreement for Stellantis to buy shares in battery cell producer Automotive Cells Company (ACC), in partnership with Daimler's Mercedes-Benz division and energy provider TotalEnergies, which each have an equal third in the company. Together the companies aim to increase ACC's industrial capacity to at least 120 gigawatt hours (GWh) by 2030, with plans to build further gigafactories along with those ACC already plans.
Together with South Korean battery maker SK Innovation (SKI), Ford Motor is investing $11.4 billion on new plants, which aim to ramp up regional battery production capacity in the US.
The investment includes $5.6 billion for a 'mega-campus' in Stanton, Tenn., named Blue Oval City, which will house a BlueOvalSK battery plant – Ford's joint venture with SKI – an assembly line for electric F-Series pickup trucks, key suppliers and recycling.
Ford SK Innovation will also be constructing a $5.8 billion BlueOvalSK Battery Park in Central Kentucky, which will involve "twin battery plants" to produce EV batteries for Ford's North American assembly facilities rolling out electric Ford and Lincoln vehicles.
Ford announced the joint venture with SK Innovation in May to manufacture EV battery cells in the U.S.
The JV will be called 'BlueOvalSK' and is expected to start by mid-decade, producing supporting modules as well as battery cells.
General Motors is also investing heavily in EV and battery manufacturing capacity in North America via its Ultium joint venture to build battery cells together with LG Energy Solution.
Increasing demand for EVs has led to a simultaneous need to develop lithium-ion batteries for a nation-wide electrification push. While most battery cells and their supply chains are currently produced in Asia, the establishment of these joint ventures highlights a desire to secure supply chains and bring outputs closer to the regional market.
According to the latest EV battery supply chain analysis report from Ultima Media's business intelligence unit, EV sales are forecast to increase to 26% of overall production by 2030 and EV battery production in North America is set to grow from 44 GWh in 2020 to 280 GWh by that year. However, this falls below President Biden's stated aims to reach 50% EV sales in the US market by 2030.