Hertz will place orders for up to 175,000 electric cars from General Motors over the next five years and Sixt will order around 100,000 BEVs and PHEVs from BYD.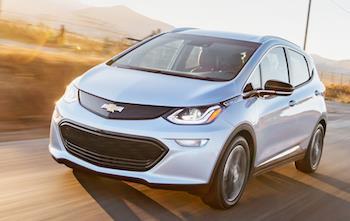 Automobile rental companies Hertz headquartered in the U.S. and Germany's Sixt have announced separate deals with GM and China's BYD that will add tens of thousands of electric vehicles to their global fleets.
Hertz will place orders for up to 175,000 electric cars from General Motors over the next five years including from its Chevrolet, Buick, GMC, Cadillac and BrightDrop brands, spanning compact, luxury and pick-up models, with the first units to join its fleet in early 2023. The companies believe it to be the largest ever single addition of EVs by any fleet buyer. The range will feature GM's Chevrolet Bolt, which was a landmark model at launch as the company's first mass market battery-electric offering.
With estimated use of the cars totalling 8 billion miles while in the Hertz fleet, Hertz estimates the CO2 savings at around 1.8 million metric tonnes over a similar mix of gasoline vehicles. Hertz aims to offer the largest EV rental fleet in the United States and electrify a quarter of its stock by late 2024.
"Our work with Hertz is a huge step forward for emissions reduction and EV adoption that will help create thousands of new EV customers for GM," said GM Chair and CEO Mary Barra. "With the vehicle choice, technology and driving range we're delivering, I'm confident that each rental experience will further increase purchase consideration for our products and drive growth for our company."
GM aims to produce 1 million EVs annually in North America by 2025, entailing an estimated $35 billion of investment by then, including $6.6 billion at manufacturing sites in Michigan state.
Sixt's first arrivals of electric cars and plug-in hybrids from Warren Buffet-backed BYD will arrive weeks from now in Germany, France and the Netherlands and expand to about 100,000 units over six years, the rental company said, following an agreement signed between the two companies. They will also look at opportunities to supply electric vehicles in other global regions, Sixt's statement said.
The supply agreement will begin with BYD's ATTO 3 SUV, a C-segment sized vehicle. Sixt aims for between 70% and 90% of its fleet to be electrified, meaning either battery-electric or hybrid, by 2030 and is modifying its SIXT app to ease access to public charging networks.
"The agreement with BYD is an important milestone to deliver on our promise of putting significantly more e-cars onto the street," said Vinzenz Pflanz, Chief Business Officer at Sixt.