GM and POSCO Chemical will process cathode active material at new joint venture plant in Quebec
Following on from the companies' announcement to form a cathode active material (CAM) joint venture in December 2021, the construction on the new $400 million (C$500 million) facility will begin immediately and will create approximately 200 jobs. The new facility will produce CAM for GM's Ultium batteries and the OEM notes that the site's construction will allow for future expansion opportunities for any potential future EV supply chain projects.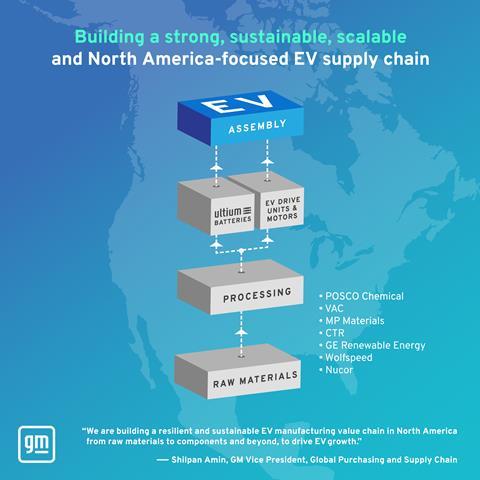 GM says it plans to have capacity to build 1m electric vehicles in North America by the end of 2025 and that it's targeting the majority of components by value to be sustainably sourced, processed or manufactured in North America.
The OEM has also announced a series of actions to create a new and more secure EV supply chain, including projects targeting key EV materials and components: Lithium with Controlled Thermal Resources (CTR) to secure lithium produced by the first stage of its Hell's Kitchen Project in California; Rare earth materials with GE, to develop a rare earth value chain; Alloy flakes with MP Materials, who will establish the first North American processing site for alloy flakes. The company will then expand into magnet manufacturing around 2025 at its new production facility in Fort Worth, Texas; Permanent magnets with VAC, that will establish a North America footprint to support GM's magnet requirements starting in 2024, including locally sourced raw materials and finished magnet production.