A shortage of semiconductors is hampering global automotive production around the world. Bettina Weiss, chief of staff and global smart mobility lead at electronics association SEMI, tells Marcus Williams why this is happening and why OEMs need to forge more direct links with the chip manufacturers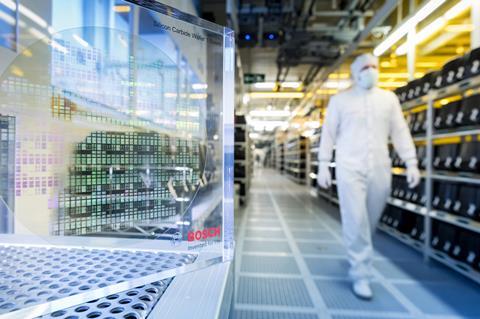 Carmaking around the world is being hit by a shortage in the supply of semiconductors, a consequence of manufacturing plants having to reorientate to other markets when Covid-19 shut down automotive demand in first half of 2020. Even modest estimates put the bottleneck in supply lasting anywhere between six and nine months. The automotive industry needs to strengthen its connections to the semiconductor manufacturing supply chain to avoid future disruption.
Why is there a bottleneck in the global supply of semiconductors at the moment and how long is it likely to last?
Bettina Weiss: The current automotive chip shortage resulted from the sharp, Covid-19-induced decrease in demand for automotive semiconductors in the second quarter of last year when vehicle production came to a near standstill. The automotive market picked up significantly in the fourth quarter and this caused the supply chain constraints we are seeing today.
At the same time as the automotive standstill, the pandemic spurred an increase in demand for home computing and networking equipment, and semiconductor manufacturing plants (fabs) had to pivot to these other markets in order to maximise fab utilisation and successfully navigate economic headwinds. Every minute a semiconductor fab is idle or has lines down adds up quickly to missed revenue, so their capacity is booked weeks and even months in advance.
With this background, I don't believe this is a structural shortage and expect a gradual recovery over the next two quarters, barring any major shifts in geopolitics or macroeconomics.
What needs to be done to remedy the current shortfall for the automotive industry?
Bettina Weiss: The automotive industry needs to continue to strengthen its connections to the semiconductor manufacturing supply chain. In past years, auto manufacturers used to rely mainly on their tier one suppliers to interface with the semiconductor supply chain. This has changed significantly. Not only are more chips being used in vehicles (roughly 10% of all devices produced globally end up in cars), but the strategic importance of the chips as enablers for ADAS [advanced driver-assistance systems], electrification, safety, connectivity and other consumer-driven features has increased considerably.
With this dynamic in play, carmakers have recognised the value of interacting and collaborating more closely with the semiconductor supply chain. This provides vehicle OEMs with access to innovation, the ability to influence technology direction and pace, along with greater visibility into global supply chain developments. The SEMI Smart Mobility initiative is evidence of this transition, with the likes of Audi, BMW, Ford, Uber, Volkswagen and other vehicle OEMs, along with tier one suppliers such as Continental and Bosch, now actively involved in our automotive electronics and mobility activities to do exactly that – influence, partner, accelerate and guide the global electronics design and manufacturing supply chain that SEMI represents.
What percentage of semiconductors manufactured for use by US-based companies are for automotive applications and how has this grown in recent years?
Bettina Weiss: A little over 10% of semiconductors produced worldwide are sold into the automotive segment, but this number is expected to grow at an accelerated pace in the next few years as electrification, connectivity and autonomous driving become more prevalent.
Where are the majority of the semiconductors used in the US actually made?
Bettina Weiss: Currently, only 12% of global semiconductor manufacturing capacity is located in the US and, unless significant steps are taken, that share is currently forecast to decrease. Focusing in on global 300mm wafer capacity for the most advanced semiconductors, nearly half of the capacity share in 2020 was concentrated in Korea and Taiwan, at 26% and 23% respectively. The US has about 10% share, while China has almost 14% and Japan has 16%.
How is SEMI working to help the automotive industry get a clearer view of sub-component supply and better manage supply chain risk?
Bettina Weiss: The SEMI Smart Mobility initiative is designed to engage automotive OEMs, tier ones, semiconductor device makers, design houses, and equipment and materials companies to drive alignment across the supply chain and address shared challenges collectively. To facilitate this engagement, we created the Global Automotive Advisory Council (GAAC), which has active chapters in Europe, US, China, Japan and Taiwan. The GAAC provides an open platform for creating solutions, fostering collaboration and partnering with other industry bodies to accelerate and harmonise industry efforts that benefit the entire ecosystem. Volkswagen and Audi are already SEMI members – both are founding members of the GAAC Europe chapter – and have become vocal champions and critical contributors to our efforts. When all stakeholders work together, I have no doubt that the future of automotive and mobility will continue to be bright.
Is greater volatility in the supply of semiconductors to the automotive industry likely to be a reoccurring issue as the vehicles become more connected and electrified?
Bettina Weiss: This isn't cut and dry but looking at the big picture I do not expect volatility in the automotive semiconductor supply chain to increase based on electrification, connectivity and other technology trends.
The increase in chips used in vehicles naturally means increased reliance on the semiconductor industry, resulting in greater potential for volatility. However, this will also increase the strategic importance of automotive customers to the semiconductor industry and their access to capacity.
Additionally, automotive electronics systems are increasingly using more cutting-edge chips, furthering both sides of this equation as well. In total, this will sharpen the focus on strategic partnerships between automotive OEMs, tier one suppliers and semiconductor suppliers, and it will strengthen industry-wide efforts to share information and drive alignment.