The Kushaq is the first series-produced model to be manufactured locally in India as part of the INDIA 2.0 project. The SUV is based on the MQB-A0-IN version of the Modular Transverse Toolkit developed specifically for the Indian market.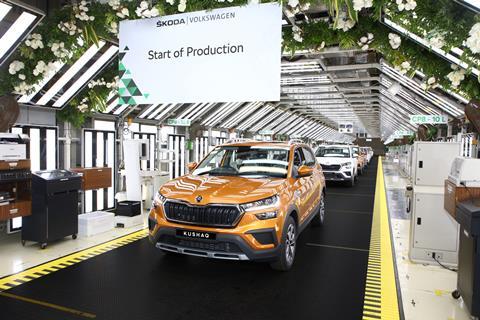 The locally designed and manufactured MQB-A0-IN platform is aligned with the new, stricter safety and emission specifications for India and provides the technical basis for the Kushaq and future volume models. Škoda says it has constructed a new MQB- A0-IN production line at the Pune plant, and this will support a localisation depth of up to 95%. The development of this platform was largely carried out at the Technology Centre in Pune, which opened in January 2019.
The Volkswagen Group is investing a total of one billion euros in the country between 2019 and 2022 and Škoda Auto has lead responsibility in the Group for the MQB A0-IN platform within the framework of the INDIA 2.0 project, and at the same time for an entire region.
Gurpratap Boparai, managing director of Škoda Auto Volkswagen India, noted: "The production roll out of the first car under the India 2.0 project marks a historic milestone for Škoda Auto and the Volkswagen Group in India. It stands testament to a great collaboration between our teams across the globe and here in India. We have managed to achieve localisation levels up to 95%, which truly puts the engineering and manufacturing expertise of India on the global map."