Porsche has signed a deal with Swedish telecommunications giant Ericsson for a pilot project using 5G wireless technology to improve production capabilities at the OEM's plant in Leipzig, Germany.

The trial project will mark the first use of a private 5G network at a Porsche production facility and will be piloted in the technology cell of the carmaker's Macan bodyshop.
The German carmaker's partnership with Ericsson aims to use 5G to simplify workflows, enable the control of robotics in real-time without cables, and allow for the movement of massive amounts of data between other on-site machines, workers and vehicles.
The 5G research deployment and updated automation capabilities will significantly impact production at Porsche in Leipzig. The new changes are intended to increase worker safety, boost quality, cut production times and lower cost.
"As we transition to the factory of tomorrow, Porsche production is undergoing a comprehensive digital transformation," said Albrecht Reimold, member of the executive board for production and logistics at Porsche. In the process, we are guided by our vision: smart, lean and green. 5G technology is one of the key elements laying the groundwork for our Smart Factory."
Åsa Tamsons, head of business area technologies and new businesses at Ericsson, said: "5G connectivity can enable the next step in digital transformation in manufacturing, making it more efficient and effective. Ericsson's private networks empower greater productivity, safety and flexibility across a variety of industries, from manufacturing, processing, mining, offshore and beyond."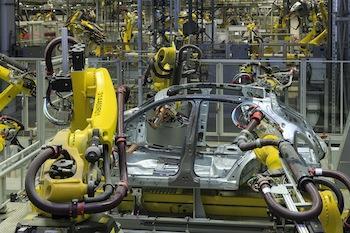 Digital everything
This follows recent developments in the Leipzig plant's paintshop. Leaders from Porsche spoke to AMS earlier in November in an exclusive livestream and interview regarding innovations in technology and new approaches in the automotive painting process.
Porsche has introduced a new error detection system and has made significant advances to reduce overspray and collecting excess paint, which supports efforts to reduce waste and energy consumption.
"There's two basic differences in such systems. One is a static system without a robot; it's just cameras in a tunnel that take pictures of the paint surface," said Steinborn. "Our system is a bit more complicated. It's two robots on a seven-axis so they can move alongside the body shell, and then it's four cameras and a light source which puts light patterns on the surface.
In Leipzig, Porsche has introduced number of innovations to reduce and better manage paint overspray such as an 'eco-drive scrubber' to remove overspray from the paintshop and to improve air quality in the plant, as well as switching to a rock-meal filter system as part of the dry separator to collect any paint excess.