Porsche's €250m Zuffenhausen plant transformation signals a new era in sports car production. The facility, embracing smart factory principles, integrates traditional and electric models, employs advanced technologies like AGVs, and anticipates the new generation Macan in 2024, marking a historic shift in efficiency and quality.
The transformation of production processes at the German plant consists of extensive reconstruction and expansion, positioning the facility to cater more flexibly and efficiently for the future of sports car production. The new assembly lines will cater to both traditional two-door boxer engine sports cars alongside the next generation of electric sports models within the 718 series.
This expansion project is underpinned by an investment of approximately €250m, ($272m).
According to Porsche, the transformation marks the inception of a new chapter in sports car production, characterised by the adoption of smart factory principles.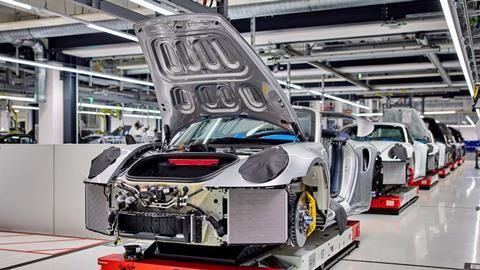 Key upgrades during the construction phase include the implementation of advanced production systems, mirroring advancements in the OEM's approach to manufacturing. Similar to the production of the Taycan, the two-door sports cars will now be produced using the latest automated guided vehicles (AGVs), falling in line with the carmaker's commitment to increased capacity and flexibility.
The ecosystem upgrade will also integrate the assembly of the electric powertrain for the upcoming electric Macan into the existing engine plant.
Highlights of Porsche's transformative production measures:
1. Autonomous driving in sports car production:
Implementation of automated guided vehicles (AGVs) for the production of two-door sports cars

Introduction of the Flexiline, replacing the classic assembly line for a more variable production process

Emphasis on adaptability for future mixed production of vehicles with combustion engines and electric powertrains on a single line.
2. Advanced production workflow:
Integration of new assembly processes and quality assurance stations

First-time-quality approach with small control loops for standardised quality assurance

Implementation of approval checkpoint points along the assembly line, ensuring optimal vehicle inspections

Incorporation of a new light tunnel for enhanced quality checks.
3. Bodyshop logistics and high-bay rack extensions:
Ongoing extension of logistics areas within the body shop, with a new building planned for completion in 2025

High-bay racks over two floors to supply the body shop for the Taycan and sports car production with vehicle parts

A fully automated high-bay rack opened in September 2023, supplying the entire assembly plant with various vehicle components.
4. Integration towards new generations:
Integration of assembly for electric Macan motors into the existing engine plant, originally established in 2016 for V8 combustion engines

Anticipation of the new generation Porsche Macan, scheduled for production in Leipzig in 2024.
Albrecht Reimold, head of production and logistics at Porsche, underscored the significance of the initiative, stating: "The reconstruction measures and extensions to sports car production at our main plant are an important milestone for the Zuffenhausen site.
"The conversion measures will enable increased efficiency, the highest quality standards, and mixed production of combustion-engine and electric sports cars. This will see us start a new chapter in sports car production in terms of the smart factory."