Porsche's top manufacturing executive, Albrecht Reimold, explains the carmaker's progress towards sustainable, connected manufacturing, and why he thinks the automotive industry needs to talk less and act more when comes to solving production problems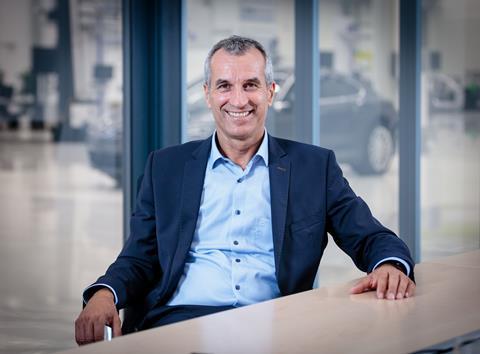 Porsche is investing significantly in its production capacity and capability. After launching a new manufacturing facility for the electric Taycan at its plant in Zuffenhausen, near Stuttgart, the premium carmaker is gearing up to produce an electric version of the Macan at its factory in Leipzig, Germany.
Together with startups, digital specialists and the wider Volkswagen Group, Porsche has also been increasing connected manufacturing systems and modular production processes, from driverless transport systems in factories to label reading technology. Earlier this year, for example, it implemented a new approach for sealing holes in bodies ahead of applying anti-corrusion coatings.
It is also committed to creating the 'zero impact' factory, aiming for carbon neutral production. For example, Porsche's newest concept, the Mission R, unveiled at the IAA in Munich, reveals future body and manufacturing technology, including the use of natural flax fibres for doors, wings and side panels, which combine lower weight with the stiffness required for semi-structural components, along with lower CO2 in production.
Porsche has even just announced assembly outside Europe for the first time, as it will produce vehicles with a partner locally in Malaysia on a small scale from 2022, while increasing R&D capabilities in China.
Porsche's top executive for manufacturing, responsible for overseeing this transformation, is Albrecht Reimold, who has been board member for production and logistics since 2016. As Porsche invests €15 billion ($17.8 billion) in electric mobility, sustainable production and digital transformation, Reimold is ensuring that manufacturing keeps pace. He sees all these areas as interconnected, particularly that electric vehicle and sustainable production will depend on Porsche and the Volkswagen Group continuing to evolve a connected, digital manufacturing system.
Mr. Reimold, do chief production officers have a favourite plant?
[Laughs] You have your preferences here and there. You like the way the plants are developing and the way their key people play a significant role. But as a father of four, I've learned to treat them equally and accept their qualities as they are. Our plants are very special. There is 'Downtown Zuffenhausen', Porsche's headquarters and its heart and soul, where the iconic 911 and the all-electric Taycan are built. On the other hand, there is Leipzig, with its nearly natural landscape, off-road trails, and a clear focus on flexible, sustainable manufacturing. We have made great progress everywhere on digitalisation and the smart factory. And I would not want to forget our multi-brand plant in Slovakia – after all, I spent four years there as its chief executive officer [of Volkswagen Slovakia].
This interview first appeared in Germany in automotiveIT, a sister publication to AMS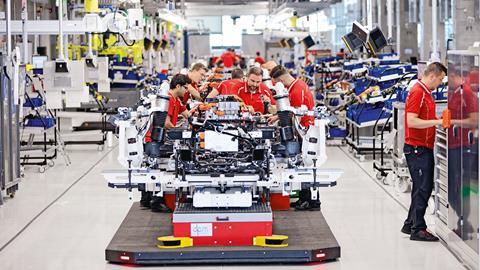 Before we take a closer look at individual plants, what does your roadmap to intelligent, networked manufacturing look like?
Today it's clear that there is no use in perfecting standalone solutions. The foundation of a smart factory is seamless data consistency. We use this consistency to create the speed and transparency that we need for implementation. Product life cycles are getting shorter and shorter, especially when it comes to software. We don't merely need the data per se. We need the knowledge to analyse and use the information meaningfully as well. Porsche is well on the way in this area. But the industry has not fully recognised the full potential of data. People pride themselves on the occasional flagship project. But the full potential is only developed when you look at the networked factory as a whole. In a word, we're not talking about a quick look at an analytical dashboard. You must live and breathe the smart factory and all its possibilities every day.
Where does Porsche stand right now in its progress to connected manufacturing?
We're not doing badly, but we have a good ways to go.
To what extent does networking with your corporate siblings help you?
I've worked for four brands within the group at this point, and my network has been a great benefit to me. The ability to use the creativity and know-how of the entire Volkswagen Group is a gift that we do not always adequately appreciate. Our digital production platform, or DPP is a great example of the cooperation. We are in close contact with everyone involved. At Porsche, we've already developed many solutions and have made them available to our colleagues, on label recognition, for example. At the same time, we are using the developments of other brands here, on defect recognition in the paint department, for example. All of this works well – and not just with other group brands but with external partners like Amazon and Siemens as well [who are partners in running the Volkswagen Group's DPP].
Even in the semiconductor crisis? Is the ability to coordinate helpful in this area?
We are in close contact with Volkswagen Group purchasing and logistics, which have formed a cross-brand task force. We do not want 12 different group brands to approach tier one or tier two suppliers separately to express their special concerns. The group is trying to control supply centrally at this time. That means a brand sometimes must make concessions. Later, it will be another brand's turn. We recently have had to cut back a bit on the Taycan and the sports car. We will be trying to make up for the disruptions.
The industry has not fully recognised the full potential of data. People pride themselves on the occasional flagship project. But the full potential is only developed when you look at the networked factory as a whole.
-Albrecht Reimold, Porsche
Let's look at Leipzig: A year ago, you announced an investment of about €600m to fund advance work on the electric Macan. What's its status at the plant level? Has the coronavirus caused problems there?
We are on schedule so far. Unfortunately, we had to battle the coronavirus a bit last year. Working with the state of Saxony and the city of Leipzig, we solved problems quickly and systematically with other participating companies. Now we are back on the right track. The first prototypes are already on the road. That is always the key for an automaker. Facilities that function are the prerequisites for that! [laughs] Kidding aside, I am confident that the launch will be on schedule. Furthermore, we've already produced quite a few Taycans in Leipzig to train the team for electric mobility. You can do a lot of training theoretically, but employees ultimately have to show, in practice, that they are up to the demands of battery-electric vehicles. Leipzig pulled through in fine fashion. I was very happy about that.
Everything is clearer in hindsight: what lessons from Taycan are flowing into the production of the electric Macan?
We are basically talking about the assembly of a vehicle from all its parts. We have mastered that for decades. Of course, there are issues from time to time that are more or less specific to electric vehicles, for example, a significantly greater range of software. Even vehicle acoustics is a challenge. Electric vehicles are very quiet, which means special management of the tolerances of mechanical components is required. We've learned a great deal from the Taycan that we are integrating into the next generation of the Macan. Leipzig has yet another distinction, and it is a major challenge: We are building the Panamera and the Macan on a single line. The Panamera models will be both hybrid and internal combustion models, and the Macan models will be both internal combustion and battery electric.
With that strategy, Porsche is different from other companies within the Volkswagen Group, especially Volkswagen passenger cars, which will mostly manufacture electric vehicles in dedicated plants.
There are various reasons for that. Porsche is pursuing a clear electrification strategy: in 2025, about half of our models are expected to come off the line with all-electric or hybrid powertrains. In 2030, that figure will already reach 80% [editor's note: the EU and UK plan to phase out new ICE-only models by 2030]. At the same time, Porsche is positioning itself flexibly for a transitional period since the different global regions are developing very differently on the electric-mobility front. We see e-fuels as a sensible complement. They permit the nearly climate-neutral operation of gasoline engines.
There is something else: for a long time, we have not been as closely timed down to the second as the group's volume brands have been. We manufacture highly individualised vehicles, and our volumes are manageable. At an output of about 120,000 units year, a single production line for every model line in Leipzig would be too expensive, for example. Another advantage is that the mixed line allows us to 'breathe' and respond flexibly to a customer's desires. With rising volumes, we may have to deviate from this strategy in the future. But this model is precisely the right approach for us right now.
Is digitalisation helping you produce different types of powertrains on a single line?
Definitely. It starts with programme planning and continues until product data documentation. We have a precise knowledge of every vehicle in all its variants. That ultimately relies on finely tuned cycle times. And, not least of all, we are controlling the installations completely digitally. But even with all that, as I previously mentioned, data consistency is crucial – from the transparency of the information, to its control, all the way to analysis and the implications for specific measures. This is all extremely complex, but it's fun to run production a bit more efficiently every day with the help of these technologies.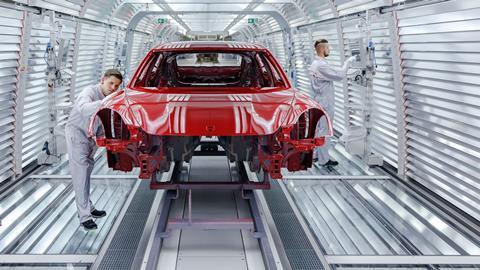 In this regard, the Porsche Digital subsidiary surely comes into play. Do your colleagues there report new ideas to you on a regular basis?
It goes in both directions. We regularly let our Porsche Digital colleagues know when we have an idea and need something developed. Take the issue of label recognition: our European staff, for example, have a hard time identifying Chinese labels correctly every time. We needed an image processing technique for our idea, and Porsche Digital developed it for us. We are also closely meshed with Ralf Hofmann and his team at MHP [a consulting and IT specialist Porsche subsidiary]. We work together a lot, especially on smart factory and flex factory issues. So, we aren't alone when it comes to innovations.
Are these solutions in serial production, or are we talking about pilot projects?
No, they are a reality. An example would be the work we are doing on a Taycan with a two-stage transmission. We are sourcing the semi-finished parts from suppliers, and they document their data – let's say the surface roughness of the gearing. We can then match the parts with the data perfectly.
I've already addressed the issue of acoustics. On the 911 GT3, the issue gets lost – the model has a wonderful sporty sound. But with the Taycan, you have to repeatedly adjust the control circuit, and you have to evaluate data to do it. Other examples are process mining and predictive maintenance. Both are in use here. Yet we're still only at the beginning. There will be more technologies, and employees will have to master them. Every tool is only as good as the person who operates it.
That would be our next question: with all these changes, how do you bring employees along?
Many of the ideas come from the teams themselves. In their personal lives, employees are often savvier about modern technology than some managers. But I'm happy to be challenged and regularly take the time to let employees pitch me their ideas. Then we jointly decide what to do and which team gets financial resources for a project. It is great fun.
I find endless discussions in response to problems to be extremely irritating. We are increasingly in highly complex situations that have to be analysed as quickly as possible.
-Albrecht Reimold, Porsche
But back to the subject of making sure people are on board – it is tremendously important to bring employees along in a practical way. We developed a digital learning module to train several thousand staff on electric mobility. It has been very well received. Furthermore, we are hard at work on our problem-solving capacity. This can be taught digitally quite well, and you recognise causes and effects much more easily afterwards.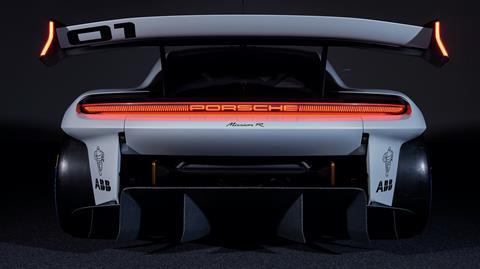 Sustainability is a matter close to your heart. At this point, let's tie the concept to digitalisation. To what extent is it important for the 'zero impact' factory to be a smart factory as well?
It is a prerequisite. Our vision is to know precisely how much CO2 we have generated in our complete process chain – from our suppliers, across all transport, all the way to use by our customers. This kind of accountability can only be achieved digitally. We have big plans. By 2030, Porsche should have a CO2-neutral balance sheet, so we are making massive investments.
In the process, we are coordinating with other industries. When it comes to sustainability, it makes no sense for us to view one another as rivals. When there are good solutions, we copy them. We must forget patent protection if we want to protect the world from advancing climate change.
And finally, if you could solve one issue on your agenda with the snap of your fingers, what would it be?
Clearly, our capacity for 'problem solving' itself. In manufacturing, you are constantly under time pressures. A vehicle has to come off the line about every two minutes. I find endless discussions in response to problems to be extremely irritating. We are increasingly in highly complex situations that have to be analysed as quickly as possible. It would be great to be a step quicker. Incidentally, this applies to our society and politics as well. Look at the way we dealt with Covid. Or how long, and how extensively, sustainability was discussed before it was addressed. Here, expertise in problem-solving is a great gift, especially if we can activate it overnight and bring our strengths into play.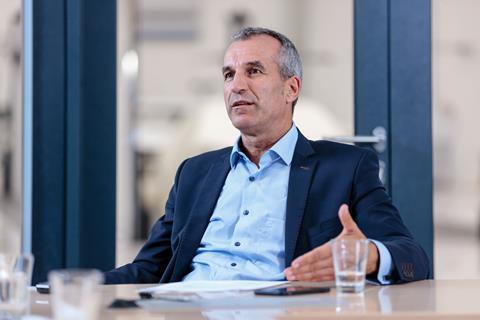 Curriculum Vitae: Albrecht Reimold, Porsche
1977-1980. Apprenticeship at toolmaker
1987. Degree in Manufacturing Engineering from Heilbronn University of Applied Sciences
1987. Training programme at Audi in Neckarsulm, Germany

1990. Assistant plant management at Audi Neckarsulm
1993. Head of body construction, Audi A8, Neckarsulm
1998. Head of assembly, Audi A2, Neckarsulm
2003. Head of assembly planning for Audi C- and D-model segments and Sportwagen R8, Neckarsulm
2009. Plant director, Audi Neckarsulm
2012. Chairman of the board and head of manufacturing, Volkswagen Slovakia, Bratislava
Since 2016. Board member for production and logistics, Porsche, Stuttgart, Germany