Germany - The Taycan electric sports car is being made in a new facility at Porche's Zuffenhausen site
Germany - Porsche has opened a new production facility at its Zuffenhausen site. It is being used to build the eight generation of the 911 as well as the new all-electric Taycan - the company's first all-electric production-ready car that recently made its debut at the 2019 Frankfurt Motor Show.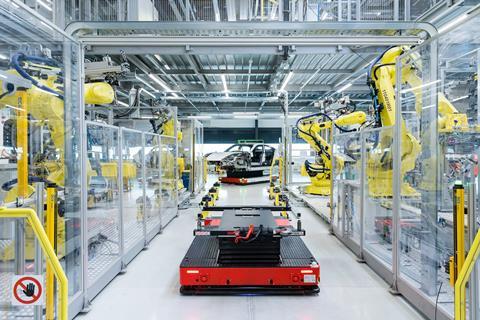 "The new plant reflects the brand's tradition and sends out a clear signal about the future of Porsche," explained Albrecht Reimold, member of the executive board for production and logistics at Porsche. "It was a deliberate decision to build the Taycan in Zuffenhausen – the home of the brand's heart and soul."
Construction of the new multi-storey facility, which includes a bodyshop, paintshop, assembly hall and production area for electric motors, started in 2015. It is dubbed by Porsche as a 'Zero Impact Factory', using renewable energy sources and energy-efficient processes to ensure operation is CO2-neutral.
"We've built a factory inside a factory – in the middle of the city and close to our neighbours, in the most confined of spaces, in the shortest possible time and without disrupting the existing sports car production facility running at full capacity," Reimold continued. "Now the factory has been completed on schedule and without any major setbacks. This was possible due to meticulous planning and an excellent team."
The Volkswagen Group is been making a big push in the field of electrification. It was recently announced that the Volkswagen plant in Chattanooga, Tennessee would become the company's electric vehicle manufacturing base in North America.