Downtimes caused by sudden malfunctions can be reduced, thanks to Dürr's automated guided vehicles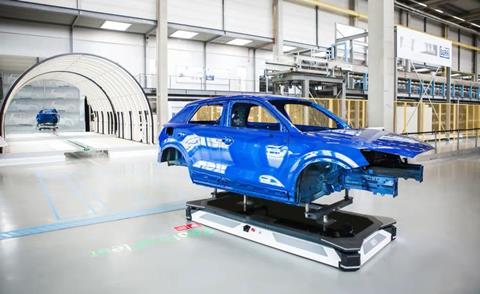 Automobile production is moving away from the production line and towards modular workstations. An important feature here are flexible automatic guided vehicles (AGVs). At an Open House event at its headquarters in Bietigheim-Bissingen, Germany, Dürr permiered the first AGV specifically designed as a new solution for more intelligent production in paintshops.
EcoProFleet combines tried-and-tested industrial components with innovative ideas including a new energy storage concept. This means the AGV is ready for operation around the clock without breaks for charging.
Whether small cars or SUVs, with electric motors or combustion engines, the range of vehicle models being painted in a plant is ever-increasing and manufacturers want to be able to easily integrate new vehicle types into the production process. This desire for flexibility and scalability is pushing linear production to its limits. The necessary migration to modular production is also requiring manufacturers to rethink their production logistics.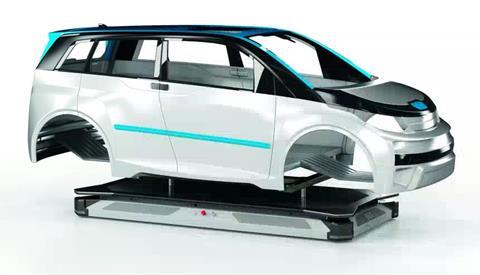 In rigid painting lines, the process time for all car bodies depends on the model that requires the longest time in the individual stations. This results in waiting times for other bodies, which can be avoided with a modular process. Instead of transporting bodies using conveyor technology laid rigidly in the ground, they are moved independently and in a parallel formation between work decks, such as those for spot repair or polishing, and intermediate storage. EcoProFleet thus enables a modular painting process in which different processing times for the car bodies no longer cause waiting times. The resulting cost benefits are all the greater as more different and individual the bodies are constructed and painted. Downtimes caused by sudden malfunctions are also reduced to a minimum, since AGVs can be redirected to a different workstation or a different painting booth.
"Scalability and flexibility are becoming increasingly important in paintshops. With EcoProFleet we have designed the first AGV for paintshops and thus created an important enabler for these requirements," explains Jens Reiner, director, R&D and product management at Dürr.
Exact fulfilment of paint-specific requirements
EcoProFleet is the first AGV specifically optimised for the needs of paintshops. Its paint- and solvent-resistant platform is just 225mm high. This low height means the AGVs can go under all typical workstations and conveyor systems in order to drive a car body into a workstation, hand over, or pick up bodies, and thus work together perfectly at the interfaces.
In order to transport the heavy loads stably, EcoProFleet has been designed with an unladen weight of 850kg in good proportion with the maximum load capacity of 1,000kg. The integrated technology with laser scanner and safety limit speed guarantees a high level of safety.
Intelligent concept for energy supply and control
The energy storage concept with supercap technology enables smart logistics tailored precisely to the painting process. EcoProFleet uses supercapacitors as energy stores, which charge within just 90 seconds. The charging points are installed strategically in the plant layout where the AGV would be stationary anyway for passing off or picking up a body. This short timeframe is enough to supply the supercaps with more than enough energy for the next section. Compared with a battery-powered fleet, where a fixed number of transport systems always has to be plugged into a power outlet for hours, the big benefit of EcoProFleet's energy concept is that all the AGVs are always on the move and working. This is guaranteed by a sophisticated control system, which is connected to DXQcontrol, the central production control technology from Dürr.
Dürr thus offers a consistent, intelligent control system across all levels for the use of AGVs in paintshops: the device control for physical control of the individual AGVs, the fleet control for route planning and the higher-level order planning are all transparently linked via interfaces. This allows AGVs to fully exploit their potential as a flexible and efficient transport system.
EcoProFleet is not only functionally convincing, but also attractive to look at: its successful design has won the prestigious iF Design Award.
Modular work decks – flexible, versatile and customisable
Automation and work decks for manual tasks are inseparable in modern paintshops. Dürr's modular work deck brings both worlds together and makes production more flexible for maximum productivity.
A building block for the paintshop of the future Future-oriented production plants are characterised by a high degree of flexibility, variety and adaptability. They integrate industry 4.0 solutions, enable quality improvements and are cost-efficient. Dürr's modular work decks offer maximum flexibility for the integration of AGVs, and equip your production for tomorrow's vehicle generations.
Flexible modular principle Dürr's modular work deck is based on the Dürr FlexFrame concept for both open work decks and closed work booths. This standardised modular system enables the work deck type, location and equipment components to be adjusted quickly and easily. The work deck can be flexibly customised to changing requirements in the painting process by removing or replacing wall and ceiling modules as required.
Mechatronic design The integrated, mechatronic design reduces the complexity of added-on equipment and saves assembly time and costs. The basic lighting is already integrated in the support structure. Surface indicator lights can also be added as needed. Thanks to the integrated design, separate cable ducts are no longer necessary. All operating and supply functions are well-organised in configurable, space-saving media islands.
Functional materials Functional fabrics as wall and ceiling elements give the modular work deck its characteristic appearance. The modern look and feel of the fabrics convey a pleasant sense of open space and also absorb noise, significantly improving working conditions and ergonomics. Transparent wall and ceiling surfaces make closed work booths feel more spacious.
Effective ventilation An effective ventilation plan is particularly important in closed work booths. In Dürr's modular work deck, fabric ducts with micro perforation ensure a precisely defined air flow in the working environment. This guarantees the optimum removal of dust and other emissions – flow-optimised and with maximum health protection for the workers. Whether in the area occupied by the worker or spot-repair areas, the ventilation is quiet and draft-free.
The advantages of modular work decks from Dürr
• High flexibility and easy expandability
• Versatile application options and customisation
• Effective space gain through integrated lighting
• Ideal climate thanks to textile wall elements and air ducts
• Maximum ergonomics.