Automakers crimp consumption and reluctantly turn to coal and oil but options may be more limited for component and material suppliers upstream.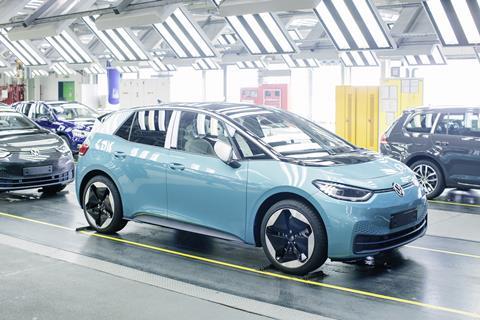 First there was a global pandemic that hammered both production and demand for new vehicles, then a semiconductor shortage that few saw coming. Next up it's looming recession, inflation and the potential show-stopper – a shortage of energy in Europe.
With gas prices now at the heart of what now ails our economies and livelihoods, the key question for the heavily-exposed auto industry is whether the bleak winter ahead will bring an energy squeeze or an insurmountable shortage that will curb production volumes.
Automakers in Germany - Volkswagen, BMW and Mercedes-Benz – look most vulnerable, headquartered in a country which usually sources more than half its gas supply from Russia.
In response to questions from Automotive Manufacturing Solutions, each said they were seeking to crimp energy use with measures that in some cases go down to lighting and heating of their facilities while Volkswagen and Mercedes-Benz acknowledged a need to partially revert to dirtier fuels like coal and oil.
"Volkswagen is preparing for a possible gas shortage in its own plants and in the supplier industry. All Group production sites in Europe have already been examined and short-, medium- and long-term possibilities for reducing the use of gas have been identified," it said in an emailed statement.
Volkswagen group confirmed to Automotive Manufacturing Solutions that it has stalled the conversion of on-site generation at its Wolfsburg headquarters from coal to gas, a fuel half as carbon intensive, due to the uncertainty ahead. The conversion was planned to cut CO2 emissions by 1.5m tonnes per year, the same as those from about 870,000 cars.
Instead, the company signed supply contracts with coal producers outside Russia, a measure it will have been loathe to take given its robust and comparatively early embrace of zero-emission cars. The company's emailed statement said its long-term goal of carbon-neutral manufacturing has not been compromised by the current energy crisis.
With an energy task force in place since Russia's February invasion of Ukraine, the automaker said it expects to be able to reduce gas needs "by a mid-double-digit percentage." Similarly, Mercedes-Benz said around 50% might be possible.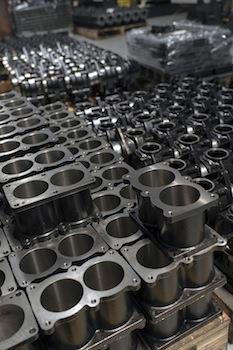 Gas flow slows
Russia has now severely restricted gas supplies and as the Atlantic Council notes in a briefing, the country is "dropping all pretence" of a technical failure on the Nordstream 1 pipeline, laying bare its demand for the lifting of EU sanctions imposed after since its February invasion of neighbour Ukraine.
While the full potential impact of throttled gas supplies is still to come, the effect of the fuel's soaring price has been more immediate with many energy-intensive processes inflating costs of bulky automotive inputs such as rolled steel and aluminium.
The worst-case scenario for Germany in what has been dubbed an 'energy war' would be gas shortages severe enough this winter to prompt prioritising of supplies to households over industry. Far from unthinkable, this will take place if Germany moves one notch higher from its current 'alert level' status to 'emergency level' on its three-point warning system.
Germany has been topping up its gas storage all summer to a near-full level, media reports say, while efforts to boost alternative gas imports in liquified form, are intended to make the possibility of rationing more remote.
Further complicating the immediate energy outlook is a flurry of maintenance work on France's large nuclear reactor fleet which has prompted the country to turn to electricity imports in the interim. Reuters reports more than half France's nuclear capacity was offline in late August while it said analysts and union officials cast doubt on a forecast by Electricité de France that a current 27 gigawatt output would rise to near double that by December.
"Major burden"
Meanwhile, higher energy prices are having an operational impact of their own. A survey of 103 members by Germany's automotive industry association, the VDA, revealed one in 10 is now experiencing some energy-price related "restriction" to operations.
One third of German companies in the automotive sector comprising of tier suppliers as well as automakers, are planning for the possibility of cutting production, the survey revealed. About half the respondents had seen energy bills rise by at least 50% in the last year while it had at least doubled for most of the remaining companies.
Ninety-five percent of respondent companies said electricity prices are currently a major or very major burden with gas prices ranking next behind them at 81%. Two thirds of companies who responded said they expected energy prices to be significantly higher in 2023.
The higher you go in the value chain, the more the energy prices bite - automotive analyst Christoph Stürmer, Vindelici Advisors.
Automotive consultant and partner at Frankfurt-based consultancy Vindelici Advisors, Christoph Stürmer, said smaller, less cash-flush companies were among the most vulnerable as they contend with surging energy prices in power-hungry sectors including metallurgy. With consumers growing more cost conscious and automakers reeling from the calamitous impact of a pandemic and chip shortage, room for maneuvre on price looks limited on all sides.
"The higher you go in the value chain, the more the energy prices bite," Stürmer said, citing energy-devouring plastic and aluminium casting plants as examples.
"Even before the latest price increases we had a shortage of every single material. Now with gas being short, the cement guys are fighting with the fertiliser guys who are fighting with the resin producers. Who gets the natural gas? … What happens to an aluminium smelter when the gas that they need, which was already 40% of production cost, triples in price? They're in real trouble."
Stürmer said higher energy prices could compound ongoing supply chain shortages if it made it more financially difficult for tier suppliers to keep operating as they simultaneously grapple with materials shortages of their own.
"The problem is getting stuff and being able to get stuff out. There is no concept of how to handle a stop-start supply chain and I think the high energy prices are going to aggravate that and that's really serious," Stürmer said.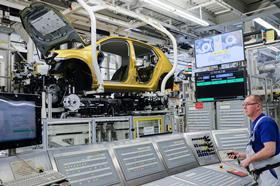 Power purge
In response to questions from AMS, the BMW Group said it has explored options to reduce gas usage at all production sites in Germany and Austria. It said it is looking into buying additional external power, not produced on site, from electricity suppliers to compensate for any reduction in power from gas-fired co-generation plants.
The company said it has shared advice with employees on how to avoid energy wastage, including at home.
"We have made it clear that every kilowatt hour counts," its statement said.
Mercedes-Benz told AMS in an email that conditional on a pooling of power supplies in Europe this winter, it may be able to half its gas requirement. That will also likely require turning to oil to replace some gas. The automaker announced in mid-September a plan to erect a wind farm on the site of its north German test track though that will not come online until around 2025.

We have made it clear that every kilowatt hour counts - BMW.
It is seeking to reduce demand at the same time through employee training and switching off unnecessary lights where safety permits, including that of its star-shaped emblem on factory rooves and on billboards and shop window displays. Turning down the thermostat in offices and production facilities is being considered in liaison with employee representatives.
"The situation is being reassessed on a daily basis and Mercedes-Benz is in close contact with all relevant suppliers and authorities in order to leverage maximum gas reduction potential," the automaker's emailed statement said.
"The company's long-term goal is the complete conversion from gas to electricity and other renewable energy sources."
Volkswagen said its gas supply for VW and other group brands for power plants and boiler houses was currently "secured" without elaborating.
"Now energy chaos"
The blizzard of announcements from automakers on emissions-cutting targets and future carbon neutrality goals indicate they are contributing to the energy transition as well as benefiting passively from the gradual greening of electricity grids. In France, Renault announced recently that since early 2021, its energy efficiency initiatives together equate to the closure of a single factory.
Volkswagen's flagship electric car, the I.D. 3 is now proudly carbon neutral but as its website explains, this has been partly achieved through offsetting of emissions which are still generated in its production.
The automaker says the manufacture of electric cars is more energy intensive resulting in manufacturing-related CO2 emissions 1.5 times higher than a combustion engine model, largely due to the power consumed in making battery cells.
Europe is investing in heavily to break an Asian monopoly on the EV's most valuable component but even before Russia had shuttered Nordstream 1, misgivings on how they would meet their energy needs were already apparent. Italvolt CEO Lars Carlstrom said its northern Italy plant will add 1% to that country's entire electricity demand though he was unsure of how this would be provided.
Battery and carmakers alike have announced several dozen such plants for Europe by 2030, implying two-fold energy pressures: the first replacing Russian energy and the second, increasing the overall supply to meet this new source of industrial demand.

A recent article in the UK's Guardian newspaper highlighted the risks to German chemical maker BASF whose gas consumption at its main plant is equivalent to that of all of Switzerland. BASF counts the auto industry top of its customer base, the article said.
Global automaker Stellantis which houses prominent European and US brands, is drawing up investment plans to produce its own power at its plants in Europe, Bloomberg reported CEO Carlos Tavares as saying at the North American Auto Show in Detroit on Sept. 14, with an announcement to come within weeks.
Tavares said the company was increasingly inured to reacting to crises in the face of all of the challenges of the last few years.
"When you add chaos to the chaos, you don't see so much difference," Tavares was quoted as saying. "We've been managing this industry in the last few years in health-related chaos, supply chain-related chaos, regulatory chaos, and now energy chaos."