Sometime after 2025, the first car featuring steel components will be produced via a fossil-free production process. What automakers and Tier 1 suppliers need to know now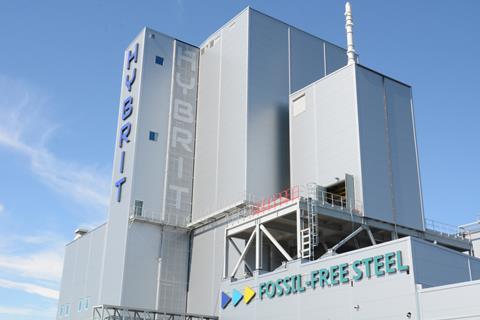 Specifically, instead of CO2 emissions, only H2O (water vapor) will be released during the conversion of iron ore to iron; then that iron will be made into HSS steel. "Auto OEMs are very engaged and positive when we discuss this, as again demonstrated in our recent Fossil-Free Automotive Steel webinar," says Thomas Hörnfeldt, VP of Sustainable Business at SSAB. "They are very aware of the forthcoming European Union Life Cycle Assessment (LCA) requirements for cars."
As CO2 emissions from tailpipes continue to drop, the focus will shift from car use to embedded CO2 in car materials. At the same time, as vehicles go electric, governments will need to replace lost taxes on petroleum; many will consider "embedded CO2" taxes on car materials. Automakers want to stay ahead of this curve, aware that only 25% of current global demand for new steel can be met by recycling.
Fossil-Free Steel: using hydrogen instead of carbon
Steelmaking is currently responsible for 7% of the world's annual CO2 emissions, with the vast majority of the CO2 released during the ironmaking process. The problem with traditional iron production is the use of carbon (in the form of coking coal) to remove the oxygen from iron ore; for every ton of iron made, at least 1.5 tons of CO2 is created. And SSAB, arguably already one of the "cleanest" steel producers in the world, is quite close to the lower CO2 limit for what is physically and chemically possible when using carbon.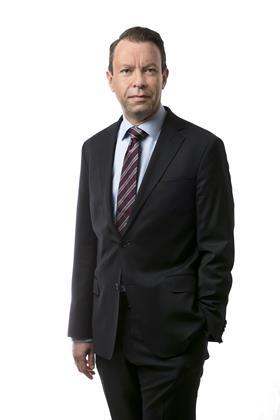 "To slightly improve your ironmaking environmental impact, you can use 'direct reduction' with natural gas — instead of coking coal — to remove oxygen from iron ore," notes Hörnfeldt. "However, this is only economically viable if build your ironworks on top of a natural gas resource.
SSAB is instead focused on using direct reduction with hydrogen; the hydrogen reacts with the iron ore, removing its oxygen to create "sponge iron," with the by-product being water vapor (H2O). The grey lumps of sponge iron are then melted down in the steel mill's electric furnace — the same way recycled scrap steel is melted.
Will Fossil-Free AHSS steel have different properties?
Although we are talking about fossil-free steel, the major change in the process is actually replacing the traditional iron-making process. The downstream conversion of iron into steel will use the same advanced SSAB technology as today, which means that the product properties will not be affected and will remain unchanged.
Driving down embedded CO2 in automotive steel
"90% of SSAB's current CO2 emissions are from converting iron ore to iron using coking coal," says Hörnfeldt. "HYBRIT will eliminate those CO2 emissions. But we are also working on the remaining 10% of our CO2 emissions, converting our heating processes to electricity wherever we can for our rolling and heat treatment operations. Where this is not possible – some processes require temperatures above 1000°C – we will be using bio-gas in the future.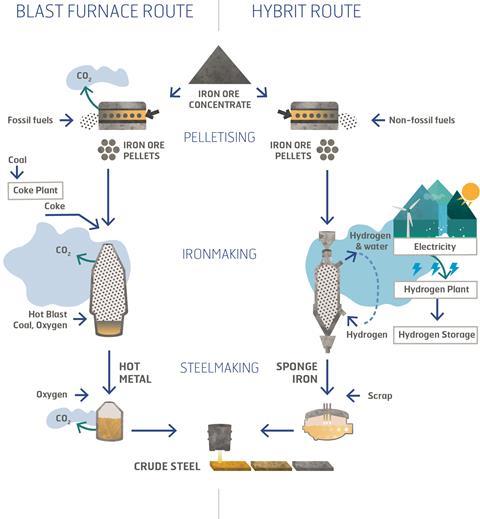 "SSAB is making other major investments — concurrent with our HYBRIT investments — in converting our existing blast furnaces from using carbon to electric arc furnaces," notes Hörnfeldt. "Our electric arc furnace can be fed scrap steel until the HYBRIT plant produces its own 'sponge iron' feedstock for our steel production."
A fossil-free steel value chain: from iron ore to AHSS
To provide a full, fossil-free steel value chain, SSAB created HYBRIT Development with two other Swedish industrial partners.
Vattenfall is fully committed to solely offering fossil-free energy in one generation. Already — on summer days, for example, when rivers are full and producing hydro power and wind mills are spinning — Sweden is producing more renewable electricity than the country consumes.
The HYBRIT project will take advantage of that "extra" renewable energy by using electrolysis to convert ordinary water to hydrogen. So green power will now be stored in the form of hydrogen, in vast, underground caverns, and ready for use by HYBRIT's iron production.
LKAB — whose exceptionally pure iron ore deposits are close to the HYBRIT ironmaking pilot plant — is converting equipment at their iron ore mines from running on hydrocarbons (oil, diesel, and gas) to running on electricity. Even the iron ore pellets LKAB delivers to SSAB are becoming greener; waste wood by-products from Sweden's forest industry have been fermented and turned into bio-gas and then used to power a LKAB's pellet plant.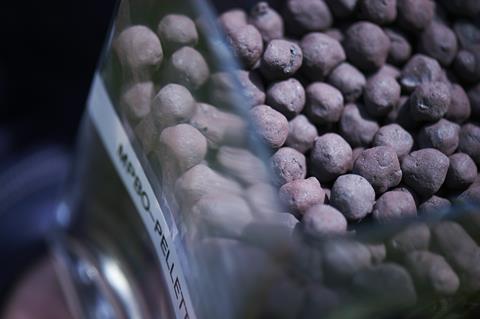 Cost calculations for Fossil-Free AHSS steels
One of the reasons SSAB and its partners are so convinced they are on the right path is a feasibility study completed in 2018. "That study was very comprehensive and very convincing that this is the right path for steel," says Hörnfeldt. "And the Swedish Energy Agency has done their own 'due diligence' on the HYBRIT development, becoming a major supporter in the process."
The 2018 study showed there would be a 20% to 30% cost premium for fossil-free steel compared to traditional steel. "But those results are already dated," Hörnfeldt notes. "The cost of carbon emissions continues to increase while the cost of fossil-free electricity continues to decrease. We're definitely headed in the right direction. Right now, we're doing site selection for our demonstration ironmaking plant, which will be operational by 2025 and offering commercial fossil-free steel in 2026."
Watch video for more information on HYBRIT click here
Read more on SSAB