Henkel's Holger Scheufen examines the bonding and sealing solutions enabling more productive manufacturing in the automotive display market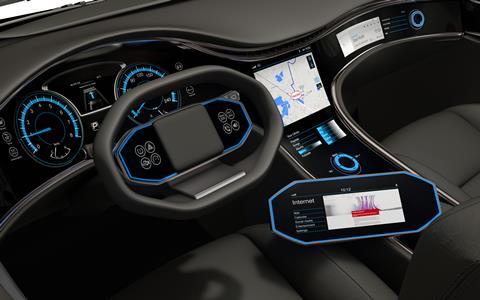 Automotive display trends continue to provide a challenge for tier suppliers and their equipment manufacturers. Non-standard designs, more displays per vehicle and more functions per display have become standard considerations. Add to that the need for lower cycle times, higher yield rates with reduced footprints and it's clear to see the growth in expectations.
Multinational automotive and equipment manufacturers across the globe are already relying on Henkel for liquid optically clear adhesive (LOCA) solutions for display components, such as cover lenses, touch sensors and LCDs/OLEDs, and for structural bonding and sealing of cover lenses to metal or plastic frames.
With innovative products and solutions across the full assembly process, dedicated laboratories for researching, developing and testing pilots, and global capabilities, Henkel can reliably partner customers through their entire planning and production process for state-of-the-art automotive displays. This article explains why a partnership with Henkel in the manufacturing of automotive display modules enables innovative solutions that reduce cycle times, increase yield rates, and require significantly less space than conventional technologies.
Process development and industrialisation
Henkel's expertise lies not just in innovative optical bonding solutions but also in partnering with automotive and equipment manufacturers to develop the most efficient and economical production process. The sooner Henkel consultants are involved in the planning process for line production of a new automotive display, the more they can bring in their expertise and experience.
Development of processes with different capabilities for free-form or curved designs or adapted on short cycle times. Henkel's strength is the tailormade processing that is evaluated in strong cooperation with its customers worldwide considering adaptations to current market levels or regional regulations.
Development processing and testing of automotive displays take place at Henkel's two dedicated laboratories in Germany. In close cooperation with customers, Henkel's R&D specialists deploy equipment for: optical bonding; curved display designs; vacuum lamination; slit coating; pre-treatment (plasma, corona, etc.); reliability testing; optical measurements; structural bonding robots.
These specialists not only work on the products for tomorrow's automotive world, but also provide customers with technical support in line with their specific application requirements.
Optical bonding adhesives
LOCAs from Henkel are designed to deliver high optical and bonding performance on display modules, especially those using dissimilar substrates or featuring a unique curved design. LOCAs offer clear performance and production advantages. Whereas many conventional displays have an air gap and no bonding, the use of LOCAs brings look-and-feel benefits through enhancing a display's touch sensitivity and minimising reflections.
The UV curing capability is another advantage. These liquid adhesives cure instantly to a solid polymer when exposed to UV or visible light. As a process partner, Henkel offers line manufacturers UV curing as an integral element of its production process package, which includes advice on the optimal UV curing solution.
Automotive suppliers using Henkel LOCAs profit from their excellent optical performance, greater design flexibility, dissimiliar substrate design capability, and a fully automated optical bonding process delivering increased quality, higher yield rates, and lower cycle times. Their improved display performance is evident in a 400% better contrast ratio in sunlight, a three times higher impact resistance, lower energy consumption, improved durability to heat and superior impact load absorption enabling thinner and more flexible designs.
Market trends in automotive displays
Technically speaking, the automotive display sector is advancing fast and the application spectrum is much broader than in the past, eg. centre information displays (CID), instrument cluster displays (ICD), climate control systems, front and rear entertainment displays, side- and rear-view mirrors, and head-up displays.
Non-standard designs
The increasing variety of non-standard designs includes bigger displays for CID and CID/ICD combinations, curved displays (flat or flexible), free-form designs, premium look and feel, and displays made of different substrates.
More displays per vehicle and more functions
It is not just that number of displays per vehicle is increasing, eg. through side and rear view displays or multimedia units for autonomous driving. The market is now demanding additional applications, such as display touch functionality, functional coatings, display repair or reworkability.
Leaner production and higher yield rates
One key to success in enabling lower cycle times, higher yield rates and a reduced footprint is close cooperation with equipment manufacturers. The implementation of robust solutions in a collaborative partnership is one of Henkel's strengths. Vendors are becoming all the more significant from a consulting and expertise perspective.
Structural bonding and sealing
In bonding cover lenses to metal or plastic frames, Loctite structural bonding solutions from Henkel offer automotive suppliers a great deal of flexibility in their assembly process.
These solutions are available with UV, heat or moisture curing mechanisms. Moreover, Henkel's in-house expertise in structural bonding has recently been extended through the acquisition of a dispenser equipment specialist.
Henkel's broad range of structural bonding technologies meets the differing requirements of the various structural bonding components – and enables almost all the required substrate combinations and display specifications to be met.
The main focus is on silane-modified polymer adhesives offering high elasticity, and on 2K polyurethane adhesives. Both are offered in combination with SpeedCure to enable ultra-short cycle times. Moreover, Henkel's portfolio also includes standard light-curing acrylics and reactive hot-melts.
SpeedCure, a Henkel technology, accurately and efficiently cures adhesives in display applications by using radiation to induce the heat required for curing or accelerate the curing of adhesives. SpeedCure can be used for directly heating the adhesive or indirectly heating the substrate area around which the adhesive is applied. Its key benefit is a greatly reduced curing time, eg. practicable cycle times in mass production of just 30-90 seconds.
SpeedCure technology is suitable for demanding applications, such as bonding cold-blended glass or plastic lenses to curved frames. As with other aspects of automotive display bonding, Henkel delivers all-in SpeedCure solutions customised to a line producer's specific structural bonding and sealing requirements. An equipment-specific SpeedCure layout is capable of following given contours, with a highly accurate definition of which areas will be heated.
The right solutions for manufacturing and the market
With its optical bonding and its structural bonding and sealing solutions, Henkel has exactly the right portfolio to meet these increasingly important market trends. This not only enables Henkel's manufacturing partners to supply the right products to a booming market, but also to produce more leanly and at higher yield rates.