Henkel is responding to changes in the automotive industry with a range of technologies for the emerging trend towards e-drive modules
Building on years of experience and expertise in engine and powertrain applications, Henkel is investing in new technologies and products for the efficient, large-scale manufacturing of safe and reliable electric drive systems. Key solutions addressing the 'pain points' of OEMs and tier suppliers in this segment include innovative liquid gasketing, magnet bonding, thermal management and potting products, as well as a state-of-the-art impregnation services.
The automotive industry is facing disruptive changes in the form of electric, digital and autonomous technologies, and advanced battery technology and electronics are going to reshape the design and manufacture of vehicles. Henkel is aiming to play a decisive role in this transformation, helping customers drive the future of e-mobility and benefit from its comprehensive product and service portfolio for efficient, reliable, safe and sustainable solutions across the entire manufacturing chain of components.
Next to liquid sealants, thermal interface materials, adhesives and impregnation resins for new-generation battery packs, Henkel is leveraging existing and new products and technologies for the emerging trend towards e-drive modules, combining electric motor, power electronics and gearbox in one integrated e-axle unit. In addition, customers are also supported with appropriate design guidelines and recommendations for process requirements, including equipment enabling automated high-volume production.
"The electrification of vehicles is gaining pace and helps automakers reduce their fleet fuel consumption and CO2 emission footprint in line with strict regulation targets," says Frank Kerstan, global business development, powertrain and e-mobility at Henkel. "As all major OEMs – and new players in the automotive industry – are launching more and more full hybrid and battery electric vehicles, there is a need for seamlessly matching technologies that are specifically designed to support these new drive concepts and manufacturing schemes. With our innovative adhesive solutions, we are ideally positioned as a full-service partner of customers at the forefront of e-mobility."
Henkel's portfolio of efficient, safe and sustainable solutions, for the entire value chain of e-drive manufacturing, is focused on six key application areas:
• Liquid gasketing: Henkel offers a wide range of gasketing technologies. Latest product innovations include Loctite AA 5820, which is especially suitable in providing a reliable seal of multi-substrates or any flange design of e-drive housings. The polyacrylate adhesive shows excellent resistance to oils, including automatic transmission fluids (ATF), and can withstand temperatures from -40°C to +150°C.
• Potting: Another polyacrylate technology, Loctite AA 5831, is used for protection and fixing of parts in the e-motor or in the conversion electronic control unit. The compound has an ideal fit in large-series potting operations and cures within seconds under UV light and moisture. For e-drive stator coil potting applications, Henkel offers the two-component epoxy technology of Loctite PE 8082, which has a thermal conductivity of 1 W/mK, resulting in a significantly reduced working temperature. In addition, it shows outstanding oil resistance.
• PCB technologies: Printed circuit board solutions include conformal coatings, thermal interface materials, low-pressure moulding products and next-generation solder technologies for e-drive power conversion control units.
• Impregnation service: Henkel's Loctite Impregnation Solutions service leverages the flowability of low-viscosity polymeric resin to fill micro-porosities and voids ('leakers') and permanently seal components, such as aluminium cast e-drive housings, against common automotive fluids.The company operates 30 LIS service centres worldwide, which are fully certified to IATF 16949, ISO 14001 and OHSAS 18001.
• Magnet bonding: Loctite EA 9497 is used for the bonding of magnets inside the e-motor. The two-component epoxy adhesive has proven its long-term reliability in this application segment, combining a wide operating temperature range from -55°C to +200°C with high mechanical strength, as well as good chemical and oil resistance. With its added thermal conductivity, it also supports a more efficient thermal management.
• Parts cleaners and lubricants: Henkel's range of machining products, along with parts cleaners, help to maintain a cleaner part through the entire process, to ensure tight tolerances and reduce residues on parts, especially when used on sensitive e-drive modules.
Partnerships and research
Henkel has an established reputation for its flexible capability of developing and tailoring specialised solutions to customer specifications. This is backed by technical test centres around the world and a strong focus on R&D and innovation. In addition, the company also maintains an extensive partner network for equipment, tools and engineering to serve a global OEM and tier one customer base.
The complete line of Henkel's adhesive solutions for the design and large-series production of next-generation automotive electrical drive systems underscores the company's commitment to anticipate the needs its customers for electrification.
Henkel's automotive thermal management expertise
From bumper to bumper, Henkel's advanced materials are enabling automotive electronics applications throughout the vehicle ecosystem – but specifically on power storage systems, showcasing its thermal management and PCB assembly solutions for lithium-ion (Li-I) battery and powertrain applications.
"Development of lithium-ion batteries has accelerated in recent years, with power and energy densities increasing to record levels," says Henkel TIM business development manager Holger Schuh. "Efficiently managing the thermal load in these high-voltage batteries is essential for performance, work life and safety. Our Bergquist brand thermal interface materials, in both pad and liquid formats, deliver the critical thermal control needed to enable charging efficiency, reliable battery function and an optimised working life."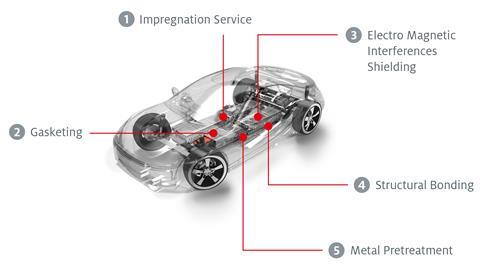 Throughout the battery system, Henkel's thermal interface materials (TIMs) provide robust management of heat generated during charging and operation. At the module level, Bergquist Gap Pad 1450 delivers a soft and complaint solution to move heat away from Li-I cells. Ideal for fragile applications, Bergquist Gap Pad 1450 has excellent wet-out characteristics on various surface topographies and maintains its elastic characteristics to eliminate stress. Because the material includes a permanent liner, puncture resistance and handling are improved, and rework can be easily facilitated. Managing the thermal load from multiple modules assembled into the battery pack, hood or chassis is achieved with Henkel's Bergquist liquid Gap Filler TIMs. This portfolio of materials has been optimised for high-speed dispensing applications, enabling exceptional throughput for high-volume manufacturing. The latest in the Gap Filler innovation pipeline is a novel silicone-free material with a thermal conductivity of 3.0 W/mK. This developmental formulation, which is currently available in limited sample quantities, addresses the requirement to eliminate outgassing commonly associated with silicone-based TIMs.
Henkel's new material delivers long-term reliability, reduced stress during assembly, robust gap stability, room temperature curing and optimised rheology for high-volume production.
"Thermal control is crucial to the reliability and performance of multiple automotive electronics systems, as are robust electrical interconnect and protection solutions," Schuh says in summary.