LG and Honda announced an agreement to establish a joint venture (JV) company to produce lithium-ion batteries in the US to power Honda and Acura EV models for the North American market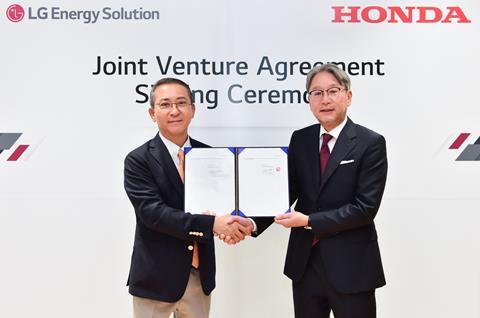 The companies said that the decision to establish the joint venture battery plant in the US was based on the shared belief that expanding local electric vehicle production and ensuring the timely supply of batteries would put them in the best position to target the rapidly growing North American EV market. Through this JV, both companies invest a total of $4.4 billion to establish a new plant which aims to have an annual production capacity of approximately 40GWh.
The location for the joint venture plant is yet to be finalised but based on Honda's plans for EV production in North America, the two companies aim to begin construction in early 2023, to enable the start of mass production of advanced lithium-ion battery cells by the end of 2025. The pouch-type batteries produced at the new JV plant will be supplied exclusively to Honda facilities in North America.
LG also has other partnerships in North America having entered a JV with General Motors in 2021 to build a second battery cell plant at Spring Hill, Tennessee, scheduled to open in 2023. Once operational, it will supply the pouch type Ultium battery cells to GM's Spring Hill assembly plant.
The Korean battery producer also entered a memorandum of understanding with Stellantis to form a joint venture to produce battery cells and modules for North America. The new battery plant is targeted to start production in Q1 2024 and to have an annual production capacity of 40 gigawatt hours.
Additionally, Honda also has an agreement with GM to jointly develop electric vehicles for the Honda brand utilising GM's global EV platform and Ultium battery technology.