The investment in battery production is a significant step forward for the global automaker whose emissions-cutting efforts have focused on hybridisation over EVs.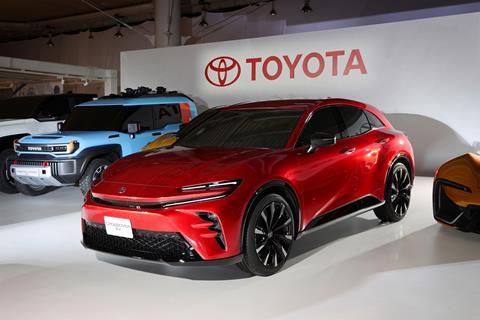 Toyota Motor Corporation will invest 730 billion yen ($5.2 billion) at sites in Japan and the United States to expand EV battery production with the additional output becoming available sometime between 2024 and 2026, it said.
The investment will increase Toyota's battery production capacity in both countries combined, by 40 gigawatt hours (GWh).
Just over half the sum, 400 billion yen, will be invested at Toyota's Prime Planet Energy and Solutions (PPES) Himeji plant and other sites and the remainder, about 325 billion yen, at Toyota Battery Manufacturing North Carolina. The latter is 90% owned by Toyota Motor North America and 10% by Toyota Tsusho Corporation.
On and off the world's largest car company by unit sales, a title it trades with Germany's Volkswagen Group, the Japanese automaker has been much slower to embrace fully-electric cars, having instead focused on the hybridisation of most of its range as well as the launch of its hydrogen-powered Mirai.
Volkswagen, propelled by the damage of the diesel emissions scandal, has been selling EV variants of its Golf and Up! for several years and is expanding its all electric I.D. model range.
Toyota's brand is particularly strong in developing countries and is one of the most popular makes on the African continent where more fundamental infrastructure needs are likely to pose unique challenges in replicating the developed world's embrace of EVs, as its press statement alludes to.
"Toyota believes there is more than one option for achieving carbon neutrality. It also believes that the means of reducing CO2 emissions as much and as quickly as possible, while protecting the livelihoods of its customers, vary greatly across different countries and regions. With this in mind, Toyota will continue to make every effort to apply flexibility in meeting different customer needs worldwide," it said.
Toyota says it aims to make a competitive entry into EV production, applying the Toyota Production System principles and building efficient production lines. Like other manufacturers, it also plans to invest in the training of its workforce in the new skills required for the eventual dethroning of the internal combustion engine.
The Japanese automaker will also rely on partners for further battery supplies as it sets up a supply chain to meet growing demand for EVs, it said.
One of Toyota's most significant single investments in its US plants was completed just weeks before the onset of the global coronavirus pandemic, with $1.3 billion invested in retooling and new equipment at its Indiana plant where the Highlander SUV accounts for a large share of output.